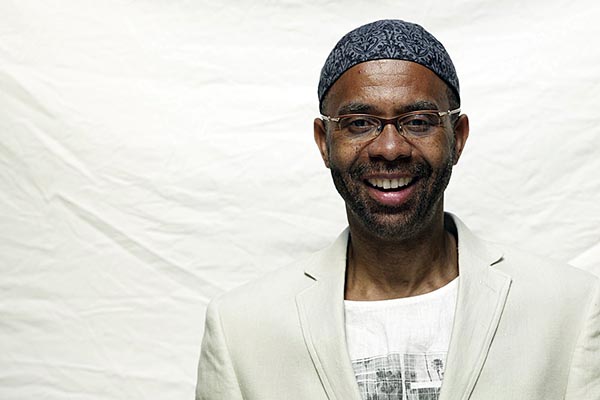 Kenny Garrett photo by Keith Major
Kenny Garrett has been a prominent voice on the alto saxophone for over 30 years. He has developed his own musical identity through experiences such as: performing with the Duke Ellington Orchestra; Art Blakey & The Jazz Messengers and Miles Davis. His latest album, Seeds from the Underground, showcases his latest developments, and influences, both as a performer and as a composer.
Kenny Garrett recently spoke with an iRock Jazz interviewer about the musical experiences, which have made him the musician that he is today.
iRJ: You grew up in Detroit. How did you get past "The Motown Sound" influence in your music?
KG: When I was growing up, it was there. So, I didn't try to get past it. I tried to incorporate it into my music. One of my earlier records, Black Hope, and the  tune itself [title track] was a tribute to "The Motown Sound." So, I don't think [that] I tried to get past it. I just tried to embrace it for what it is.
iRJ: How did you come to join the Duke Ellington Orchestra?
KG: I had just graduated from high school in 1978, and their second alto player disappeared, for some reason. I was an up and coming saxophone player in Detroit, and two of my teachers, Marcus Belgrave and Bill Wiggins, highly recommended me. At that time, they were preparing me for that [path] anyway, to be able to play in big bands. I subbed for that day, and the next day, I was on the bus going on the road with the band.
iRJ: What was it like joining a prestigious band right after having graduated high school?
KG: It was exciting, as a kid leaving Detroit for the first time. A lot of the other guys, who were older, embraced me. The lead alto player, who was a Johnny Hodges' protégé, took me under his wing, and tried to expose me to as much as he could. He taught me how to play in that Johnny Hodges style. I also had an opportunity to play with Cootie Williams, who came out of retirement.
When you think about the great Duke Ellington band, with Cootie and Harry Carney, and Johnny Hodges…just to name a few people, it was great to have that experience, and to [be able] travel the world. It was a very exciting time for me, and also a great learning experience, getting to sit around the guys, and talk about the music. Coming out of high school, I knew about Duke, but not on that  level [professionally]. I learned how to blend and play with 18 musicians. It was a great thing for me!
iRJ: Was it difficult to go straight from high school to performing on the road without any other experience? And would you recommend taking that path to other musicians?
KG: I wouldn't change it, because it worked out perfectly for me. That was the one [experience] which gave me the confidence that I needed to move on to the next thing. I think without the Ellington band [experience], I couldn't have gone on to other places [in my career.] It's a different story now. But, when I was coming up, it wasn't about going to school for the music. You learned the music on the bandstand. You learned by the elders sharing their information with you. For me, at that time, it was perfect. But it's a different time now. I would always recommend for a musician to get some [practical] experience along with going to school.
Miles Davis and Kenny Garrett
iRJ: How did you come to join Miles Davis' band?
KG: I actually was auditioning for a French movie with a tenor saxophonist by the name of Gary Thomas, who was actually in the [Miles Davis] band at that time. At the audition, he was saying that Miles was looking for an alto player, and [he] asked me if I was interested in playing with Miles. I was playing with Art Blakey, at the time, but of course I was interested in playing with Miles. So, he gave me the number; I called Miles, and Miles wasn't there. His valet was there, and he picked up the phone, and said "Miles will call you back." Later that evening, Miles called me back, and said "Send me a tape with some music that you've done." So, I sent him a recording. I was playing with Art Blakey, at that time, and Freddie Hubbard, and Woody Shaw and OTB.
So, I sent some of that music, and some Funk stuff, which I was working on. He called me back in a couple days, and said "You sound like you're wearing Sonny Stitt's dirty drawers." So, he called me, and I went out just to play a couple gigs, and I ended up staying [for] five and a half years with Miles. I learned a lot from Miles; what to do, what not to do. But, also, I learned that I couldn't be Miles, but I could be Kenny Garrett 24/7.
iRJ: What was the biggest lesson you learned while playing with Miles?
KG: I think the main thing [that I learned was] just to be myself. I remember playing with Miles, and he gave me some clothes, because he wanted me to be like him. And I thought "I can't be like him. That's Miles Davis, but I can be Kenny Garrett." I think that was one of the biggest lessons for me. He wanted me to be myself, after he saw that I didn't want to be like him. I just wanted to be like me. Even so, a lot of those musical influences come out in the music, but I couldn't be Miles. Just to be myself, I think that was the biggest lesson for me.
iRJ: How difficult was it to make music that was your own after separating from such an iconic figure?
KG: When I traveled with Miles, as soon as we were finished [touring], I was going out to play with my own band. I was playing in five different bands. I was playing with Miles; I was still playing with my band; [and] I was playing with OTB and Art Blakey…to grow. I think playing with Miles was a big part of my growth, because the tenure was so long. That was my longest tenure with any band. So it [that experience] allowed me to grow in a lot of ways. As far as trying to be true to myself, I think that was just something [that was always] there.
Even when I joined the band, Miles never told me to play like this" or to "do this." Basically, he played a line, and I would play the line back. He didn't tell me to do that; it was just natural.
I remember one time hearing him tell Herbie [Hancock], "Yeah, Herbie, he's playing my line back…and the wrong notes, too." I didn't think they were wrong notes; I just thought it was Miles. I think in a situation like that [one], you try to absorb as much as you can. And that's why I was in the band for so long. I also knew that I had some dreams, and ideas, about how I wanted my music to be. And I think having that opportunity with Miles, definitely helped me.
iRJ: Was your philosophy of taking musical influences from around the world something that you developed with Miles?
KG: I think he helped me to see that [philosophy] by taking me around the world. But, I've always been interested [in playing world music]. The first time I went to Japan, I bought some Enka music, which is traditional Japanese music. I still have those same tapes to this day. I remember when I was in Israel, and Miles gave me a copy of a tape, which someone had given to him, of some music from Israel. I've always been open to listening to different genres [of music]. I'm influenced by all of it. I love all [styles] of music! But sometimes, in jazz, we're not allowed to incorporate all of that influence [in the music]. I do it because that's just the way that music is; it's just the way I feel about it. I stay true to myself, and when I "hear it," I incorporate it in the music.
iRJ: What did Seeds From The Underground represent to you initially?
KG: It [represented] homage to all of the musicians who came through my life. I think it's important for me to acknowledge those musicians. It was about going back to acknowledge the musicians who really helped me. I think sometimes we forget there are so many of them who have helped us on our way to finding our own voice. It was my way of giving thanks.
To find out more information about Kenny Garret's upcoming tour dates, and his great music, go to his official website at: www.kennygarrett.com. The Kenny Garrett Quintet will be performing at the Cape May ExitO Jazz Festival, Saturday, November 9th on the Xerox Main Stage in Cape May Convention Hall at 12:30p
Words by Jarrett Shedd