As an individual and musician, Goapele continues to live up to the definition of her birth name which means "to move forward" in the Southern African Setswana language. With the recent release of the 14-track deluxe edition of Break of Dawn, she showcases her perseverance and invites listeners to move forward with her. The songstress displays her artistic wingspan with three previously unheard original songs and a message to her industry peers with the track "Yeah, Yeah, Yeah". This release comes shortly after her recent nomination for Soul Train's "Best Independent R&B/Soul Artist".
Messengers carry messages to the masses and by default, artists are internally charged with this duty. Since her arrival on the music scene over a decade ago, Goapele continues to deliver soulful messages of social consciousness, love and more.
"I'm excited that more people are going to be discovering the album," she says. "There'll be more new music that will be on this album. It always feels good to put new music out there. I tend to hold on to music for a while, so it feels really good to put it out."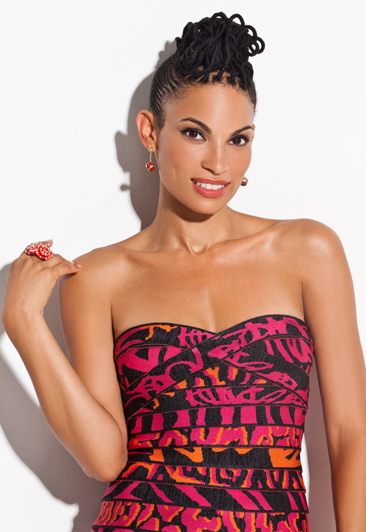 Goapele's lyrics to her single "For Love" pour out of her lips as the back-up vocalists and the light tapping of the drums drive her personal resonating message home. Produced by Bedrock, the inspiration came from a personal space.
"Being on this musical journey can be so up and down," Goapele says about the inspiration of the song. "When creating music, it's not always something tangible. It almost feels like an emotional relationship. At the end of the day, I'm happy to get to express myself this way. And to get to stand on faith and sing really is rewarding when you see how music shifts other people, and you get to have that exchange. At the end of the day, it has to be for love."
The deluxe edition also features the string-fueled boom bap "Breakthrough", which features an uplifting appearance from Mr. Vegas and an intoxicatingly sensual Los Rakas remix of "Play."
"I've been a fan of Mr. Vegas since "Heads High" from back in the day and we really just got in touch on Twitter," she adds. "That's an exciting thing about music and technology today. You can really collaborate and communicate with people from across the world." Goapele says the song describes her musical career and adds, "It speaks to the past few years of breakthrough where I needed to step out, be bolder and know that everything will be okay."
The Oakland native discusses the overall theme of her recent project. "Most of this album's songs are about the industry and how to persevere through," she comments. "Yeah, Yeah, Yeah" is more about making your own path. Honestly, I wrote it originally for D'Angelo as I was thinking about how he was one of the first people to come with this new soul sound that was influenced by Hip Hop, Soul, Jazz, and James Brown's Funkadelic Party People. The whole Neo Soul thing got so commercialized and exploited. The title became overused to the point of being so watered down. So, it made me wonder what it is like to build something that you don't even want to be a part of. And, just how that relates to how people want to hear the answer 'yes' and want you to go along with something no matter how many times you say 'no'. So that's how the song "Yeah, Yeah, Yeah" came about."
Hailed for consistently delivering emotionally charged, yet uplifting, soulful cuts that, skillfully blend Hip Hop, Jazz, and melodic R&B, this vocalist's grounding came from her politically activist parents who also helped shape her love for creating music. Clearly grounded in artists of the old school world, one of her highlights of the Soul Train Awards was seeing New Edition.
"Let me tell you. I was so nostalgic watching [them] and [really] wanted them to sing "Cool it Now", she comments. "You know, it brought me back to when I was in elementary school, my personal love for music and just how talented they really are. I could see that they were really having their moment in being recognized after 30 years. It was really humbling as it provided an interesting lesson. If you hold on to something, in due time, you will get your acknowledgement. Their music has had a lasting impression that is not usually acknowledged."
As with many artists, the legendary Nina Simone significantly influenced this songstress. "I feel like she is one of the most talented musicians, artists, and arrangers I've ever heard," Goapele comments. "I feel that she was fighting through her demons throughout her life and feel like she had to prove herself so many times. And one thing is just history and coming up as a black woman in the time that she was doing her music. I think there is always a personal story how one chooses to walk through life. If I had the opportunity to ask her a question, I would ask when was the first time she felt she wasn't good enough."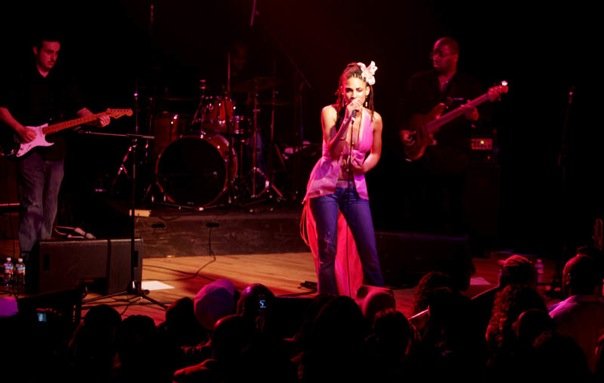 Goapele
Motherhood is a role that has stretched the artist. "It has really grown me. It's made me become more of a grown-up in a good way. In a way, that makes me appreciate the good things in life more and not get as hung up on the tedious things. I feel I'm more in the moment now. I'm more ready to cease the moment in my everyday life, and in my music and wanting to expand even further than music like in film, fashion and other areas that I've wanted to. I'm no longer waiting. I just want to keep evolving and do what I can when I can."
Thoughtfully, she talks about what her daughter is learning from her as a musician. "I think that women can be empowered, and women can be respected and women can have fun… if we work hard, we can make our own rules to make the life we want. I feel at five years old, she already practices that."
As Goapele reflects on her career, she says she honestly wouldn't change anything. "I feel like I've followed my heart and trusted my gut the whole way through. I think I would tell my [younger] self what I tell myself now, which is to step out and do the best that you can as it would be okay. If anything, I would have been a little more open earlier on. I think as a woman, in this business, there's a way that you feel that you have to protect yourself a lot. I think I might have let down a couple of my guards. But honestly, I'm thankful for the journey. Who's to say what you could change and if that would change the entire story?"
Goapele's looking forward to working with a new movie producer on Middle of Nowhere, an independent film that's being acknowledged by the likes of Oprah Winfrey, and of which her song "Play" is on the film's soundtrack.
"It's a unique piece of a story that isn't over-dramatized," Goapele comments. You get to see African- American people in a positive way." The songstress is also involved in a short film called The Door. Goapele's acting debut in the remake of Sparkle was quite monumental for her.
Goapele's basketful of musical blessings for her fans can be found in Break of Dawn, which is available on iTunes and her website www.goapele.com. Fans can follow her on Twitter at @Goapele and check for recent updates on her Facebook page.
by Lisa George