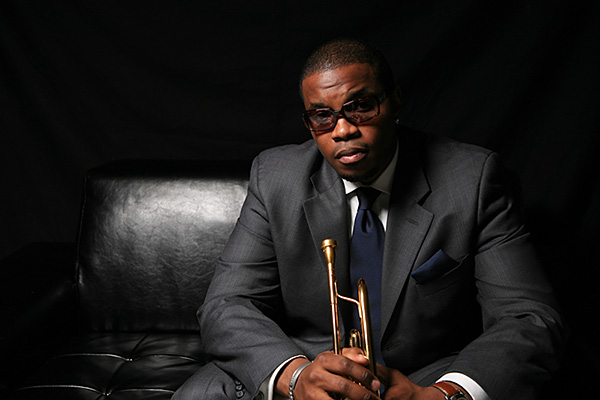 Jeremy Pelt, Berklee School of Music graduate and trumpeter extraordinaire offers a physically powerful yet seductive approach within his style of playing. Reminiscent of horn players of yesteryear this new-school cool cat makes you stand and take notice. From his debut CD Profile in 2001 to his latest project Water and Earth released January 2013; the sharp and brassy, sexy and sassy tones emitting from the bell of Pelt's instrument has proclaimed him a modern day leader in the art of jazz. Pelt colors his compositions with hues of blues; particularly indigo which is described as the deep midnight sky, splashing highlights and tints of crimson, burnt sienna and goldenrod. The spectrum of color, richness of clarity and the robust construction of musical arrangements illustrated by this wind master can too be distinctly heard in his 2012 project Soul, which was celebrated by several magazines and music websites as one of the finest jazz albums of the year.
iRock Jazz spoke with Pelt on his background, the controversy of the word "jazz", his artistry and his future. Ladies and gentleman cool is back and Jeremy Pelt is leading the pack.
iRJ: Tell me about your upbringing and background, what was it like growing up Jeremy Pelt?
JP: I grew up in a family full of hustlers in the best sense of the word. Hard workers that definitely weren't used to sitting there waiting for things to come. It was an artistic family in the sense, for everybody had more of a sense of creating something rather than working a 9-5 job. That's one of the immediate things that I grew up with. Musically, my mother played all types of music, they were all over the board and I listened to all types of music because of that.
iRJ: From imagining, branding and everything that you've done, you're like a throwback from the 50s and 60s era somewhere between the Rat Pack, Miles and Duke; you're caught in this cool black hole. Was that all done by design?
JP: Well obviously those icons which you named were influential just looking at them, how they carried themselves and how they dressed. It wasn't something that I adopted in the sense of me saying out loud, or even in my head consciously that I wanted to dress like that. I think what happened was I just started to become more self aware at some point and I maybe started looking at a lot of fashion magazines and going shopping when I was starting to make some money and really figuring out what looked good on me and further developing that.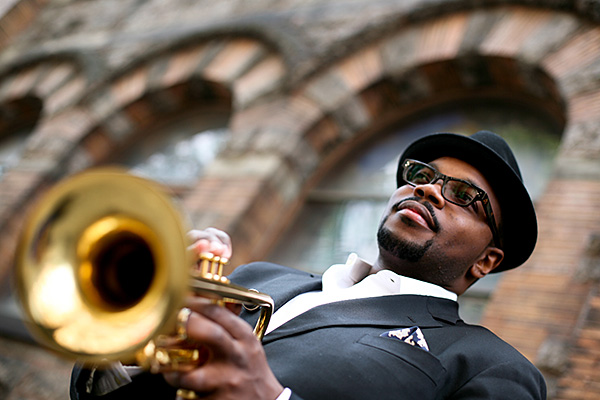 iRJ: Every musician coming up has one place where they found their rhythm. Was Wally's that place for you? Tell us about your experience there and what it was like just starting out.
JP: Yeah it certainly was. Wally's, dare I say was more instrumental – completely more instrumental than college in terms of me getting my things together because the approach to how I learned and how I was taught what not to do, was a lot more harsh than sugarcoating what college can give you and these were by students that were not too much older than me. So it prepared me in a very profound way to really just be an all-around bad motherf****r! So when I came to New York there was no kind of hesitancy in any type of thing within my playing. I was completely prepared to move down.
iRJ: You mentioned that there were some other things in preparing from your time leaving Berklee coming to New York that it didn't prepare you for, what were those things?
JP: Business things, band leading, I never led a band at Wally's, I was always working with other people which is not a bad thing at all but you can't be prepared for everything. I can remember my first time leading a band at the Vanguard; if you want to talk about the complete opposite of not being prepared I would say that I was rather ill prepared to really be up on that stage when I got my first chance, but then again you can't turn it down when you do get your first chance.
iRJ: You have been the author of The Pelt Files which is an intelligent blog that you put out there, can you tell us why you started The Pelt Files and its mission?
JP: At that point I felt like a lot of times when people get blogs, they either really responsibly have something to say or they're bored and find their voices within that boredom. I think with me, I always have something to say whether I feel like putting it on somebody else that's not necessarily a natural thought of me. But that's when the boredom comes in because a lot of times you'll be on the road and you start writing down thoughts about certain things and it can expand into an actual post and that was the interest for having a blog. That was called The Pelt Files, but my old email address got hacked which means I had to end that one but I have a new one now and it's called "Your Peltness". I'm still trying to get really hip trying to maintain all these blogs but my new blog is: www.yourpeltness.wordpress.com. There are some funny things on there and there are also some very honest observations about jazz. I mix it up.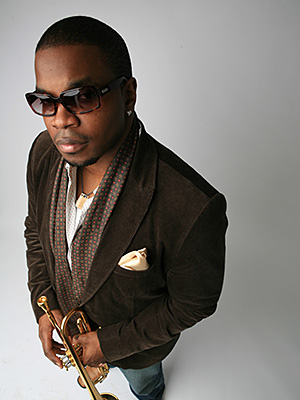 iRJ: There was a statement that you made some time ago, 'Musically speaking everything was created and rooted in a groove' can you explain that?
JP: When we talk about jazz, and I think that comment was made in the context of a jazz setting. If we're talking about defining one of the main characteristics about black music and that's further the context of where that came from; it is the groove and that's very important. I get the same feeling from listening to jazz that I get from listening to Earth Wind & Fire or listening to hip-hop. It's all about how you flow over the groove, it's what gets you dancing or what inspires you to try to dance if you're not a dancer. The groove is that common denominator between all that, and if there's no groove then to me it's not black music.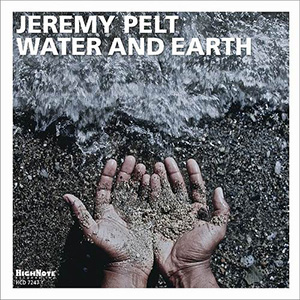 iRJ:Tell me about this new music, new band, new direction and new everything?
JP: What happens is that there's always multitude of things that are going on in my head musically and I try as best as I can to bring forth what is speaking the most to me and everything else is on a back burner. With regard to the Electric Band that has always spoken to me and indeed that's also been the band that I've had the longest in one way or another,  and in 2001 I was starting to really put together different projects and bands and just experiment with stuff. I was rolling with the standards an acoustic thing for a while and then I branched off and started to introduce the electronics once again in my recordings which is when Identity came out and I brought that group to the forefront and we did two electronic recordings. We did Identity and the live record at Smokes. The last record which ended up being Water and Earth, which is my new record. Before it was going to be a new band it was going to be a live quintet record and I was getting that together and then I started to think that it was very frustrating to try to do this record and then have to tour at least one more year after the record. I never set out to have a band that was going to stay together 10-20 years, so six years in this day and age is a colossal success. When we did Soul which was probably arguably from a lot of critics' standpoint and a lot of fans standpoint one of their favorite records in that series of quintet records. I felt like that was great way to end, might not have been the most energetic CD but it was the most mature and I think that CD stands as a beacon of what we all achieved collectively through everybody's hard work.
iRJ: Is there anything that you want your fans to know about you?
JP: I just urge fans and newcomers alike to just stick with me because sometimes when you have a product that people have been really digging on for a long time and you move the proverbial water dish, people don't really like that but what they're getting as a whole when they listen to anything that I'm recording is still very much consistency, and throughout every project that I've ever done; that remains the same. You have to really give it a chance because I have not gone off the deep end.
By Charlene Cooper