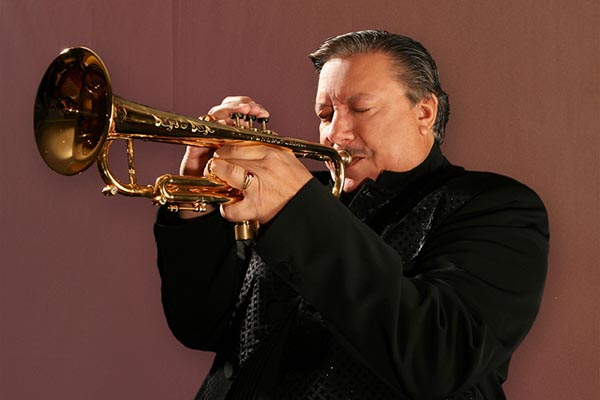 Arturo Sandoval
The year is 1977 and jazz trumpeter Dizzy Gillespie is in Cuba playing 'impromptu gigs' with Stan Getz in the Caribbean. There is a young Cuban who also plays the trumpet and is eager to meet his idol Gillespie. A chance meeting occurs, and as they say the rest is jazz history. The young man is none other than Cuban trumpeter Arturo Sandoval.
Sandoval grew up in Artemisa, Cuba outside of Havana and was influenced by the likes of Charlie Parker, Clifford Brown, and who would later became his mentor, Dizzy Gillespie. His love for jazz, the trumpet and Dizzy Gillespie is evident in his style of playing and his many accomplishments over the years. With 6 Billboard Awards, an Emmy Award and his most recent win, his 9th Grammy Award for Best Large Jazz Ensemble Album for Dear Diz, (Every Day I Think of You), Arturo Sandoval keeps reinventing himself and his music.
iRock Jazz caught up with the musician two days after his Grammy win while taking a break from recording. He spoke on his beginning in to jazz, the difference between Latin Jazz and Afro-Cuban Jazz (and its rich history), and of course his life, his love for music and his initial meeting and friendship with the great Dizzy Gillespie.
iRJ: At what age did you discover your love for jazz music?
AS: I started playing music when I was ten and I played my first gig when I was eleven years old. Actually, way before that, when I was five or six years old and I really started to look to the music, for particularly no reason. My family wasn't in to music at all; nobody. And I started to talk about playing music and my family thought I was completely crazy because I wanted to make noise all of the time. Finally when I was ten I got in to what was like the academy of music and we tried to put together a marching band in the village with a bunch of kids from there. We played with different instruments in the beginning and later on I started to look to the trumpet. I talked to the teacher and said I made my decision already, I want to go to the trumpet. He said, 'I'm sorry but there are no trumpets left'. I said, 'What if I find a trumpet will you let me play in the band'? He said, 'Oh yes'. And my aunt bought me a pocket cornet. That was exactly 51 years ago.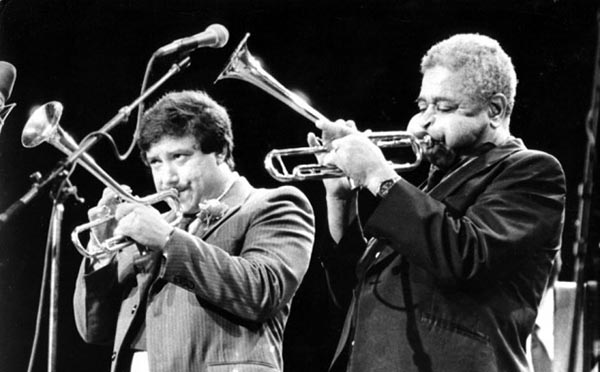 Arturo Sandoval and Dizzy Gillespie
iRJ: Can you describe what is the difference between Latin Jazz and Afro-Cuban Jazz?
AS: (Laughing) That is a very interesting question, but to be honest, the people who invented or created that fusion they called the music Afro-Cuban Jazz. I don't know why they changed the name of the styles I don't believe they asked permission of the creator's to change the name and out of the blue they started to call it Latin Jazz. Which is stupidity because the word Latin doesn't have anything to do with that. Latin is the language that is spoken in the Catholic Church. We are not Latin. I will tell you a joke that happened. A few years ago in Miami one of our ex-Vice Presidents went to Miami and he had a speech and in the middle of the speech he said, 'I'm very sorry I don't speak Latin'. And the people in the crowd yelled, 'We don't speak Latin either we speak Spanish'. We are Latino, we are not Latin. If you call it Latino Jazz maybe that will make a little sense but Latin Jazz oh my goodness. The people who created that name and the people who keep promoting that name, they have no idea how wrong it is.
Number one, Mario Bauza was a great Cuban musician, he came to the U.S. in the late 1920's he was a mentor; like Dizzy was to me, Mario was to Dizzy. When Dizzy went to New York for the first time Mario took him under his wing and helped him a lot. He gave Dizzy the first opportunities in New York. Mario is the guy who discovered Ella Fitzgerald when he was the musical director of Chick Webb's Big Band. He was also the musical director for Cab Calloway and Fletcher Henderson in the 1930's and 1940's. He also created the Machito Orchestra in New York. Mario was also the guy who brought from Cuba, Chano Pozo (an Afro-Cuban jazz percussionist, singer, dancer and composer) and introduced Chano to Dizzy Gillespie. That was the very beginning of the whole thing. I am 64 years old and I am so lucky because I knew Mario very well. And by the way Dizzy introduced us. Mario was a dear friend since we met and he gave me one of his trumpets before he passed away. I was very lucky to meet all of those guys. You know, that music started three years before I was born and this is what I've been doing for so many years with a lot of respect and enthusiasm for them, Latino Jazz or Afro-Cuban Jazz. The real name is Afro-Cuban Jazz.
IRJ: So how did you initially meet Dizzy Gillespie?
AS: Oh that is funny because at that time I couldn't speak any English, at all, zero, zero. And somebody called me and told me that Dizzy was coming on a boat. They were doing a jazz cruise on the Caribbean and it was stopping in Havana for two days. They called me and let me know Dizzy was on the boat. I went to the harbor and I waited there and when he came by I said, 'Oh my goodness now what am I going to say'? And this guy walks behind him and started to talk to me in perfect Spanish. He was the percussionist who was on the boat too and Dizzy asked me where is the musician and I was too embarrassed to say and I said no I wasn't a musician. I knew who he was and I was a big fan he asked me if I had a car and I said yes and he said ok show me the city I've never been here before and I drove him all over the city. Later that night the Cuban government got together with all of the visitors and when he came back to the theater where we met, he saw me warming up with my trumpet and he asked somebody, 'What the heck is my driver doing with a trumpet'? And they said he's a trumpet player here and he said, 'No, he's my driver'! That was the very beginning of our wonderful…I always considered (myself) to be a good friend of his. He was my mentor, my hero and I always consider that a gift from God.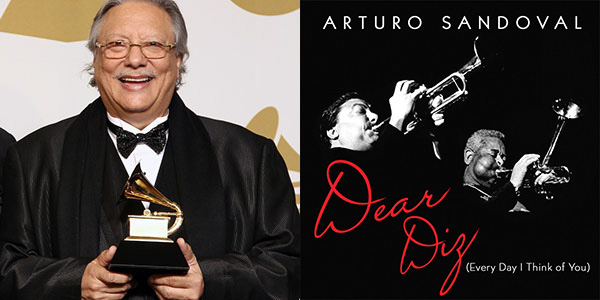 Arturo Sandoval-Grammy Award winning album Dear Diz
iRJ: What was it about your relationship that was able to span so many years?
AS: Oh yes, since we met in 1977 until he passed away we were so close. I called him Pop and he called me his son. I played with him on so many different projects and different bands. He gave me a lot of opportunities. He always tried to give me opportunities to play in front of the audience.
iRJ: Your 2012 Grammy Award is for your album Dear Diz, (Everyday I Think Of You), when did you decide to pay homage to your mentor? The title is very befitting.
AS: Well a couple of years ago. I started to gather material and get in to the studio. It took a long time. The person that was doing the mixing; it took over two years to finish that project but finally we released it and we get positive feedback from all over. The people really enjoyed the record and I'm very grateful.
iRJ: You were just recording, what do you have lined up to release next?
AS:(Laughing) I work every day. Now I'm doing the mixing of another project I just finished which is a Bolero album a tribute to Armando Manzanero the greatest Bolero composer in the history. It will be out very soon. I just finished a film score and I'm working on another film score. Tomorrow I'm going to Miami to play at the Fairchild Park (Tropical Botanic Garden) and then I will go to Europe for three weeks.
iRJ: What is the inspiration for your music?
AS: Oh the music itself, is my biggest inspiration. I love music, I love music. Music saved my life and I owe everything to the music.
iRJ: On your website, it describes you like this: "He desires nothing more than to share his gift with others who feel the same intense adoration for music as he does." Would you consider this to be your motto?
AS: Yes, my desire to share my passion and love for music. That is my favorite joy when I'm on stage and I'm sharing with the people my passion and love for music, of course the best moment of my day.
Arturo Sandoval's biggest dream as a child was to meet Dizzy Gillespie. Not only did he meet the jazz great, he became a student, a son, mentee, confidant and lifelong friend. Sandoval can relish in this reality and say, "Dreams Do Come True".
By Keli Denise