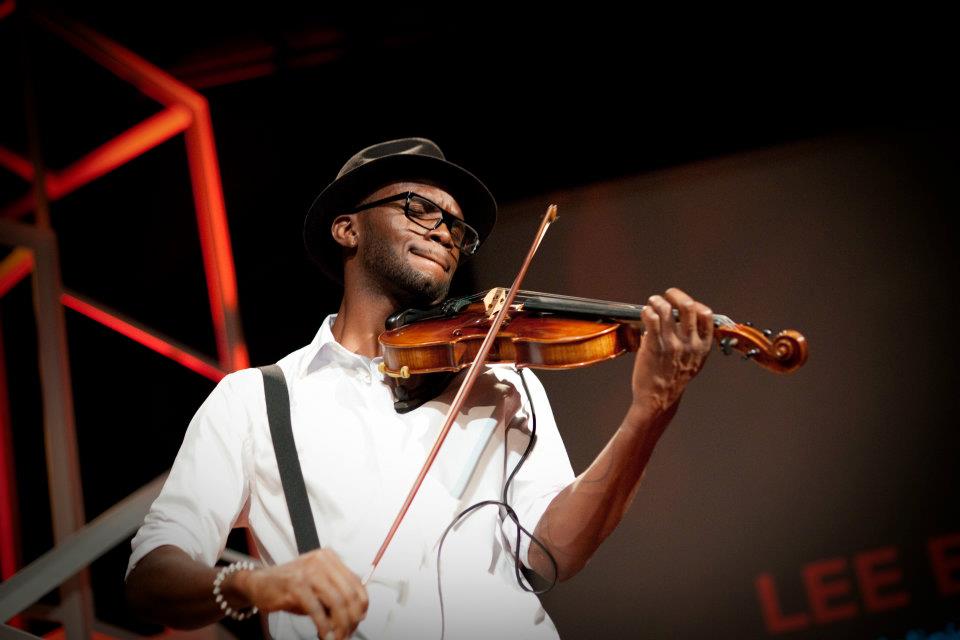 Lee England Jr.
Lee England, Jr. never imagined an introduction to string instruments as a child would foreshadow his future as a nationally-recognized instrumentalist. At six years old, he was immediately drawn to the violin and rushed home to tell his parents he wanted one. Although it gained his interest, the violinist admits he almost stepped in the path of his own destiny.
"Two weeks later, my parents bought me a violin, I played it once and told my Pops I quit because I thought it was broken," he confesses. "What father wants their child to quit at anything? So, my dad said 'Sure you can quit, but you have to practice 15 minutes a day.' Clearly, he outsmarted me and I eventually forgot I wanted to quit and fell in love with playing it."
With the support and encouragement of his instructors, along with the love from his parents, Lee was prepped for success. His sport of choice was playing the violin, as he spent hours practicing daily to hone his craft. The Chicago native recalls only one incident when a peer questioned him about his extracurricular activity, but says one of his best friends asked him to leave Lee alone and that was the end of it.
With a foundation in the church, the classically trained instrumentalist says he drew a great deal of inspiration from an organist who played there.
"He played 'Amazing Grace', but with a different flair," Lee recollects. "I was blown away by it because I wanted to develop that skill. I wanted to be just like him."
Stirred by the work of fellow violinist Miri Ben-Ari, Lee was determined to create his own niche in the string instrument arena with Hip Hop and Soul music, and a rigorous practice schedule with writing music and practicing his violin would get him there.
"I developed a regimen that involved practicing six hours a day, outside of performances," he comments. "I had a teacher who was bitter because he always wanted to practice soccer, but had to play his instrument. I never felt forced because it was a conscious choice. Some artists say what they had to sacrifice for their art, but it never seemed like a sacrifice to me because I've always enjoyed it."
As he stepped out on faith, Lee moved to L.A., a place where he admits there was something more and better that awaited his career. The current West Coast resident and Brand Jordan signee doesn't forget his roots and represents his hometown, as he sports his Chicago White Sox baseball caps or adorns a Jordan logo. Known for his street performances, Lee says he's always willing to play wherever he can be heard.
"I don't feel like any city is without of my reach – be it Chicago, Paris or anywhere," he adds.
When he's not practicing or performing, Lee says he promotes his brand and is working on his new CD, Cover Art, which is set for release in January.
The violinist adds he's putting his hands to work in more ways than one. With a plan to partner with high schools and the Boys and Girls Club of America, Lee says he wants to create programs for the youth to express themselves and avenues for music education majors to teach them.   "I performed at a school where a little kid stood up and told me I was his role model," he recalls. "That's when it struck me how I could multiply my talents and give back. I want to be a role model who is tangible and someone they can talk to and touch."
Learn more about Lee's music, follow him on Facebook and on Twitter at @LeeEnglandJr
by Iya Bakare
Sponsored by Coco Key Water Resort