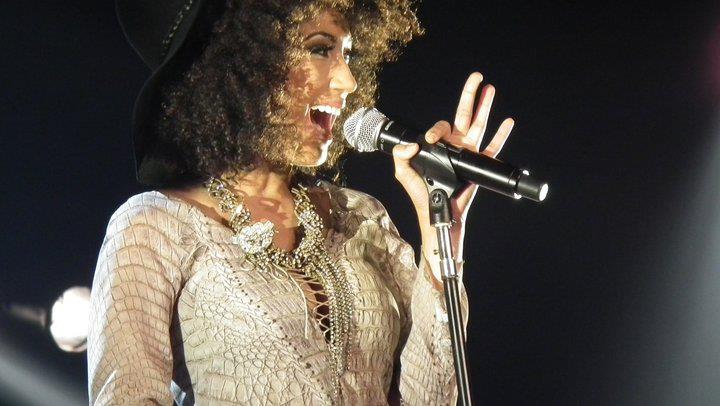 Andy Allo
Two of the most celebrated film franchises of the past 30 years have been The Terminator and The Matrix. Both deal with an ominous struggle between humans and machines. The underlining irony that binds the two stories is the conflict was birthed by the people's embrace of sweeping technological advances. This battle between flesh and metal is paralleled in the current state of the music industry. Sure, innovations like synthesizers and Protools gave artists more efficient ways to record, however it seems the presence of such tools removed the soul from the songs. Enter Andy Allo. Born and reared in Cameroon, West Africa, the singer/guitarist has been doing her part to reverse the push of the digital warriors since her 2009 self-produced debut, UnFresh. Armed with a love for analog and dynamic taste of genres, Allo has teamed up with Prince for her forthcoming follow-up, Superconductor. With Prince acting as the Morpheus to her Neo, Andy Allo is ready to bring true musicianship back to the mainstream and free us from our machine induced spells.
iRock Jazz: What music were you listening to while recording Superconductor?
Andy Allo: Betty Davis."Said if I'm in luck, I just might get picked up!" She rocks! So, I was listening to her, listening to Sly and the Family Stone and some Bob Marley. There's a song on the album called "If I Was King" and it has a slight reggae feel on there, and towards the end the song features Maceo Parker and Trombone Shorty. It's so cool!
iRJ: Tell me about the musicians who play on Superconductor.
AA: The New Power Generation (NPG) band plays on this album: John Blackwell (drums), Ida Nielsen (bass), Morris Hayes (keyboards) and Prince plays on this record. Also we had the Hornheadz, which is this amazing horn section; they really did their thing. Also, Michael Bland, he's the one who plays on Superconductor.
iRJ: As a member of NPG, I'm sure the chemistry was palpable in the studio. Did you have the same kind of chemistry when recording your first album, Unfresh?
AA: Absolutely. Those musicians were there when I started this journey, so there was definitely chemistry and we were all supportive and invested in bringing the songs to life.
iRJ: Do you road test any of your songs before you record them?
AA:Sometimes. But, really the people that surround you should let you know if a song is DOA or if there's something there first before you go out to an audience. Luckily, I was surrounded by people who were very constructive and honest. I think musicians are the hardest critics because they're thinking about the arrangements, and taking all elements of the song into consideration. Children are also the harshest critics. If a song is boring, they'll be the first to tell you.
iRJ: So, do you think the album would sound different if you just used hired gun session players you'd never met before?
AA: You know what? If you got soul, you got soul! I think chemistry is a major factor in making a record; if you don't like who you're working with, it comes out in the music. On the other hand, if you've got that thing, that undeniable talent for instance, Trombone [Shorty] came into the studio, he heard the song maybe once and we just hit record. What he does is absolutely mind blowing. That guy is something!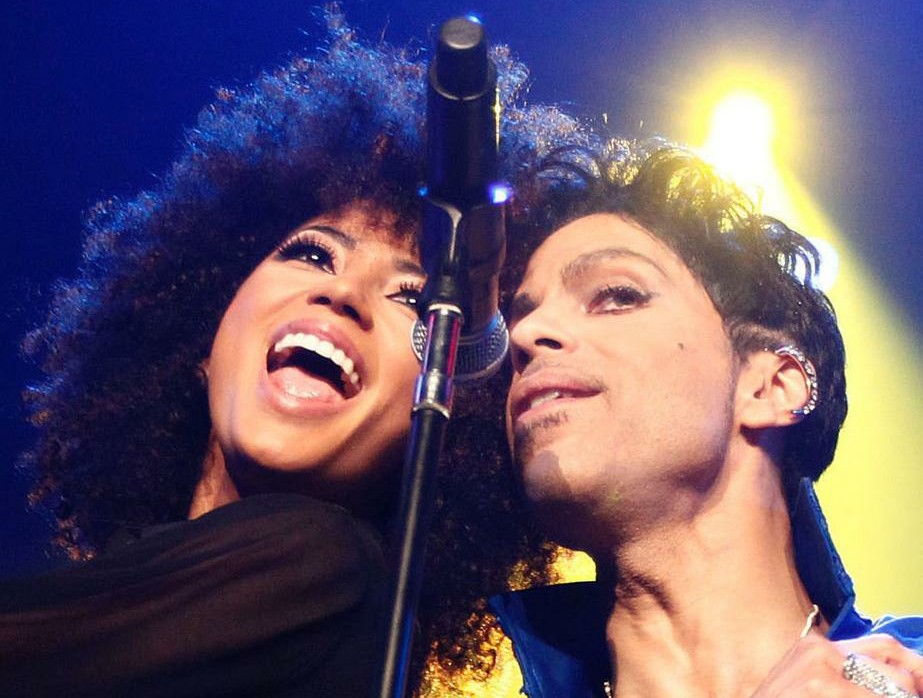 Andy Allo and Prince
iRJ: Tell me about the experience of being produced by Prince.
AA: It was a complete collaborative process. So the space that we were in, the environment, was very inclusive to any ideas being presented, and for me it was an environment that I could really blossom and grow.
iRJ: Is it fair to say that your state of mind as far as approaching music is completely different now from when you first began recording Superconductor?
AA: I would say so. I hear a lot of different sounds now. I hear layers within music. When I listen to a song, I listen to melodies, placement, the singer's emphasis of certain words or if the drummer hits a cymbal in a certain part of the song. I listen to all components and how they work together because I see and hear the big picture.
iRJ: Since you were evolving during the recording process, were you ever tempted to go back and "fix" certain songs that you started in the beginning?
AA: I think for me it's a constant battle because I'm a perfectionist. However, I can appreciate what happens in the moment with music. Usually what happens in the moment trumps trying to perfect it. Since I sing songs all the way through without punching in, if something happens vocally, that adds character. There's something to say about that. You might be trying to perfect it, but then it loses that character and feeling you had in the moment.
iRJ: In today's music landscape, there aren't many artists of color in the spotlight playing musical instruments. Do you hope that Superconductor can inspire people to want to play and hear real instruments more?
AA: Yes, I hope and I pray. This is a musician's records because of the top-notch musicianship and it being recorded on analog. We hear analog; that is how our brains are wired. So when we hear waveforms, it does something to us. The digital waveforms don't do anything to you. They probably do more damage than good. With this record, I hope children, musicians, everyone can see the benefit of analog, using real instruments or it at least peaks their curiosity to learn more about music. The possibilities for creation are endless.
iRJ: With all the experiences you've gained from recording, do you intend to extend yourself to outside artists as either a guest or a producer?
AA: Yes! This is just the beginning, and I'm excited about the things to come and the journey. So, lots, lots more for me.
by Matthew Allen
Sponsored by Coco Key Water Resort