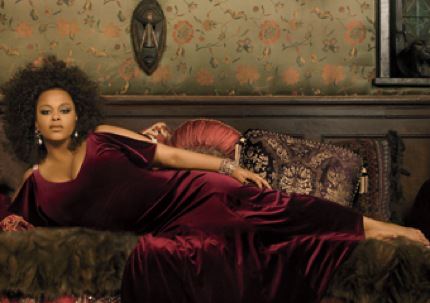 To Jill Scott, artistry equals defiance. For her May taping of VH1 Storytellers, rather than using the sing-a-song-then-tell-the-back story-repeat 10x format that's been in place for 17 seasons, she, as the show's executive producer Bill Flannigan told the audience, did "something never done before." The Grammy winning singer/poet turned herself into a living canvas by donning several wigs, glasses, costumes and accents to establish a broader back story to the true tales: the songs. Scott let the music tell the stories and dictate the action and tone of its narrator; a trait she's applied to her chart topping albums, like Beautifully Human and The Light of the Sun, and her acclaimed screen work on The No. 1 Ladies Detective Agency, or the forthcoming remake of Steel Magnolias.
During the taping, Scott expressed to the crowd at the Grand Ballroom of the Manhattan Center the importance of being "extravagant in the midst of poverty;" a pivotal ideal in the current professional landscape of creative scarcity. The 21st century female recording artist is given "a kit:" record contract, movie deals, book launches, clothing lines, etc. With an industry struggling to maintain control over its artists and an audience as fickle as ever, ingénues must establish "a brand," becoming just add water entrepreneurs. Jill Scott has taken advantage of all of these as well, but rather than use them as marketing strategies to keep her name in the news, they are ways for her to maintain her need to express, something she does better than most. Her performance at VH1 Storytellers was reminiscent of the Barbra Streisand and Diana Ross variety specials of the '60s and '70s, finding the stars singing and acting with the same virtuosity. While those were also promotional tools, it was during a time when being versatile really meant something; displaying artist versatility that many cannot. Many women singers today do what Jill does, but lack the dexterity, command and charisma she employs.
The true essence of Scott's extravagance in the midst of poverty is quite literal as well, born out of her formative beginnings in the hostile environment of her native North Philadelphia. This does not equate to the aesthetic of "ghetto fabulousness" – living beyond ones means to perpetrate the illusion of wealth to fulfill some shallow fantasy. Open-minded observation of her neighborhood allowed her to retain a kaleidoscope of experiences and personify them. Make no mistake, she does not in the slightest celebrate or glamorize the violent and dangerous activity that consumed her old stomping grounds, and yet she refuses to condemn those surroundings. Because of those experiences, she's able to manipulate mundane words into four dimensional, interactive poetry. Those experiences helped her summon the simmering rage to portray a maniacally abusive Janice Raleigh in Law & Order: SVU.  Those experiences led her to write and record "He Loves Me (Lyzel in E Flat)" with a dynamic, regal timbre reserved only for top shelf opera singers. Jill Scott is the most talented female singer in the world, and the 5pm gunshots, polite drug dealers and strap-hanging cockroaches were just as influential to her as Edgar Alan Poe, Michael Jackson and the love of a diligent mother.
iRockJazz: You're always mentioning your North Philly neighborhood on your records. What was it like growing up
there?
Jill Scott: North Philly is a very rough neighborhood, a rough area of the city. But my perspective on that is I really felt treasured. It's where I learned to see things differently. There were a lot of drug dealers, there were a lot of drug addicts as well, but there were also moments of pure laughter. Yes, there were drug dealers, but they also wrote me poetry, or carried my bags from the market, or just said good morning. I was taken care of by then, in a certain way. I had to fight a lot; I didn't want to fight but that was a part of it. These are the things that made me stronger. It made me look and pay attention to my surroundings, and I if I hadn't had those experiences, I don't think I'd be the writer that I am and the writer that I'm going to be.
iRJ: Most people who grew up in a rough neighborhood and have success later in life often say they made it in spite of their surroundings, but you attribute your success to your surroundings.
JS: Absolutely. Had I been a wealthier child – financially – I wouldn't have caught the bus every day. I started catching the bus by myself in the fourth grade. The school bus wouldn't come to my neighborhood, so I had to catch public transportation. Because of that, I got to watch people; I watched body language, I overheard conversations, I saw people get pick-pocketed, I brushed a roach off my shoulders. Life was happening on my way to school, once I got there, on my way home, once I got home. When you're able to see humanity in such a small container, it makes it all the more stand out. I learned to look at the good. So, I celebrate North Philadelphia because people would often meet me and say 'Oh, what a lovely child; what a nice girl. Where are you from?" And I'd say 'North Philadelphia,' and I'd watch their face change, and I was somehow less because I come from such a rough place. I thoroughly disagree with it. Life is what we make it; it's how you choose to see things; it's your perspective.  The more I think about it, there were times when we didn't have food. Food! That's something that's important to live, obviously. But my neighbors may have had just a little bit more than we did and there'd be a basket on [our] porch, or in between the screen doors, which is something to get us through the day. That's love. That's community. That's how I grew up; I felt loved.
iRJ: Wow. That's an amazing way to view things.
JS: I have a hard time when I hear people say that because of where they come from… it doesn't matter where you come from, it's how you see where you are and holding on to the perspective. We don't have to be here. We have an opportunity to live, and because you have an opportunity to live, you have to do it. Taste the fruit, feel the water, feel the sun. At the times when you laugh, laugh hard, and loud! It feels good. It's a celebration of life! I'm sorry. Anytime anybody talks to me about North Philly, I get a little bit hyped, knowing how difficult it is right now. We are the murder capital of the country. We're killing each other like it's fun, and it's so not.
iRJ: We can't talk about growing up in Philadelphia without talking about the music of Kenny Gamble and Leon Huff. How did they touch your life?
JS: I grew up on Kenny and Leon – I grew up on them like people grow up on Kool Aid. It was a staple in my house. We listened to Power 99 WBAS and their music was always on the radio. The lyrics were thought provoking, and touching, and simple. The melodies were – how do I describe it – like petals in the wind; you didn't necessarily know where they were going to go, but you watched and paid attention to it because it was so beautiful. Their music is deep rooted in soul. The heart of soul music was Philadelphia. Patti Labelle was a powerhouse of a singer, and Mr. Gamble and Mr. Huff took her in the studio and they got her to [incorporate] dynamics. And once they did that, Miss Patti took off! Philadelphia artists have a lot of talent. When you look at the Jazmine Sullivan's, and the Bilal's, The Roots, Kindred [The Family Soul], Philadelphia is rich with talent, and I know that it has a lot to do with [Gamble and Huff]; the way that they hired musicians, and taught musicians how to play; every song has a texture and a tone and a dynamic. I think they – I won't say alone, but – I'll say that they're a key part of why Philadelphia has dynamic music.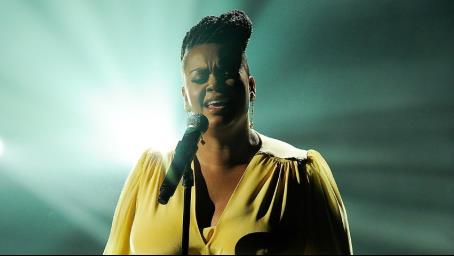 iRJ: Do you remember the first song you fell in love with?
JS: The first song I fell in love with was "You Can't Win" by Quincy Jones and Michael Jackson.
iRJ: Wow! I was just watching "The Wiz!" I think I made the computer freeze from constantly rewinding that song!
JS: It's my son's favorite movie. He watches "The Wiz" everyday. That's bugged out to me because I took "The Wiz" record to Show and Tell in the 3rd grade. So, full circle; it's so funny. I love that. But that was the first song I played over and over and over and over again. It was an overview of the whole story: He already won, he just didn't know it. And how the crows would force him to be negative, and he still found a way to sing the hell out of that song! It just did something for me."
iRJ: After being exposed the timeless music of Gamble and Huff and Quincy and MJ, how long was it before you realized you had voice of your own?
JS: Hmmm… I don't know…
iRJ: It's just been something you've always done?
JS: I think I have. My mother tells a story about me being in church with a pacifier in my mouth and I pulled it out and was singing, and I couldn't speak yet. It was the way I put myself to sleep. It's the way I did everything: I learned how to spell by singing – I was a spelling bee whiz for a while, and I sang all the words in order for me to learn them. Every word had a melody. I don't know, it's just been a natural progression.
iRJ: How fitting you used music for spelling. Your prowess as a poet/lyricist is just as potent as your singing. How did you acquire the skill and vocabulary to write so descriptively and expressively?
JS: I'm a big fan of words. I like them all; I like the curse words, I like the raunchy words, I like the spirit-filled words. I'm a big fan of them. So, I treat them like I love them, the best way I can, anyway. And I read.  I'm a big J. California Cooper fan; I love to read her work. I'm big on Edgar Alan Poe – he scares the crap out of me. Laughton Hughes. I just try to read. If the author can paint a picture for me, then they got me. So, I look at songs like I have a good five minutes, depending, to create a picture with colors and specifics, and if I can also infuse an emotion in there, then I'm doing a good job, to me anyway.
iRJ: At what point did you begin writing down your own thoughts and poetry?
JS: My first poem, I'd have to say I was 13 and I was graduating the 8th grade. In my school – that school pretty much saved me. My mother got me into this academic prep school with congressmen's kids, and doctors' and lawyers' kids. I wrote this soliloquy about my school and I remember the reaction. I watched people's faces and I saw them see what I was saying, and I thought, "Oh, this is cool!" My 8th grade teacher had given me an assignment about a black female poet, and I read her work and I was just blown away. She was able to tell a little black girl's story, and I had never read a little black girl's story before. And after that, I just kept getting fed; I never stopped writing.
iRJ: Let's fast forward to VH1's Storytellers. I was there in the front row and I thought it was a career affirming moment for you. Why did you do it in this theatrical format?
JS: I'm different kind of storyteller, and I love individuality. It's just very hard for me to just accept the box I'm given. My partner and I were talking about how do we make this different. I like to tell stories, but I wanted, in a sense, to prove that I am a storyteller in every fashion there is. So, I'm going to act and I'm going to emote and sing these songs with as much honesty as I possibly can, and begin the moment. That's how we approached it. It was affirming for me too, because it was giving the audience, in a sense, a reminder that we're not all the same. I'm hoping it also gives the artists a reminder that we are not all the same, and we don't have to be. The box is confining the pages, and the more you can try to celebrate the fantastic you of it all, the better; the more forward moving art will be, and fashion, and writing, and acting, and all of it. I mean, that's the goal, isn't it?
By Matthew Allen