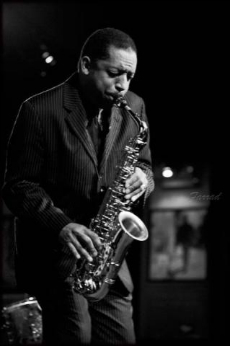 Donald Harrison embodies the spirit of New Orleans. A recurring headliner at the legendary Jazz Showcase in Chicago, Donald Harrison never fails to deliver the passion and pride of Congo Square. At 51, his musical legacy ranges from bebop to hip-hop, and he has mentored and influenced a multitude of younger artists, including The Notorious B.I.G.
Visiting just before Mardi Gras, Harrison once again took the stage with master pianist, Willie Pickens, and his trio. A lifelong performer and music educator, the Chicago-based octogenarian has performed with Quincy Jones, Minnie Riperton, and Sammy Davis Jr., to name a few. With Larry Gray on bass and Robert Shy on drums, the stage was brimming over with brilliance, and we were the lucky beneficiaries.
The group played four nights at Jazz Showcase, and I was able to make it to two of the four. Each night was improvisation at its best and completely different from the last. After each song, the musicians would come up with what to play next on the spot, and then deliver each selection masterfully as if they'd rehearsed it together a hundred times. The musicianship was exceptional; the respect, deference, and camaraderie they had for one another was as strong as their combined chemistry; and there was seemingly nothing these well-seasoned veterans could not play.
As the temperature rose and fell throughout each set, the audience laughed with delight, clapped along, yelled out in appreciation, and turned to one another with smiling nods and thumbs up. Harrison's intensity seemingly had him lost in a trance, punctuated by periodic pauses during which he let out a yell, a sigh, or bout of laughter. Willie Pickens ferociously attacked the ivories in prolonged improvisations that had us mesmerized and left us breathless. Each of his solos was a gift, and we couldn't get enough.
The stylistic range for which Donald Harrison is known was evident, and a taste of New Orleans was inevitable. The jazz standards delivered included Duke's "Satin Doll," Coltrane's "Giant Steps," and the whimsy of Ray Noble's "Cherokee". The only song I heard both nights was a magical rendition of "Misty" that had us spellbound, with an amazing solo by Larry Gray on bass.
The group also played a few of Harrison's original compositions, including a bop tune entitled "Duck's Soup". It was the first tune he recorded as a young man 30 years ago, soon after he started playing with Art Blakey. Harrison met Blakey as a teenager studying at Berklee, and he and Terence Blanchard (then just 19 years old) would soon join Blakey's band as members of the Jazz Messengers.
In a perfect close-out to the set, Harrison took us all to Carnival in New Orleans with the infectious Mardi Gras standard, "Iko Iko". A packed house reveled in call and response as we conjured up age-old chants of battling Indian tribes and the spirit of Congo Square filled every inch of the room.
My grand-ma and your grand-ma were sittin' by the fire
My grand-ma told your grand-ma, I'm gonna set your flag on fire.
Talk-in' 'bout, Hey now! Hey now! I-KO, I-KO, un-day
Jock-a-mo fee-no ai na-né. – Jock-a-mo fee na-né.
For more information, visit donaldharrison.com.
By Nyasha Nyamapfene