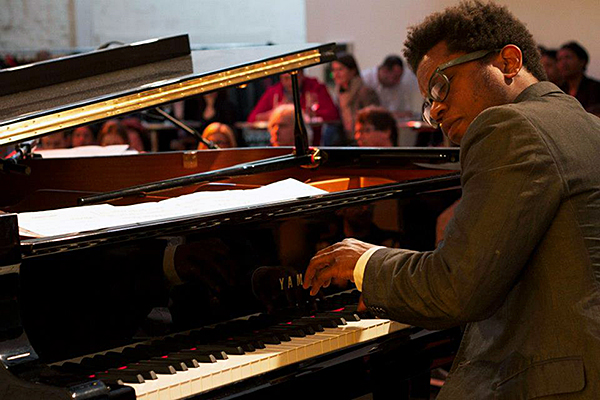 Cuban born pianist and composer Aruan Ortiz expertly blends contemporary jazz with Afro-Cuban rhythms and classical music. The up and coming artist began studying music at the age of eight. Ortiz, classically trained in both the piano and the violin, has won numerous awards with both instruments. As a violinist, Ortiz won the Amadeo Roldan Award for Best Mozart Interpretation and Best Interpretation of Cuban Music. And as a pianist, he won Best Cuban Composition at the Symposium of Cuban Music and Latin Jazz Corner's Arranger of the Year (2011) to name just a few.
Although he is extremely gifted with both instruments, Ortiz currently concentrates his musical efforts to the piano. Since arriving in New York, Aruan Ortiz has released several critically acclaimed recordings. His latest project, Banned in London, with co-leader bassist/composer Michael Janisch, also received rave reviews. iRock Jazz had the opportunity of interviewing Ortiz on his music, Afro-Cuban Jazz and his musical influences.
IRJ: Where are you from in Cuba?
AO: Santiago de Cuba
IRJ: What were the musical influences in your town?
AO: In my hometown, there are a lot of Cubans and Haitians that live there. It's in the South East of Cuba, near the Caribbean Ocean. It's about 1,000 miles from Havana, so there are a lot of similarities with the people from the islands. We have groups of trova- music in the streets all the time and things like that. In Cuba, we have what is called trova-which is a style of Cuban music that began at the end of the 19th century, and was very popular in Cuba. It's a very poetic, Spanish harmony style of singing and writing. Artists would write and play on the streets. They used to get together and play love songs. So that was very popular in my hometown.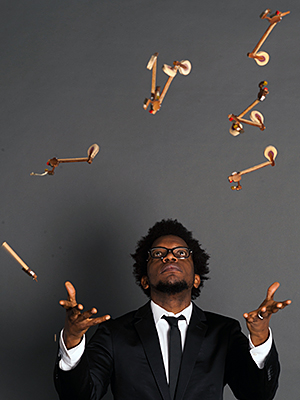 IRJ: How would you define Afro-Cuban music?
AO: From my point of view, that is very open because there are a lot of inner styles from different regions in Cuba that play different styles of popular music. People from outside of Cuba, when they hear Afro-Cuban, they the reference to the yoruba style, etc. But that (jarumba) is more from the west side of Cuba. But we have so much diversity coming from the African descendents and different immigrants to Cuba. Like the Afro-Haitians, for example, are still listening to Afro-Cuban music, but it is different than the jarumba thing. So for me, Afro-Cuban music has a very wide concept.
IRJ: How did you begin playing the violin?
AO: My mom took me to the conservatory to audition. In Cuba, that's free. You can study for free and then you can have a career for free – if you have the attitude and the aptitude, as they say. You have to have the talent for it. Basically they audition you and you have to pass a test. I was 7 years old. I took the test and passed it. So, I just picked the violin, and that's it. The next school year I went to the conservatory and studied basic information for seven years. That was from years 7-14. Then from years 15-18, you are on a more professional level. And then I spent two years in college. But I was also dealing with both careers – the violin and the piano, because in Cuban conservatory, everyone has to play the piano as a second instrument. And I was especially interested in playing the piano. Even though I began playing the violin, after three years at the conservatory I switched to the viola. But I always favored the piano.
IRJ: What was it like coming to the United States from Cuba?
AO: From Cuba I went to Spain and spent six years there. And then I spent a year in Paris, France to study classical. That is what I was trained in. Then, I got a scholarship to study in Boston. When I went to Spain is when I started to study the jazz masters: Monk, Nat King Cole, etc. Because in Cuba, at least in my generation, they were dealing with what was happening at the moment. So I didn't get the history of jazz. In Spain, I started to absorb music and videos and old CD's of all the greats. I was very, very impressed by Monk from the very beginning. And when I got to Boston, I realized that I didn't want to go to school, I wanted to play. I had different teachers that helped me to learn. I soaked up the music and I soaked up the history itself.
IRJ: How would you define jazz?
AO: Jazz is just a word. It's about what that word means for the pioneers of this music. It is a creative art form that came from the community of people with African descendents. You can find the same energy and message in any music from people with African descent. It's circular motion music, and very creative that has an abstract message that is able to touch people.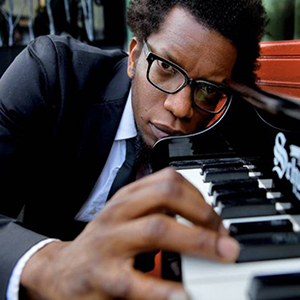 IRJ: What new project are you working on?
AO: I'm always working; I never stop [laughs]. I'm working on music for my Quartet. We will be at the Atlanta Jazz Festival. And I'm working on a series that I'm creating called Music and Architecture; it's how I translate architecture and put that into creative music. I learned that from a great composer and pianist Muhal Richard Abrams. He is another major figure in my learning and developing as an artist. He helped me to widen my concept of being able to absorb any form of art into music. And I have a string group that will play contemporary classical music together with Afro-Haitian rhythms. I just released an album, Banned in London. And I'm also a member of a project called the African Horn which will release an album that I co produced, at the Detroit Jazz festival this year.
Aruan Ortiz will be performing at the Atlanta Jazz Festival on May 25th. For more information click here.
By Steen Burke