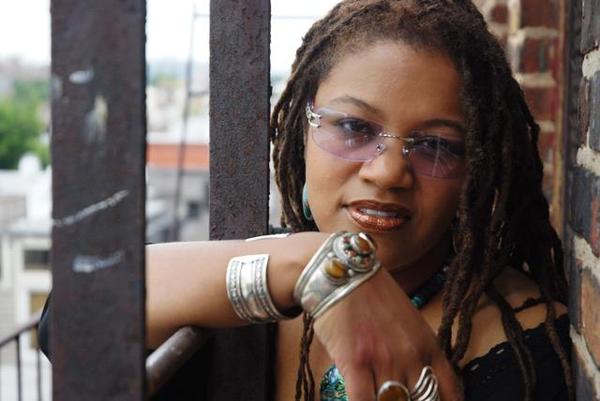 Amikaeyla
With a Native American name that means "one who fights for love", jazz artist Amikaeyla seeks to use her vocal powerhouse for good as she seeks to return to the basics of feel-good music.
"I want to revisit a place in music where people can drink a glass of wine, listen to music and enjoy it," she comments. "I want people to look in that deep core place of what love truly is because we need to get back to that. The world can change when we visit that place of love."
Amikaeyla says she grew up around music and in a home centered on love. With a mother who was a physician and a classical pianist and a father who was a psychologist and played several instruments, the songwriter admits music and science strongly influenced her.
"For many years, I was always singing in the background and harmonizing, but people pushed other professions on me," she adds. "Becoming a singer was not a plan, and I used music as a form of medicine to travel to other places where people asked me to sing for their ailing loved ones. So, I married the two [music and science] and can have the best of both worlds to heal and comfort others while I express myself creatively."
With a background in working with nonprofit organizations, community health service programs and as the executive director of International Cultural Arts and Healing Sciences Institute (ICAHSI), Amikaeyla says she decided to pursue music full-time and on a professional scale after her music was heard by others and she was contacted for various awards and accolades on her creative work.
"I realized this wasn't just for fun anymore, and if other people enjoy it too, this can be more than just an after work Friday type of thing to do," she adds. "It's been a great honor and blessing to do this full-time. When you give back and people feel you're authentic, there's a conversation that's allowed to happen."
Her first project, Mosaic, features some of the sounds that earned her several awards from her home base in Washington, D.C., a place where she used her experiences as the only child of color in her neighborhood and in school to fuel her passion for activism in the community, which is one of the themes in her second CD. Being in Love embraces all aspects of culture and features live musicians with live strings, an acoustic, barbecue-styled fashion other instruments from all over the world. The songwriter worked with Howard Levy, Esperanza Spaulding, Sheila E. and Peter Michael Escovedo, to name a few on this CD.
As a victim of a near death experience from a hate crime, Amikaeyla says she chose to use her energy positively and to embrace love.
"You can choose to fight all of the time, or you can love, which influenced this project," she comments.
Amikaeyla says she survived those experiences from childhood as the only child of color through the arts, which connected her to a deep part of her soul as she was exposed to various genres of music. She continues to use that bridge to bond with others as a part of the education system in Sierra Leone and in her travels to embassies all over the world.
"As a singer, I want to connect people and communities," the artist says. "I would love to continue to create authentic, groundbreaking music to inspire people to spread love and to be a part of the bigger conversation. "If I can be anywhere, that's where I want to be."
For more information on Amikaeyla, visit her website at www.amikaeyla.com.
by Iya Bakare