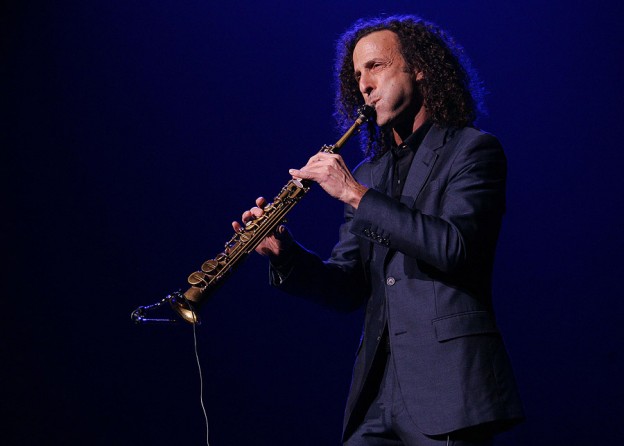 In 1973, 17-year-old Kenneth Bruce Gorelick landed a gig with the late Barry White and his Love Unlimited Orchestra at the Paramount Northwest Theater (now the Paramount Theater). After Arista Record's president Clive Davis heard his rendition of ABBA's "Dancing Queen", the saxophonist signed with the label as a solo artist in 1982. His breakthrough came in 1986 with his fourth CD, Duotones, which featured "Songbird" – the song that solidified his place as an artist of longevity.
With a solo recording career that spans almost three decades and 24 albums, Kenny G has woven elements of R&B, Pop, and Latin to a Jazz foundation and cemented his reputation as a premiere artist in Contemporary Jazz. Since the early 1980s, his combination of unparalleled instrumental chops and indelible melodies resulted in sales of more than 75 million records worldwide (45 million in the U.S. alone) and more than a dozen top climbs of Billboard's contemporary jazz chart.  His collaboration roster includes icons such as Celine Dion, Aretha Franklin, Whitney Houston, Gladys Knight, Barbra Streisand, Chaka Khan and Frank Sinatra.
Concert goers of his current tour get to hear new songs from his latest 10-track album, Namaste, released this past summer. Kenny G explores the rich, worldly sounds of traditional Indian rhythms on this release. He teams up with India's premiere santoor player, Rahul Sharma, to create a unique blend of soothing sax melodies. Through this organic collaboration, the two globally respected artists transcend cultural boundaries with mind-seducing musical dances. Sharma's 100-string santoor and Kenny's masterful manipulation of sound waves on his woodwind instrument produce a delectable blend of Western soul and Eastern grooves.
Originally released as Namaste India in 2011, music lovers travel across hemispheres as they listen to this hypnotic mixture of Bollywood, vocal chants, Classical and enhancements by UK mixer and producer, Marc Burrows on this latest release. Operating on this project as Kid Tricky, Burrows reconfigures the album and took the title track, "Namaste" and ethereal "Transcendental Consciousness" to surreal levels. Fans will also find delight in Brhama Vishnu Shiva, Valley of Flowers and the surprising club mix of "Namaste".
Kenny says this CD was created through a slew of email exchanges between the two music masters. "In the old days, you went into a studio, turned on the tape recorder and you made a recording," he comments. "If you nailed it, you did and if you didn't, you did what you could. Nowadays, there are lots of options. You can't really turn your back on technology. Fortunately and unfortunately, you can't. I prefer some of the old ways, but they are gone, and so you have to move forward."
Like most great artists, the musician still stretches himself and admits to venturing into a new realm with Sharma, on his latest project.
"All of the music stretched me, as it was [mostly] Rahul's" he admits. "I don't normally play on someone else's songs. Just playing on someone else's music and trying to fit in on an instrument that's strange to me [is hard]. Strange, meaning I don't come across the santoor. That's the kind of music one comes across in Detroit."
The veteran saxophonist ventured out of his comfort zone as he married his skills with Sharma's tones and core progressions. Gladly accepting the cultural differences and influences of his collaborator's art form, Kenny G rose to the occasion. "It was a stretch to make the music cohesive and that was also the challenge and fun part of it."
With shows scheduled through next March, Kenny maintains an appreciation for his fans and continues to deliver his heartfelt creations through his sax. With this album's predecessor, Heart and Soul, listeners traveled back in time, to his musical roots as it captured the spirit and vibe of the classic R&B Kenny grew up listening to, in his hometown of Seattle.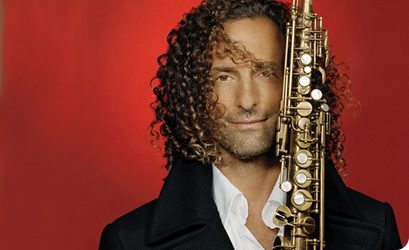 Kenny's down-to-earth nature is hard to miss as he talks about the inspiration of his music. "It's hard to explain," he confesses. "As an instrumentalist, I don't have a bunch of lyrics that talk about a timeframe of my life or feelings. With Heart and Soul, I didn't really think about too much except to write songs that felt good to me. I have a lot of R&B roots. I'm a white guy, but I'm from Seattle, went to an inner city school, and listened to mostly R&B music when I grew up. I'm very influenced by R&B, and naturally my tendency when I write a song is to have more of an R&B groove to them than a Rock or traditional Jazz sound."
Kenny G. carefully balances his life as he tours, creates music and manages the norm of everyday living. "It may seem as if I'm on tour a lot, but truthfully, I'm probably gone about 90 to 100 days of the year," Kenny says. "I practice when I'm at home and do normal stuff. I do laundry, clean my house and go grocery shopping. I'm a pretty hands-on guy."
His sense of humor peeks a bit as he admits to not touring in a manner that is probably considered efficient. "I want to be home and keep a real consistent relationship with my son, Noah. I could be out longer. It would be smarter from a lot of standpoints. But, I'm going to wait a bit longer until he goes to college. "He's his own person and that's okay."
The music creator says he will probably respond to his current growing desire to create new music soon. "I've got the feeling about writing now," he adds. "It's been a few years since I made a new CD. I've been going through a few personal issues and taking care of things that I have to take care of, but it's coming. Maybe, next year." There are a few more icons that he'd love to work with – Tony Bennett, Elton John, Billy Joel, and The Rolling Stones. "I'd also play with some of the young people, like Beyonce."
Reflectively, Kenny talks about his experiences with the late Barry White. "I remember thinking that was pretty cool," the saxophonist recollects. "I'm 17 and I'm actually pretty good. I remember thinking, 'I've got a lot more to learn', so I'm going to keep practicing and over time, I'll get better."
The disciplined musician maintains the desire to improve, and for the past six years he made a commitment to practice harder with a more intense regimen. "I notice that I'm better. It works."
Kenny says he likes some aspects of today's R&B music, but has a greater appreciation for the old school's focus on vocal strength. "I really liked when Luther Vandross was alive and really loved [his] traditional, amazing voice and great songs. It was not too much about hype and attitude, which does not do much for me. I listen to the voice. It can't just be about groove and attitude. It has to have quality."
The saxophonist wants his legacy to reveal his value of the musicianship of playing the sax and his continuous determination to improve, despite his tremendous success. Kenny G continually expressed his gratitude for his chosen career throughout the interview.
Although he enjoys playing golf, that profession was never a consideration. "I think I could be a competitive amateur golfer and probably play in a few tournaments, but I love music and it's really satisfying."
Along with his latest project, fans can hear Kenny G, on his weekly radio show, Contemporary Jazz with Kenny G, on 88.1 KJAZZ or the Smooth Jazz Network at www.SmoothJazzNetwork.com. Music lovers can keep up with his projects at www.kennyg.com, on Facebook, and follow him on Twitter.
by Lisa George