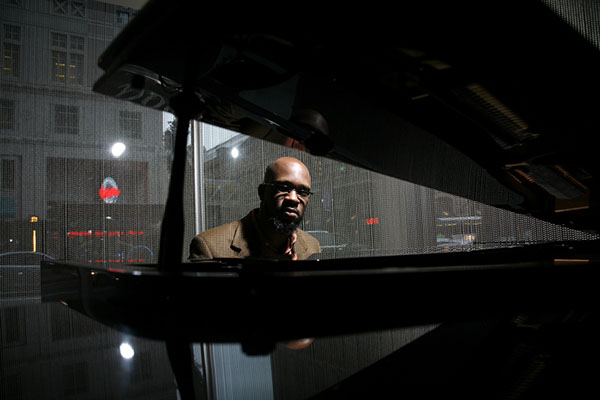 It can be quite risky admitting to a well-known musician that you've never heard of them. One, that revelation could be result in a tongue lashing by the artist. Two, the interview could come to an abrupt end, and three, my music journalistic credentials could be damaged all in the name of honesty. Thankfully, none of these has happened…yet. Though the response I did receive (after offering a follow up statement something to the extent of "the essence of music is often in the discovery of new music and artists"), was a gracious, "thank you". As much as I was surprised by the response, I felt a forgiving ease, almost a welcoming or better yet an invitation to experience something new.
For Trenton, New Jersey born, Philadelphia bred pianist and composer, Orrin Evans, who offered the gratitude, the opportunity for more African American's to discover, experience, and embrace their heritage in the music called "jazz" has become sort of a mission for Evans. Earlier this year, a publication questioned if Evans was going too far in his campaign to bring jazz back to black audiences. While not privy to all of his methods, he never came off as the overzealous proselytizer, as some would suggest bearing his connection to Nicholas Payton and the BAM movement, but more like a passionate preacher of the gospel hopeful his musical message can connect audiences to a time when it was cool to be a fan of jazz.
Fortunate to grow up in the musically rich soil of Philadelphia, Evans was exposed to and inspired by a expansive cross section of revered, old school, Philly musicians such as Trudy Pitts, Bobby Durham, and Charles Pettaway as well as modern peers like Bilal, The Roots, Jill Scott, and Jaguar Wright. Evans did not have to look far for a great heritage of music to uphold and opportunities to be work with a group of musicians responsible for ushering in the neo-soul movement. Under the tutelage of venerable pianist, Kenny Barron at Rutgers University, who Evan's mentions is the main reason he went to Rutgers, Evan's began to hew out his unique style born out of the Philly soul of his upbringing and the bop absorbed during his time navigating the New York jazz scene. Eventually he connected with mentor, Bobby Watson's Horizon band further developing his chops on tour in Europe. Since 1994, he has recorded and performed prolifically, dropping over nearly 20 projects, appearing on tons of recordings as sideman for everyone from Pharaoh Saunders to Common, Sean Jones to Mos Def. Leader of an independent label, Imani Records, Evans splits time co-leading the critically acclaimed, Grammy nominated outfit, Tarbaby, with drummer, Nasheet Waits, and bassist, Eric Revis, leading his stellar, Captain Black Big Band and groove jazz group, Luvpark.
On the verge of releasing his new project, Flip The Script, his nineteenth recording as a leader since 1994, the 2010 Pew Arts Fellow seems unfazed by the lack of familiar faces enjoying the fruit of his labor. Judging by his extensive discography, the best way to fulfill his mission is to keep making music and performing for all those that will hear. However, Evans', unlike many artist whose only concern is ticket sales, drive to succeed in his quest attract more black audiences stems from of a sense of responsibility instilled in him. "There is a responsibility to carry on the tradition of those who came before and a responsibility to the Evan's family," Evans said. I gather that for Evans, the BAM movement could not have come at a better time to validate his audience building efforts and reinforcing the responsibility to uphold the heritage of the music. "There is also a deeper responsibility that I have to come forward with some Black American music." Evans stated.  Unapologetic about his push to see more African American's in jazz audiences, Evans joined the list of panelist, including trumpeter, Nicholas Payton, bassist, Ben Wolfe, and saxophonists, Gary Bartz and Marcus Strickland for the now famous BAM Conference at Birdland in New York. It is clear that the BAM movement has helped him bring emphasis to his work. He asserts that BAM is essential because it gives him something for which to fight–connecting African American's to the music of their creation. "BAM is giving jazz music new life," he proudly states. It is apparent that BAM is now has an impact on him, not solely for the renaming purposes, which is one of Payton's goals, but to see the thread of recognition tied back to the origins of the music. He is hopeful that more younger and African American audiences will take notice.
Evans' is clear to state he is not abandoning his current audience; in fact, he will be touring Australia, Japan, and Italy this summer, or does he suggest that he has a scarce African American audience. Yet, Evans' is resolute in his efforts to expose the music to newer audiences. He teaches classes to youth on the origins and cultural importance of the music called jazz. Though he is aware that a mission without a strategy can prove fruitless, Evan's is not totally certain of the solution, but he does have ideas. "I don't know the real answer; the present model is not really working," he stated bluntly before engaging me in a story that provided insight into the weight of the issue. He told a story of when his Captain Black Big Band played to a packed audience and did a free CD giveaway to the first African American's to come and no one came. Reminiscent of Robert Glasper's appeal to have an opportunity for people to "not" like his music, Evans is of a similar mindset in his estimation that jazz must become cool again in order to recapture African American audiences. He suggest possibly a "superstar" artist or entertainer that will say that jazz is cool and more branded efforts, similar to Russell Simmons' Def Comedy Jam and Def Poetry Jam. One thing is for sure, Orrin Evans will not rest until he has fulfilled his goal. So, when I was faced with the opportunity to "not" like Evans' music, there is no doubt he gained at least one more audience member.
Orrin Evans latest project, Flip The Script, is set to release June 12, 2012 on Posi-Tone Records. Click here to pre-order your copy.
By Johnathan Eaglin