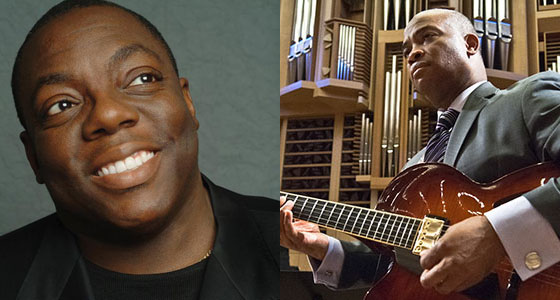 I feel confident in saying that one of the greatest jazz guitar albums ever is, Smokin' at the Half Note by Wes Montgomery in 1965. Aside from a spectacular band—the spontaneity, active listening employed by the comping instruments, and the selection of tunes make this album a classic.
The Cyrus Chestnut trio that performed with Russell Malone in St. Louis reminded me a great deal of that album. Cyrus Chestnut leads with freedom and expression on piano, Dezron Douglas on bass and Neal Smith on drums; the trio performed with the perfect mix of spontaneity and cohesiveness.
Let me first set the scene: the St. Louis Cardinals had just gotten embarrassed in the home opener against the Chicago Cubs, losing 9-5. By nighttime, the heavy rain that delayed the ball game nearly an hour turned into a thin fog. As I walked in to the Bistro (a bit early), I heard Malone rehearsing a tune called "On A Misty Night" by Tadd Dameron, which they later played during the show. This was an experience that would change the tone of the day.
Only in jazz, can a group of musicians quickly rehearse a tune and perform it on stage as if they own it. Some of the other tunes played that night included "No Problem" by Duke Jordan, "Amsterdam After Dark" by George Coleman, "Put on A Happy Face" from the "Bye-Bye Birdie" musical, and "To Benny Golson"—Malone's original. The quartet closed with a bluesy original by Chestnut called, "Brown Soldier".
Malone has a distinctive tone that sets him apart from other guitar players. His intelligent use of vibrato is reminiscent of Charlie Christian—especially on the tune "Benny's Bugle" done by Christian with Benny Goodman. He also has a dark, thick tone that is more palatable to the ear than many of guitarists with bright tones. However, the real treat of the night was hearing Russell play pretty solo guitar.
The tune was his original "Hand Told Stories"—and he played using artificial harmonics. This is achieved by the guitarist using their right hand to pinch the notes past the twelfth fret on the neck and is a challenging exercise. However, Russell did this using all his fingers and achieved a harp-like effect on the guitar.
For jazz fans, this writing can only act as an aid and is no substitute for going out and supporting live jazz. Hearing these musicians live is often difficult to put into words. Experiences with passionate jazz musicians like Russell Malone and the Cyrus Chestnut Trio are more than memorable.
For more information on Russell Malone check out his page on Verve Music Group, and The Cyrus Chestnut Trio.