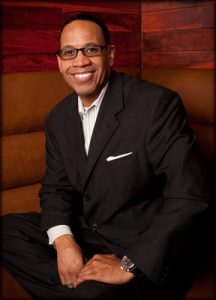 iRock Jazz Radio features a progressive blend of innovative classics and music by today's NEW traditional jazz, soul and funk pioneers. Hosted by John Moultrie, iRock Jazz Radio showcases music from early trendsetters to new groundbreaking artists .
John Moultrie is a veteran entrepreneur who has been called one of the great visionaries and social music trailblazers in Chicago. As founder of iRock Jazz Media Group and on air personality of iRock Jazz Radio, Moultrie has spawned a new creative culture of live music productions, also while showcasing and playing music of many of today's "New" groundbreaking artists.
Moultrie, a former Chef Restauranteur and Entrepreneur, has also received numerous awards including the Small Business Association's "Young Entrepreneur of the Year 1993," Inc. magazine's "Entrepreneur of the Year 1993," Dollar & Sense magazine's "International Jazz Club of the Year 1994," Chicago Tribune's "Top African American Chef," Chicago Magazine's "Best Restaurants for Desserts 1999", Chicago Tribune's "Top 10 Best Undiscovered Restaurants 1999," Chicago True Elegance "Man of the Year 2012" and recognized by the Chicago Defender Newspaper as one of the "Top 50 Men of Excellence  2013".