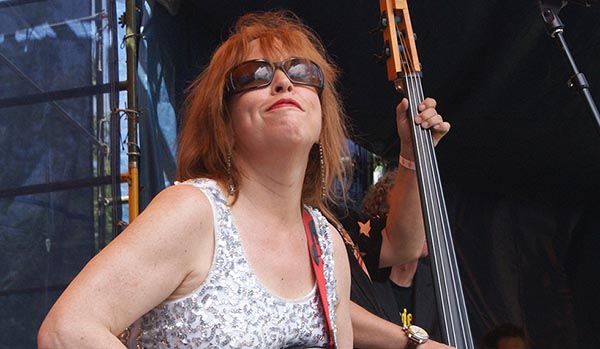 No matter where you are in the world, if you are familiar with the Chicago blues scene, the name Liz Mandeville is not new to you. The Chicago Blues Hall of Fame inductee has traveled all over the world playing her version of Chicago blues for over 20 years. This August, as a part of the Chicago Women in the Blues band, Liz will be performing at the Ship and Shores Blues Festival.
iRockJazz spoke with Liz about her style of blues, what the blues means to her and what is it like for a nice white girl to be doing in the blues?
iRJ: There are many different styles of blues; how would you describe the style of blues you play?
LM: Well I'm from Chicago. But I'm not from Chicago in the 50s; I'm from Chicago in the 80s, 90s and the present era. So my blues is laced with a lot of R&B, a lot of soul music, a lot of funk and a dose of rock too. I started listening to the blues when I was a kid and I discovered Lightnin' Hopkins in a cut out bin in a record store. And I loved the approach that Lightnin' had to the guitar. And I started playing guitar in high school so that I could be a part of a little group of kids that all hung out together that I thought were cool. And they played folk music. But under that umbrella of folk music was the blues. So we might play some Woody Guthrie or some Heat Seekers or some Hank Williams or some Muddy Waters. So to me, it was all folk music.
iRJ: Was it difficult for you to assimilate into the blues culture as a non-African American artist? Were you received well?
LM: I've been asked that my entire career: "What's a nice white girl like you doing in the blues?" And it's like, 'Like excuse me? You don't know me or my background or what I've been through to get here!' [Laughs] The people who have been the most exclusive of me being in the blues are not the other musicians. In fact, my biggest helper in the blues was an African American man named Aron Burton who was a bass player for the Albert Collins Band, and Aron would show up at various points in my life and give me fatherly advice.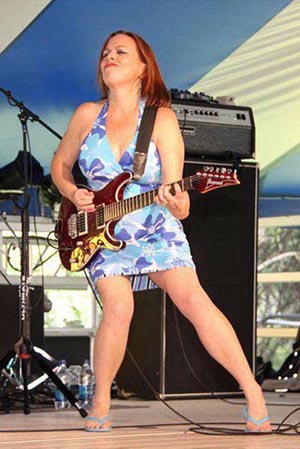 Of course it was African American in origin, and African Americans have to be given credit for the inception of the blues. But I think that the blues is such a universal thing, that it speaks to everybody. I have gone to South Africa and met musicians there that never experienced American cultural experiences of what led to the blues, but they have the blues. I've been to countries all over the world where people don't even speak English, but they sure have the blues. Because the blues isn't about a particular person or race, the blues is about a life experience. It's about having emotions and it's about dealing with the day to day things that happen in people's lives. And just because I'm not African American doesn't mean that I haven't had really pressing life experiences, and I think that is what brings us all together.
iRJ: We've asked this question to various artists already, but we would love to your take on it. How do you think blues is staying relevant today? What's keeping it alive?
LM: The blues is not for everybody. It's really an underground, kind of a fringe type thing. And I think to a certain extent, it always has been. It's never been really popular or mainstream music. It's always been something that people sort of stumble upon and fall in love with and then they are involved with it forever. But the fact is that the music speaks to something that's so universal that it continues to attract lovers, admirers, players, and promoters just by virtue of the fact that of the type of music that it is. There are new young people coming into the blues and as what usually happens with an art form is that either it evolves or it passes away. The blues right now is on a huge evolutionary period. People are starting to introduce all of the aspects of what mainstream music is today, and that is the way in which the blues is progressing.
iRJ: When you have your time on stage with the Chicago Women in Blues at the Ship and Shore Blues Festival in August, what can the audience expect to hear from Liz Mandeville?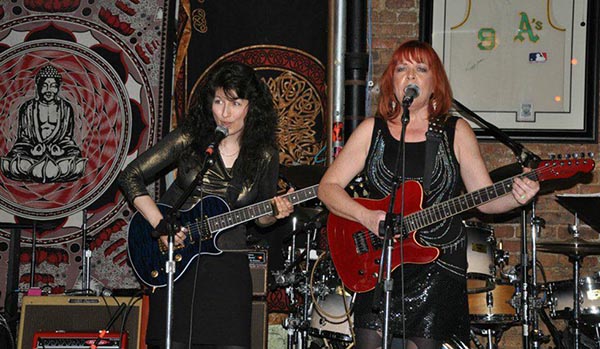 LM: I think that I made with my most recent CD really does what I bring to the stage. My experience with the blues scene in Chicago started around 1980. The people that I would go to see when I first discovered the blues as a young college kid in Chicago at that time, that is what infected my music and really informs what I do. That was the music of Tyrone Davis, Otis Clay, and Millie Jackson. I'm really into Memphis soul. Instead of focusing on one person, I would buy all of their books and learn every song, every note, and in their key, and that became synthesized into my style. When I go out there on the stage, my idea is to make you forget about what troubles got you here. My idea is to get you moving, get you up out of your seat, get you to have that wonderful release so you can have that pleasure that music is all about.
Liz Mandeville will be performing with the Chicago Women in the Blues at the Ship and Shore Blues Festival on Saturday, August 8th in Lions Beachfront Park at 6:00 pm and 9:00 pm
Words by Steen Burke