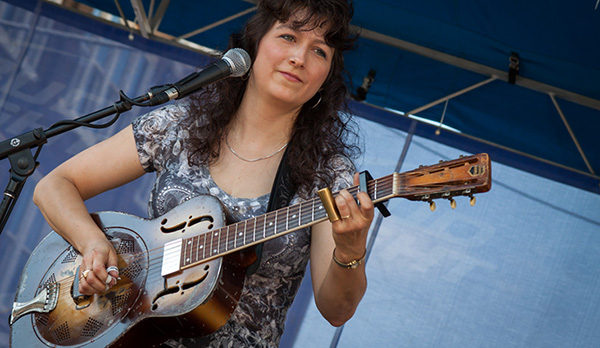 Donna Herula has slayed blues audience around the world for over twenty years. Her weapon of choice: the electric slide guitar. This August she will be wowing the Ship and Shore Blues Festival crowd with her blazing hot twist on traditional Delta blues.
iRock Jazz spoke with Donna Herula about why she chose to stay close to the genre's roots and what influenced her to incorporate a sound that we mostly see men produce-the electric slide guitar.
iRJ: Donna, you have a very interesting background. You were born and raised on the Northwest side of Chicago and you started playing blues when you were 10 years old. How did that happen?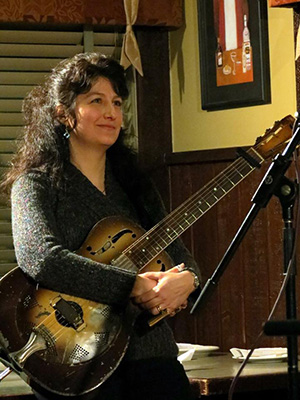 DH: Well my brother was in bands and he played really awesome saxophone. I was playing piano at the time but I always wanted to play the guitar, and he had a guitar buddy that he played blues with and I kind of begged him to ask his buddy to teach me the guitar. It was kind of funny. He taught me the pentatonic scale and then I went from there.
iRJ: Is it true that you were influenced by the slide guitar players? And what is slide guitar?
DH: Sure. I actually started just playing the guitar when I was 10, then years later I heard a street performer that was playing blues outside of the Chicago Blues Festival. When you play the guitar you use a pick with your right hand, and with your left hand you use say a wine bottle or a beer bottle glass slide or a brass slide. But you are using your left hand to kind of go up and down the strings and it makes a really smooth sound. You are not using your fingers to fret the notes; you are actually using the slide to slowly go up and down the strings. So it has a really unique sound. A lot of well known players like Elmore James or Johnny Winter use the slide effectively to produce a really good blues sound.
iRJ: We all know how culture has influence on various music genres, and the blues is different. As a genre of music that is influenced by African American culture, as a non African American, did you find it difficult breaking into blues and embracing the culture?
DH: I feel like I was fortunate because I was very much welcomed into it. I think because I focused on the traditional blues. And there have been a lot of Afro American blues players in Chicago that have heard me and have just stopped in their tracks and told me that they loved what I played because it was really carrying out traditional blues. A lot of people are playing more of the Chicago blues or the electric blues, but I'm really based in more of the delta blues or the country blues; which a lot of people don't really play anymore. I won the Chicago Blues Challenge and the Springfield Blues Challenge and when I went down for the first time to the International Blues Challenge in Memphis, there were a lot of people who came up to me after saying, 'wow, we really like the type of music that you play'. When you take some of the old music and put your own spin on it, like I do, it brings some excitement to the music. And that's why I really like to do-especially with the slide guitar. I love the slide guitar.
iRJ: Blues has a lot of the same issues as jazz. A lot of the old blues players are dying off and the genre has issues staying relevant. What do you think is keeping blues alive today?
DH: I think it's just the people that love it. I don't know what it is about the old blues. I guess once you get into it you just start loving it. I think the music stands on its own. When you listen to it, a lot of the old blues has really funny lyrics or have really great melody lines and I mean the songs are just great. Some of the old songs that we listen to today will stand the test of time and that's why I want to keep the blues tradition alive. I love it.
iRJ: At the Ship and Shore Blues Festival, you and the Chicago Women in Blues will be performing a tribute to the legendary B.B. King. Can you tell us what we can expect to hear?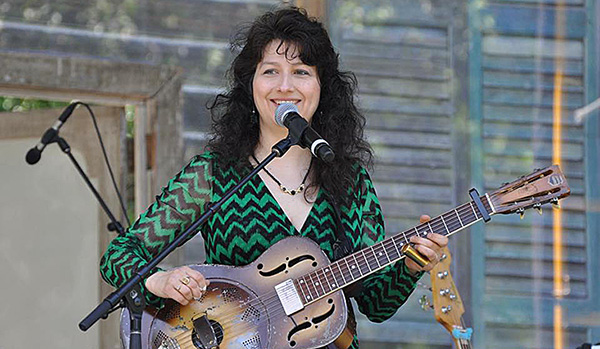 DH: Well I know that Shirley King, B.B. King's daughter is going to be one of the feature performers at the festival and she is one of the Chicago Women in Blues. And she performs a lot of her father's old tunes—and she is something else! She can really work a crowd. So it's going to be a really fun time watching her perform. With me, one of my idols was Johnny Winter and I'm going to be doing some Johnny Winter tunes. He was a phenomenal slide guitar player in addition to a regular guitar player and composer as well. He passed away earlier this year and he really was an inspiration to me so you'll be hearing some of that stuff on electric as well as the acoustic national resonator guitar and probably doing some delta blues as well as some solo and duo stuff with the band.
Donna Herula will be performing with Chicago Women in the Blues at the Ship and Shore Blues Festival on Saturday, August 8th in Lions Beachfront Park at 6:00 pm and 9:00 pm
Words by Steen Burke