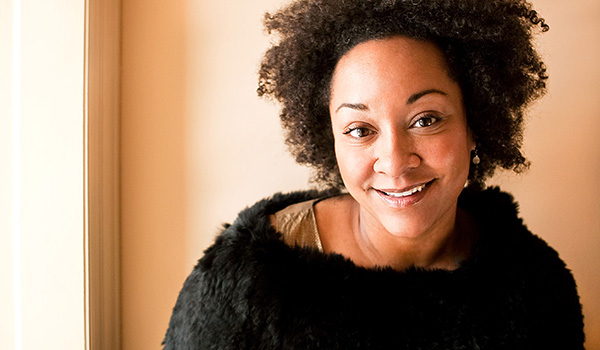 iRockJazz is pleased to have Karisa Wilson (pronounced Ka-ree-sa), as a performer at this year's iRock Jazz Music Festival. Karisa is a jazz vocalist from Grand Rapids, MI. Her debut album, Little Girl and her sophomore album Stronger, both earned her WYCE Jaimee Awards for Best New Artist and Best Album in their respective categories. Her unique sound has earned her the opportunities to not only perform with notable musical artists such as Ziggy Marley, but also earned her the opportunity to play for the President of the United State, Barack Obama.
We spoke with Karisa about her distinct style, the inspiration behind her music and what our festival audience can expect musically from this amazing artist.
iRJ: You describe your music as a blend of indie, folk, jazz and blues. How are each of these genres represented in your music?
KW: That is always a hard question; I never really quite know what to say. I think that the description on my bio is sort of an attempt to try to. I play the guitar on most of my songs, and it just sort of just illicit this silky kind of quality when you play a lone acoustic guitar. So that's where the folk comes from. I think if you had something other than just the guitar, like organs and electric bass and all kinds of things and it would probably a different genre. But my voice, I think, actually has quite a bit of jazz quality to it. And like every other American I'm influenced by what I've heard through the course of my life, which is rock and roll music, blues music, church music even. I always ask people how they would describe my music, and I've never had anyone be succinct.
iRJ: You are also a classically trained violinist. How many other instruments do you play?
KW: I'm proficient on the violin and the guitar and I play the upright bass. I hesitate to call myself a bassist because it is a newer instrument and I certainly have not mastered it yet; but I sure enjoy it and I think that I play it well when I do play it. And I'm really enjoying learning it and hope to get better. I usually have a bass player with me, so I'm not needed on that instrument. But I like writing on the bass because it provides a different kind of a market and a different kind of inspiration. It helps me write in a different way.
iRJ: In 2008, you were honored by the WYCE and received a Best New Artist and Album of the Year awards. What has changed since musically for you since then?
KW: Well, I've grown and matured as a person, and I think the songs that I write reflect that. The musicians that I play with have changed. The first album- Little Girl-were songs that I had written early on in my career, and I think it is a great album. I stand behind it, but I definitely hear a more immature musician when I listen to it. And that is the biggest thing that has changed; I've matured musically and otherwise. And I think that it is reflected in the music since then. WYCE has these awards-it is a local music station. They service sort of a regional area, but are centered in Grand Rapids, MI. And it's just a nice way of recognizing local musicians and sort of giving credibility to local musicians. The second album I won Best Album for its category. I've put out shorter albums in between, but those are my two [full] albums; Stronger and Little Girl.
iRJ: One of our favorite songs is Stronger. Where did the song Stronger come from?
KW: The most immediate inspiration was a friend and neighbor who had shared with me her struggle with and overwhelmingly her triumph over breast cancer. She just had this very powerful attitude that I was impressed by. I had been through a few difficult things in my life; it's been several years now. Both of my parents passed away. My mother had cancer and my father died the following year. And so I looked at this person who had also been through the ringer and had a really positive perspective about it, and felt encouraged to try to find that place for myself. So Stronger is inspired by just overcoming adversity. Everybody's got that in their life in one form or another, but that was my process for working through.
iRJ: How difficult is it to break into mainstream from an area like Grand Rapids, MI?
KW: I imagine it is quite difficult. I can't say that I've been recognized nationally, so I'm not a very qualified person to answer that. But it is a small city in the Midwest, and we don't have connections to Nashville and Chicago and New York; so it's difficult.
iRJ: You are going to be performing at the iRock Jazz Music Festival this month. Can you tell us what audiences can expect from Karisa musically?
KW:  Well, it's a jazz festival, right? So I will be performing jazz music. [Laughs] We haven't confirmed or solidified our set list yet, but I will be performing a few of my own songs and some jazz tunes that I have been working on.
Karisa Wilson will be performing live at Roma's Pizzeria in conjunction with the iRock Jazz Music Festival, Saturday May 30th at 8:00PM and again at  10:00PM.  
Words by Steen Burke