Join producer Stephen Hendel for the VIP screening of "Finding Fela" at the iRock Jazz Festival Friday November 7. http://irockjazz.com/festival/purchase-tickets/
$20 VIP tickets to the Friday evening film screening of Finding Fela include:
Tabor Hill Winery VIP meet and greet at 7 p.m.
"Finding Fela" film screening at 8 p.m.
Q & A session with the film's producer Stephen Hendel immediately following the film
For more information and tickets www.irockjazzfest.com
Purchase Tickets: http://irockjazz.com/festival/purchase-tickets/About Finding Fela:
Fela Kuti, the Nigerian musician who defined Afrobeat, influenced everyone from Paul McCartney to Michael Jackson. Now, with Finding Fela, Academy Award-winning documentarian Alex Gibney (The Armstrong Lie) sheds new light on the politically fiery artist with never before seen footage and documents, including Kuti's report card (there's a reason he wasn't a doctor like his brothers). By framing the biography of the musician (Kuti died from AIDS-related complications in 1997) through rehearsals for Bill T. Jones' Tony-winning musical Fela!, Gibney presents two stories in one – the staging of a complicated production and the life of a dissident legend.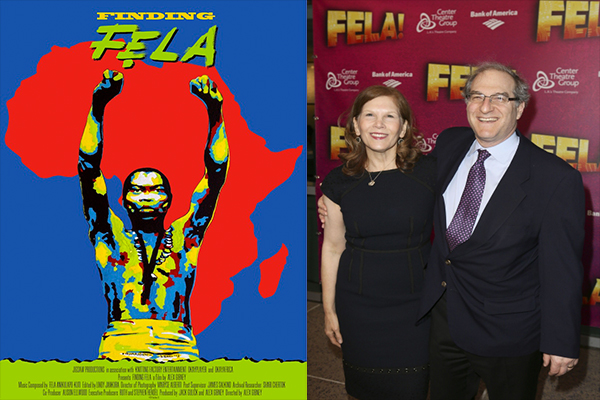 About The Producer Stephen Hendel:
New Yorkers, Stephen and Ruth Hendel along with investors; Jay-Z, Will and Jada Pinkett Smith, and the show's director and choreographer, Bill T. Jones kept the Fela brand alive on Broadway and executive produced the film "Finding Fela."
Our Interview Host – Robin McBride
Robin McBride. Since 1955, Robin has been in and around the Music Business as label manager, talent executive, record producer and an appreciator of all kinds of recorded material. With a BA in Music from Amherst College, he worked at Columbia Records, and others in New York, then moved to Mercury Records in Chicago in 1968.In his career he has produced over 75 albums from Rock to Funk to Folk to Jazz and even Poetry. For over 20 years Robin served the Grammy Awards organization as Chicago Chapter President and as a National Trustee. His radio experience started in college where he broadcast "Robin's Roost" for over 4 years. When WRHC started regular programming a resurrected "Robin's Roost" jazz program was the first regularly scheduled show on the station. The comedy showAbout: 
IRock Jazz Fest
NEW BUFFALO, MI — The Veteran's Day weekend this year will be hotter than ever in New Buffalo, as iRock JAZZ brings some of the finest local, national and internationally known jazz musicians to town for its first-ever iRock JAZZ Fest. The one-day music fest on Saturday, November 8 will provide a smorgasbord for guests, with performances staged at six venues: Bentwood Tavern, Brewster's Italian Café, Casey's, El Rancho Grande, New Buffalo Yacht Club, Roma Pizza and Timothy's. Tickets are $20 for general admission to all venues. A $30 VIP ticket will admit guests to the opening ceremony, as well as performances at all the venues.
The weekend entertainment begins on Friday with a screening of the recently released documentary "Finding Fela." The film explores the political struggles, musical brilliance and bizarre character of Nigerian singer Fela Anikulapo Kuti, known as the forefather of Afrobeat. Tickets are $20 for the opening event, which includes a VIP reception and producer Q & A. Saturday's VIP jazz fest ticket holders can add the Friday night events for only $10. Admission to the screening alone on Saturday is $10.
Purchase Tickets: 
http://irockjazz.com/festival/purchase-tickets/