With 30 years in the music business under his belt and 17 original solo albums, Richard Elliot has earned all of the acclaim and accolades thrown his way.  But resting on his laurels and allowing others to define him is not how he has stayed relevant for so long.  Elliot has found that delicate balance between creatively pushing ahead musically and not alienating his core audience.  Elliot says the key is to never do something that your heart is not into.  If he doesn't believe in it musically, he's not going there.  That advice has certainly served him well and is the true definition of musical integrity.
Elliot has been a huge cornerstone in the foundation of the genre known as smooth jazz.  He has even been crowned the reigning merchant of soul jazz.  Too humble and grounded to get caught up in labels or titles, Elliot attributes that moniker to a marketing tool by a record label.  Although Elliot is not a big fan of labels, he considers them necessary at times.  If he had to put his music into a category, it would be Contemporary Instrumental, with the bulk of his influence coming from the world of R&B.  "What I do is more on the R&B side with less modulation, less swing, and has less chord changes than straight ahead jazz," says Elliot.
But how many people would really argue against Elliot being the reigning merchant of soul jazz?  After five years on the road with Tower of Power and covering countless R&B classics on his albums, Elliot has had a knack for transforming revered soulful R&B covers into his own classic jazzy instrumentals.  Whether he's covering Aretha Franklin's classic "Rock Steady," Luther Vandross' timeless "Here and Now," or Marvin Gaye's "Inner City Blues," Elliot's response from his fans have been one big stamp of approval, evidenced by his numerous #1 albums, as well as several hits that have spent months on Billboard's Contemporary Jazz charts.
With such a great track record, many fans are probably expecting nothing less than the best from Elliot's latest album Lip Service.  Lip Service is based on a particular smooth nighttime bedroom mood.  Looking at the album cover, one can easily pick up on the double entendre that it suggests.  Fans can expect seven original songs and three fantastic covers that Elliot has come to be known for, including The Manhattans' "Shining Star"; Brian McKnight's "Anytime"; and Bruno Mars' "When I Was Your Man."  Sophisticated, sensuous, sexy, and passionate are all words that can be used to sum up Lip Service.  At the risk of sounding risqué, Lip Service can certainly be described as "put the kids to bed" music!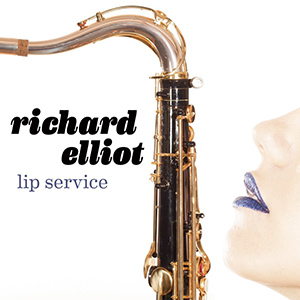 Elliot has had a fulfilling career thus far, not only as a solo artist, but also as a sideman and collaborator.  His collaboration with trumpet great Rick Braun on their 2007 album R n R was very fruitful, staying on the charts at #1 for two months.  Elliot has also recently been on tour with the Dave Koz and Friends group Summer Horns, which consists of himself, Dave Koz, Gerald Albright, and Mindi Abair.  Their album Summer Horns debuted at number one on the Billboard Contemporary Jazz charts and has hovered around the top ten for weeks thereafter.  Elliot has hooked up with three of the brightest sax players in the industry and their unselfishness has paid off.  Recently, iRock Jazz asked Elliot which role he preferred, being a solo artist, or sideman:
"I don't know if I could pick a favorite at this time.  As a solo artist, I was thinking about what everyone else doing, in addition to what I was doing.  'What's the rhythm section doing?  Are they interpreting the music the way I hear it in my head?'  It was a bit burdensome to be honest with you.  When I am a sideman or member of a band, I find that to be more liberating, because all I had to think about was playing the saxophone.  I just had the faith that those that I was backing up or playing with had the same direction and vision in mind.  As long as I was doing what they liked, it was all good.  In the past 15 years, I have found that same liberating approach as a solo artist.  That comes from trusting and respecting the people you play with.  In other words, what these artists bring to my music is more than what I could envision them doing.  They do what they do so well, that I'm not going to sit and have a preconceived idea of what I expect from the bass, keys, or drums.  I would rather just have people who I love what they do and have them interpret it the way they want to interpret it."
Elliot's views concerning jazz have evolved over the years.  His views on labels have remained steady, but when asked about the divisions in jazz, he had this to say: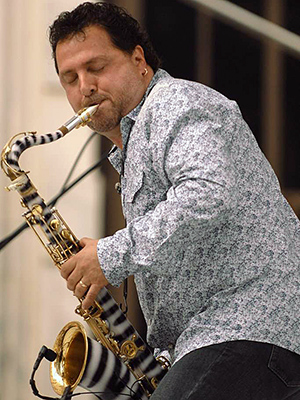 "I got into a heated discussion with Diane Reeves on this topic.  At the time, I felt that music was music.  I felt that if you try to define jazz, you pigeonhole it into a specific set of rules.  'How can you define an evolving art form?'  She was very assertive about the fact that you can define what jazz is and what jazz is not.  My whole argument was that I play what I play and there are elements of jazz and elements of other genres in my music.  I feel a little bit different about it now.  I believe it's very important to define aspects of what someone would define specifically as pure jazz.  I still think it's subjective as to what you call jazz, but it's enough of a structure to still define straight ahead or traditional jazz.  I feel that it's important to keep things as close as you can to its pure form so that you don't forget it.  I'm saying this, not as a straight ahead jazz artist, but rather, as someone who melds a lot of different types of music together.  So there are divisions, but it's not in a bad way.  There needs to be some types of divisions in order to serve certain aspects of jazz in its pure form."
Elliot has stayed true to his art form, true to himself, and true to his fans.  That is the only way to stay relevant in any genre of music.  When it's all said and done, Elliot's place among the pantheon of great tenor saxophonists in the spectrum of smooth jazz, contemporary instrumentalists, or soul jazz, should be well established.  True to form, Elliot refuses to opine on his legacy in jazz:
"It's not for the artist to define their legacy or influence on a genre.  It's something that evolves.  I don't feel qualified.  That's up to others to define.  All I have to do is be a sincere musician.  I don't want to just go through the motions.  At the end of the day, hopefully, it connects with people."
Richard Elliot's new album Lip Service will be available on July 15th.  Catch him on the Summer Horns tour with Dave Koz and friends through September.
Words by Corey Washington