While Jonathan Butler was growing up as a youngster in Cape Town, South Africa living under the racist Apartheid system, dreams had to be very important.  What's more important to Butler is the ability to live those dreams.  Butler became the first black South African artist to be played on white radio in South Africa, due to his extraordinary talent, and his talent eventually led him to the United Kingdom, where he honed his craft.  Butler's big international break came with his 1987 Grammy nominated hit Lies, which caught the attention of the world.  Butler's smooth silky voice, superior songwriting ability, along with his soothing guitar playing made him an artist that could be featured on multiple formats.
On his latest album Living My Dream, Jonathan Butler goes back to his bread and butter.  He mixes urban contemporary jazz with R&B, to give listeners the musical equivalent of "comfort food."  Butler collaborated with the late great George Duke, Marcus Miller, and Elan Trotman, as well as a host of other talented musicians.  The result is an introspective journey worthy of your listen. Butler recently took time out with iRock Jazz to discuss his new album, staying relevant, and the importance of his daughter Jodie to his latest project
iRJ:  Your new album, Living My Dream, seems as if you have come full circle and of age.  Tell me a little about what this album represents to you.
JB:  It's exactly what you just described. It's about coming of age, confidence, boldness, and a declaration of where I have been and what I have gone through. It's also about the hurt, pain and trials.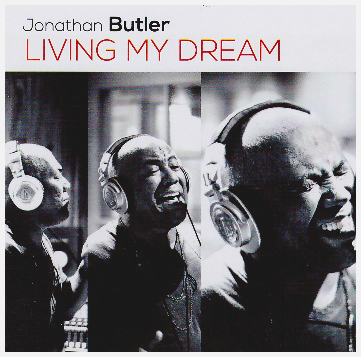 iRJ:  How risky is it communicating your life through music?  You are putting your life out there for public consumption.  If your fans don't like the album, does that mean that they don't appreciate your journey?
JB:  The beauty of it all is that you do have a right to express yourself.  It's a definite need for every artist.  It doesn't matter if you're Van Gogh, Miles, or Stevie [Wonder].  You have to put it out there.  It's like a shuffle of cards.  You can't be perturbed about what people think.  You have to be true to yourself.  It's like going to a great soul food restaurant for comfort food.  If people know you for that, then let them in on who you really are.  I'm not afraid of that.  When it comes to music and creativity, I'm not a private person.  That's just the gift that God has given me, and I won't go back.
iRJ:  The song "African Breeze" from the album was actually penned 30 years ago for the movie The Jewel of the Nile.  How do you take a single that was put out 30 years ago and make it relevant for today?
JB:  You take a bunch of talented young bloods that have fresh ears and chops and go into the studio to paint another picture.  It's fun.  It was a celebration of not just who I am, but also of where I'm from.
iRJ:  Do you think new jazz audiences are looking for music from their peers, as opposed to people who have a long legacy in the art form?
JB:  I'm still alive.  I'm not dead.  I still listen and buy music.  I'm still a student of music at 52 years old.  I think it's very important for musicians to be relevant.  The young people do appreciate history.  The greats, both dead and alive, are still ringing in their ears.  I think the generation today, obviously listens to a different blend of sounds in music.  The Bible says that there is nothing new under the sun.  So whatever is out there, I think I have heard it.  It's just a different experience, with different personalities.  It just depends on who they grew up listening to.  I was privileged to listen to Herbie Hancock, Wes Montgomery, Donnie Hathaway, and Stevie Wonder.  I have a chest of drawers in my house from the 17th century.  I can go to IKEA and get a chest of drawers for a cheaper price, or I can appreciate the art and gift that someone took the time to create something for me to experience.  I think that's very important.
iRJ:  On this album, you have a lot of special guests, but none more important than your daughter.  How did your daughter become a part of this project, and what does her involvement mean to you?
JB:  She is an amazing woman.  I owe this record to her because she got me motivated to do this album.  I wasn't ready for it.  She told me, 'Dad, you have to do this.  You are going to get in that room and write a song every day.'  So I owe it to her.  I really do.
iRJ:  So, if you had to sum up in just a few words what this album means to you and your audience, what would you say?
JB:  Triumph over adversity, personal setbacks, and struggles.  To God be the Glory.
Words by Corey Washington