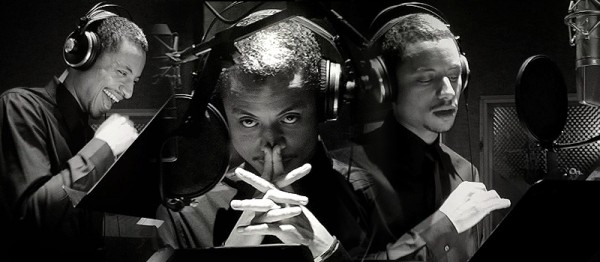 On June 9, 2013 I stood amongst the throngs of concertgoers waiting for the arrival of Kanye West. The location was Randall's Island in New York, and it was the final night of Governor's Ball. When the lights dimmed and the backing screen began to flash, there was something noticeably different. As images of Klansmen in black hoods ran opposite of logos stating "Not For Sale," Kanye West embarked on a what was the world's live introduction to all things Yeezus. And, as he ran through songs from his new album, we, as music goers had a collective reality: We're not in Kansas anymore.
Fast forward to April 26, 2014. There I stood, once, again, eagerly awaiting the arrival of another. This time around, the location was The Independent, situated in San Francisco, California. As the lights dimmed, there were no flashing images, no Kanye West, and yet something felt eerily familiar. And as Jose James walked on to the stage, he too, embarked on what was the nexus of his metamorphosis. Having run through this scene before, I looked to my left and I looked to my right and just as I had suspected, that Dorothy-like sense of bewilderment had overtaken the collective gazes of my peers. It was "Groundhog Day: The Musical."
Now, I'm not saying that Kanye West and Jose James are one-in-the-same, because they're not. However, there is something similar about the two's latest jaunts into musical product. Like West, Jose James is at the forefront of the space in which he exists, a space that is seemingly growing every day. And yet, even as progressive as these two individuals have been, this next phase has far exceeded anything prior.
While You Were Sleeping is not a jazz album, and I don't mean that in the "everything after Kind of Blue isn't jazz" sort of way. I mean it in the "I don't feel comfortable boxing this in" sort of way. Don't believe me? Just listen.
The album opens with "Angel," a suitable title if you consider the progressive wailing of an irate guitar to be celestial in some sense. You take that and couple it with the ever-present attitude inherent in James' voice and we've got raw aggression. This is the sort of record that knocks you on your ass the minute you press play, because you just weren't expecting an album start so strong. This is Erykah starting Mama's Gun with "Penitentiary Philosophy." This is that.
Not allowing the listener to get comfortable, James smooths it out on the very next track, giving us the album's most salacious offering, "U R The 1." If you enjoyed James' No Beginning No End, this is the cut for you. It's more produced than anything from that album, as can be heard in the warped effect playing throughout, but like "Vanguard" and "All Over Your Body" before it, this is the album's auditory foreplay.
While the personalities of "Angel" and "U R The 1" may be in direct competition with one another, they highlight the album's indifference to consistency. At times you get records similar to "U R The 1," like the languid title track, "While You Were Sleeping" and then, just like that, you're hit in the face with the high-speed, guitar trip, "Anywhere U Go." The only discernible connectivity comes through the voice of James, who, regardless of the overall disposition of the track, manages to make it something definably his. It's hard to explain, but so is the makeup of James' vocal styling. Some things just are. This is one of them.
James handles much of the vocal duties throughout, with the exception being the Becca Stevens-assisted "Dragons." Even then, not much is asked of Stevens and understandably so. If by design, the delicate nature of her voice connects with James' in a way that perfectly fits into the songs melancholic trajectory.  In an era of excessive features, this was one of the most efficient that I've encountered. Hopefully, this isn't the last we see of Stevens-James.
The album concludes with a cover of Al Green's "Simply Beautiful," because on an album having no real thematic pursuit, why not?  Admittedly, it's hard to cover Rev. Al, but especially on "Simply Beautiful." This was the cut where you just knew that he was going through some things. Now, I don't know what's going on Jose James personal life, but the second he hits us with that "If I gave you my love…," you realize that he's been there too. Ending an album with a little bit of honesty is never a bad thing, especially when it sounds like this.
I write all of that to say… this isn't a jazz album. If every album review deserves some grand overarching idea, that's it. Again, this isn't some riff on identity politics in music. I, more than most, believe in the inclusiveness of jazz as a genre, but it just doesn't appropriate. It doesn't capture everything that's going on here in the same way that calling Yeezus "a Hip-Hop album" seemed too short-sighted, too limiting.  Yes, there are undeniable moments of jazz on this album, as is the case in most, if not all genres of music, but, ultimately, While You Were Sleeping, is an experiment in freedom. It's Jose James showing us that his palette is even more expansive than we initially thought. It's him telling us that he's got a lot more to say and many different ways to say it. The next Jose James release may not be a cover album of our favorite jazz standards; it may not be a collection of progressive compositions, but it will be pretty damn good, and there's nothing more Blue Note, jazz or otherwise. than good music.
Words by Paul Pennington