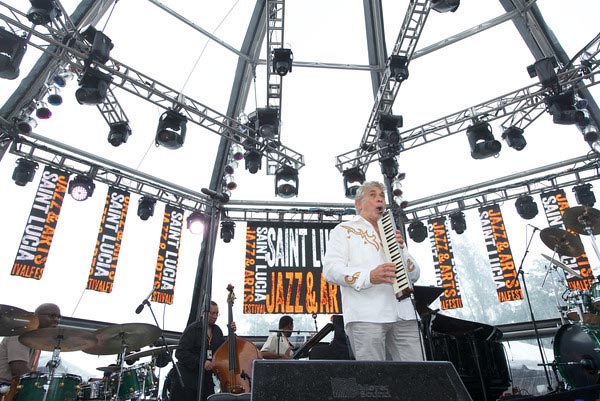 For American fans of Kingston, Jamaica-born pianist Monty Alexander, the chance to see him in concert – in the Caribbean – at the "Saint Lucia Music & Arts Festival" was a highly anticipated treat, and the artist did not disappoint. With his sleeves rolled up on a cool white shirt accenting the coif of his distinguished grey hair, Monty dug into his piano like an imperial excavator, offering up deeply rooted Island jazz treasures – and rightly so. Alexander is not only the passionate innovator of a singular blend of reggae and jazz, but he is also a decorated representative of jazz music with acknowledgments from around the globe. In August 2000, the Jamaican government awarded him the title of Commander in the Order of Distinction for outstanding services to Jamaica as a worldwide music ambassador. In the summer of 2012, Mr. Alexander was awarded the prestigious German jazz trophy "A Life for Jazz." And in November 2012, he received the Caribbean American Heritage Luminary award from the Institute of Caribbean Studies in Washington, D.C.
Having just turned 70 on June 6, Monty Alexander has recorded as many albums in a leadership capacity as he is years in age. In the late summer of 2005, he traveled to Bob Marley's legendary Tuff Gong Studio in Kingston, Jamaica, and teamed up with top local players to record Concrete Jungle, twelve compositions penned by Marley and reinterpreted via Alexander's jazz piano-oriented arrangements. In 2008, at the invitation of Wynton Marsalis, he conceived and directed the acclaimed program "Lord of the West Indies" at Jazz at Lincoln Center. Alexander returned to Lincoln Center the following year with a new program he dubbed Harlem-Kingston Express, merging classic jazz with rhythms and vibrations of his native Jamaica. He earned a Grammy nomination in 2012 for the live recorded document Harlem-Kingston Express: Live (Motema Music) which rose to the #1 position on both the Jazz chart and the World Music chart concurrently.
At the 2014 Saint Lucia Jazz & Arts Festival, Alexander proudly presented his Harlem-Kingston Express concept. Seated center stage at his acoustic piano, Alexander helmed an acoustic jazz trio to his right and an electric reggae band to his left. He played with both ensembles separately and together on an extended set of original compositions, jazz standards and Wailers reggae classics receiving multiple standing ovations. Clearly, the people have spoken. The Harlem-Kingston Express is the A-Train of today.
I caught up with Mr. Alexander backstage walking with his lovely wife, Caterina, after his set. We'd chatted once via phone a year prior when I interviewed him for my liner note essay on a CD reissue of the late, great Phyllis Hyman's Somewhere in My Lifetime on which he accompanied her on piano for an unforgettable rendition of the album's finale, "Here's That Rainy Day." Now fresh from witnessing him helm a custom blend of music of his conception, I asked him to detail the evolution of his Harlem-Kingston Express concept. With a twinkle in his eye and animation amplifying his hipster Jamaican patois, he spun the tale. I barely got another word in edge-wise but was grateful for the 10 minutes as it was the only one-on-one time he granted on the grounds of the festival.
What follows is that story as told to me.
*****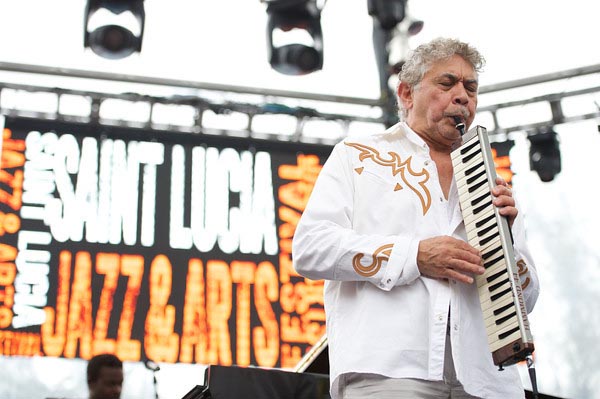 "I came to the USA in 1961 – 17 years-old and loving all kinds of music. So I was adaptable not just to music but to people. After meeting people in Miami, Florida from Black society, I got involved in what was going on all over – from Liberty City to Opelika – hanging out with some seriously dangerous musicians. These guys came with blood and guts in terms of passion for the music. Cannonball Adderley lived in Ft. Lauderdale so his influence was strong. I evolved as one of them – a full-fledged jazz disciple. I had the incredible opportunity to play with Milt Jackson, Ray Brown and Quincy Jones.
I was 'in there.' And while I was, I tried, in turn, to get them acquainted with the Jamaican experience. Some of their contemporaries were West Indians – Randy Weston (of Jamaican and Panamanian heritage), Roy Haynes (Barbados) and Wynton Kelly (Jamaica). They loved what I was revealing to them so I was always welcome, but they didn't really understand the experience of Jamaica – the way we talk, the way we eat and so forth. So I left it alone for a while.
As years went on, I saw the jazz scene evolve into something I wasn't comfortable with. It's not just Jazz music. Jazz is a reflection of a community. My dear friends – master cats who played in a certain way – were getting older and dying. Then the kids came, thank God, but they were learning the music in schools! I never went to school for music. I don't read music. God gave me a gift and I used it to get out in the world and play. I won't say I became alienated but I wasn't comfortable with the scene.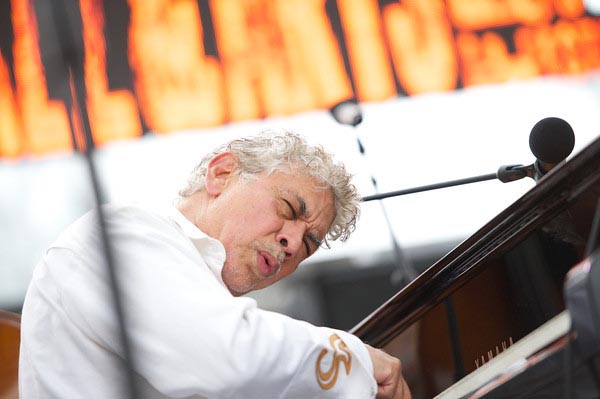 Then I thought, 'Wait a minute. There is a scene that I love. It's in Jamaica.' I went back, had a homecoming and fell in with my Jamaican friends…younger guys like Sly Dunbar & Robbie Shakespeare (the drum and bass greats) and (guitarist) Ernie Ranglin who is older than me but I've known since I was a kid. Playing with my Jamaican brothers fulfilled me as a man and as a musician. The only thing is though they knew about Bird and Coltrane, they couldn't play like that.
My hero was Louis Armstrong who I first saw on stage in Jamaica and shook his hand. My other hero is Nat King Cole who also came to Jamaica. Funny, I wound up playing on Natalie Cole's record ("Non Dimenticar" from 1991's Grammy-winning Unforgettable: With Love), visiting her home and reminding her of songs her daddy did. I was becoming more comfortable claiming my heritage.
One day when I realized I couldn't get a Jamaican drummer that knew the work of jazz or vice versa, I said, 'I'm going to create a band so that whether I feel sprightly and want to play a one drop or some dancehall, or if I want the music to travel up to New Orleans or Harlem, I'll have both kinds of rhythm sections right there on that bandstand.' I call it The Harlem-Kingston Express, and I am the conductor and the conduit! It's a 'One Love' experience – an incredible feeling."
Story by A. Scott Galloway