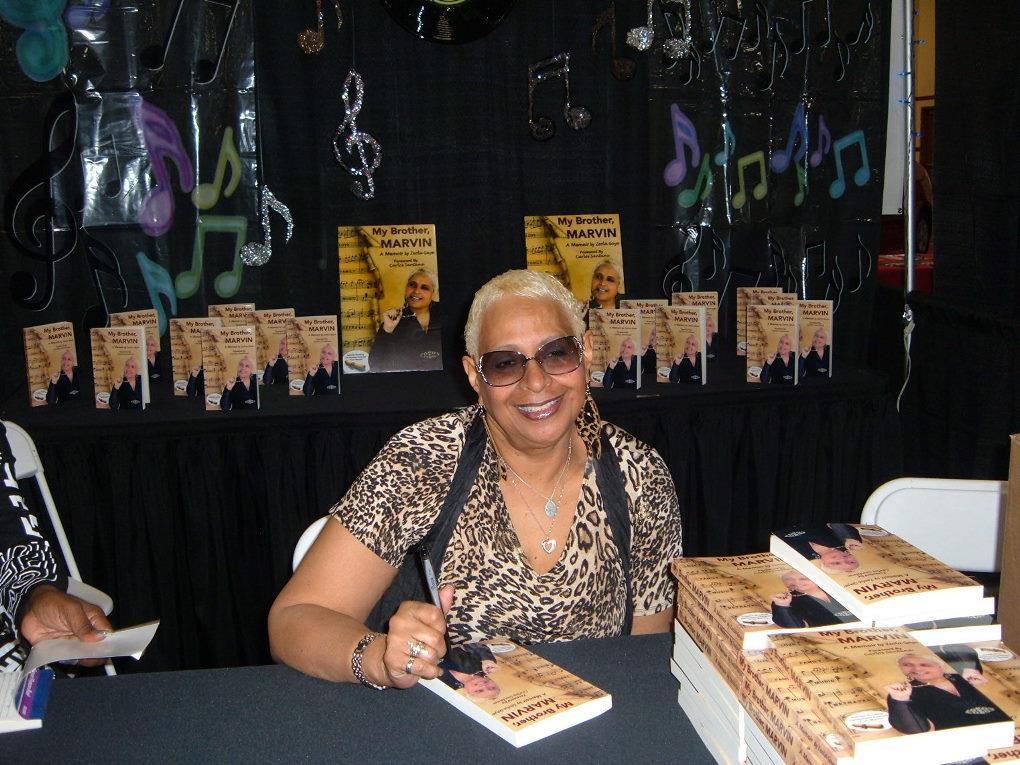 Zeola (Zee) Gaye, the baby sister of the late R&B artist, Marvin Gaye chronicles the true story about life with her famous sibling in her book, My Brother, Marvin, A Memoir by Zeola Gaye. Twenty-seven years after his death, the public hears directly from Marvin's sister about her brother's iconic, yet troublesome life, including handwritten excerpts from Marvin Gaye, while also getting a glimpse into some of the things that may have contributed to his death.
Zeola Gaye, invites iRock Jazz's readers to take a journey through her life to find out what's going on now, and what went on then.
iRJ:  What was it like growing up in your household?
ZG:  Wow, I get that question all the time, really, um, normal. We had a really kind of strange lifestyle because of the religion we were in, Pentecostal. We were raised very strict. My father, Marvin Gay Sr. was the disciplinarian, who ran a strict ship. My mom, Alberta Gay, who was very, very loving, soft and sweet, filled the gap. She was the glue that held everything together. My brothers, Marvin and Frankie, were normal brothers. I was the youngest, and my sister was the one who took care of the house when my parents were away. For me, growing up with my brothers and sister in my family was very normal.
They treated me like the baby. My father made it very clear that they were to give me anything that I wanted. Once I realized that, I definitely took advantage of that. As I grew older I was basically, the "live toy" of the house. Marvin was six years older, Frankie was four years older, and my sister was eight years older than me. So, I was truly the "baby."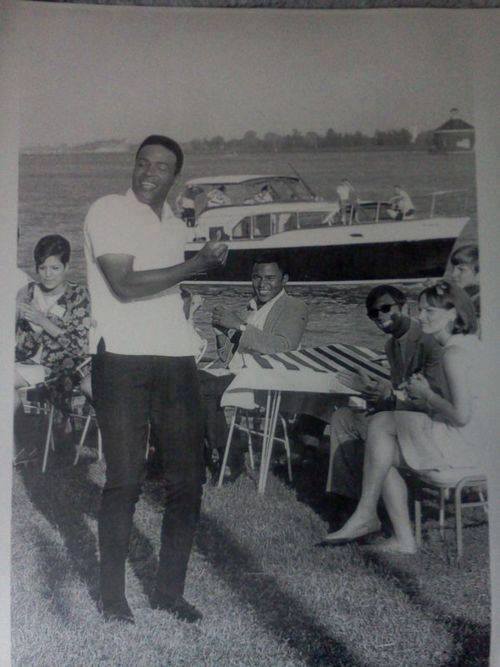 iRJ:  Was your sir name originally, Gay and did Marvin later add an "e" to it, or was it always, Gaye?
ZG:  No, Marvin added the "e." All of our birth certificates read, Gay. Later Marvin added the "e" for stage presence. He felt it looked better. Once he changed his, we changed ours; neither my parents nor my sister changed theirs; just Frankie and I. We were no longer Gays.
iRJ:  Were you a musical family, or was it just Marvin?
ZG:  No, we all had talent. Marvin was outstanding. His talent was very special. We should have known that, when we all went to church, the three of us sang in the choir but Marvin was always a solo act. Frankie, Jeanne, and I never sang solos, but Marvin always did. At a very young age in school plays, he was always the one who had the lead role in whatever musical they performed; he always had the lead. He was just very, very special. He could play any instrument at a very young age without lessons.
I believe we all got our initial talents from our parents. My father could play the piano and sing, and my mother played the guitar and sang. Marvin was just more polished than the rest of us at that time.
Yes, we all had a little talent.
iRJ:  Marvin's music came through his view of the world, so did you notice that there was an inherent connection with his music and view of the world, or did that come later on?
ZG:  It really came later on in his career. I would have to say, that him singing Gospel music in his earlier years before he became famous, probably had a lot to do with his awareness of the world and conditions in the world, which made him very soft hearted and an humanitarian. He had a love of children. He wasn't afraid to show his feelings, feelings of sympathy and empathy for the things happening in the world and the people. I believe that started early in his life.
Marvin used to wander off a lot and be to himself. He would love being around nature, the trees and listening to the birds. I know this sounds strange and corny, but these were things that he just loved to do. Even at an early age, he would just hum and meditate. The messages that came out in his music later in life, I believe that he was touched at an early age by God and was able to bring forth what he saw and what he felt, through his music.
I personally was not aware of it until, What's Going On.  I was a teenager then. When he brought the album home, while I was sitting down listening to it and reading the lyrics as it was playing, that's really when Marvin became Marvin Gaye, to me. When I first realized it, I said to myself, Oh, my God, this is amazing! Wow, this came from my brother. The content of the lyrics was mind boggling to me. I was in my teen years and those lyrics and words, hit me. I realized then that Marvin's talent was a gift from God and that was away of Him delivering His message to the people.
iRJ:  He had an interest in boxing, where did that interest spawn from?
ZG:  [Laugh] That was Marvin being Marvin. He was very adventurous and he loved sports. There wasn't anything that Marvin felt he could not conquer. It tickled me when I found out that he wanted to try his hand at boxing. It tickled me when I found out that he wanted to try his hand at football, or swimming, or basketball. These were just some of the things he felt that he wanted to do. I totally remember watching him box for the first time; I was so nervous. We were in this gym; he only had to box three rounds. I can't remember his opponent's name; we were sitting in the bleachers with Smoky. He was trying to calm me down, I kept saying, "I can't look," covering my eyes saying, "he's gonna' get hurt."
He really didn't lose; it was a draw, and I really didn't like it. I think it was just one of his quirks that he just wanted to try. He tried his hand in a lot of things. I don't think that he wanted to make that his profession, but it was something on the side that he loved and thought he would try it out.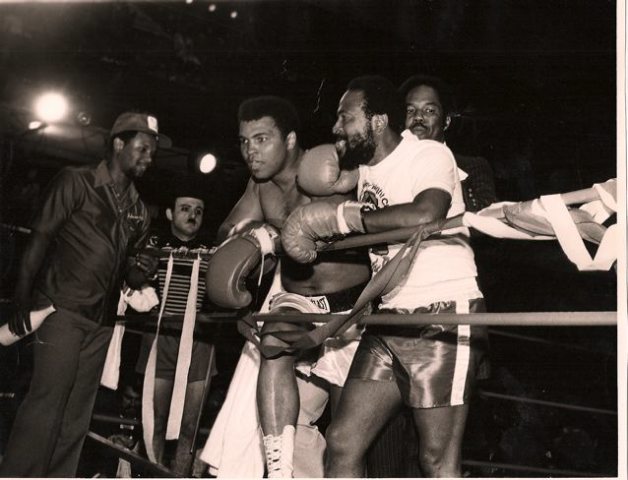 iRJ:  When a person rises to fame in families, things change not just in the immediate family; people tend to start treating them differently.  What changed when Marvin rose to fame? When he grew, how did that impact the family dynamics, your core family and the extended family?
ZG:  In the beginning, my family was extremely happy and proud of Marvin's success and almost in disbelief; that this could be happening to one of our family members. That he and his music was so well received by the public.
Of course things change when one comes into power.  That is what usually happens; money breeds power.  Of course the dynamics of the family changed when money and power came to the forefront.
We were always proud of and loved Marvin. On the other hand, Marvin's relationship with our father changed because my father was not able to handle the power in the family being shifted from him to Marvin. Some jealousy set in, but as far as the siblings and our mother, there was never any jealousy.
We were nothing but thrilled and elated; I loved it. What more could we ask for, that God blessed our family to give us Marvin with such talent and insight on life and the world. Marvin was always Marvin to me. When he became Marvin Gaye and he was touring and performing, then he was Marvin Gaye; otherwise, he was just my brother, Marvin.
iRJ:  Regarding your Dad's and Marvin's relationship, could you have foreseen your Dad killing him?
ZG:  No, I don't think anyone could say that they could have foreseen that. That was a tragedy that happened over the course of years that had built up. I talk about that extensively in my book. I tell why it happened, and I go into great detail of events leading up to that day, and in great details about that day and down until the hours.  What happened that week of, I believe if we could have seen that coming, we could have tried to do something about it to prevent it. But if anybody saw it, it was probably Marvin. I don't want to bring out everything about it; I want people to read about it. Hopefully, they will get more insight on what lead up to Marvin's death and maybe come away with some closure.
I can say, I speak very freely about addictions. My father had an addiction to alcohol and also had a brain tumor. Marvin also had an addiction to drugs. I was also addicted to drugs and am twelve years clean today. If we can all realize what addiction can do to a family then by reading what happened to my family can help someone else and their family, then I've done something God wanted me to do and Marvin. By no means am I glorifying my brother's death or what happened; writing about it was a form of closure for me. It wasn't easy to do, but it had to be done and had to be said.
iRJ:  Where were you when you heard the news of Marvin's death?
ZG:  I was at my home and I was only five minutes away from the Big Home. I got there within three minutes of receiving the phone call saying that a shooting had occurred. I really don't like talking about the incident, but I can't get around it because I get questions like this all of the time.
iRJ:  Tammi Terrell and Marvin were very close and had musical magic, was there anything beyond the musical relationship? Right after her death, he changed and took a period off the music scene, what can you tell our readers about that period?
ZG:  First let me make this very clear, there was nothing beyond the musical relationship between Tammi and Marvin, nothing romantically. Marvin loved Tammi dearly. He used to tell me that Tammi reminded him of me and that she needed somebody to watch over her. He felt that he needed to protect her. He had that instinct of watching over her to make sure that everything was okay.  I can't speak for Tammy. I don't know whether her feelings went further than what Marvin was feeling. I do know that they never had a romantic relationship. Yes, he did have that protective feeling for her. Once, when they were performing, Tammi collapsed in his arms on stage. Marvin took that very, very seriously. From my understanding, when they went to the hospital he spent a lot of time with her. She was able to come out of the hospital, and they had one last performance together. Either I was told this by someone or I read it somewhere. They did one show, and after that show she had to go back to the hospital, and she never came out of the hospital.
He took that very, very hard. Marvin was so soft, caring, and loving, especially when someone was sick. He felt that he did not protect her enough. Although, he knew that he did not cause the brain tumor, he felt that there was something more that he could have done to prevent it but he couldn't. Yes, he took some time off, and during that time off, and I refer to it as a self-exile, that's when he spent a lot of time talking to God and meditating. That's when he came back and recorded, What's Going On. He wrote it during that time period.
iRJ:  What are your thoughts on the controversy around "Blurred Lines"? What were your thoughts when you first heard the album and Robin Thicke's first preemptive action to sue Marvin's estate? I know it was later settled.
ZG:  Initially, when I first heard the song, I really loved it. I said this song is really jamming. Then later it hit me why I loved the song so much. I was reading things, and the public was writing on Facebook about how they hoped the family is benefiting from the song. They were saying that it was really Got to Give it Up. Then I started paying closer attention to it. I definitely started to realize that, yes, that was the same song, slowed down a little, and it was the whole feel of it. I was totally upset to find out that Robin had sued the kids about the music.
My whole thing is, if you love Marvin that much, which he told me he did personally, how Marvin inspired him to become an artist and Marvin, was his favorite artist, then go through the right channels. I thought it was an honor for someone to emulate Marvin. There are so many artists out there that he could have chosen but he picked Marvin. I was upset when he sued the kids; however, I was happy that they settled.
iRJ:  How are Marvin's heirs and children maintaining his legacy today?
ZG:  I really can't answer that. You would have to speak with them about their way and thoughts on maintaining his legacy. I can only really speak for me and what I'm doing to preserve his legacy. My prayer is that we will all get together and do something on a large scale to honor Marvin.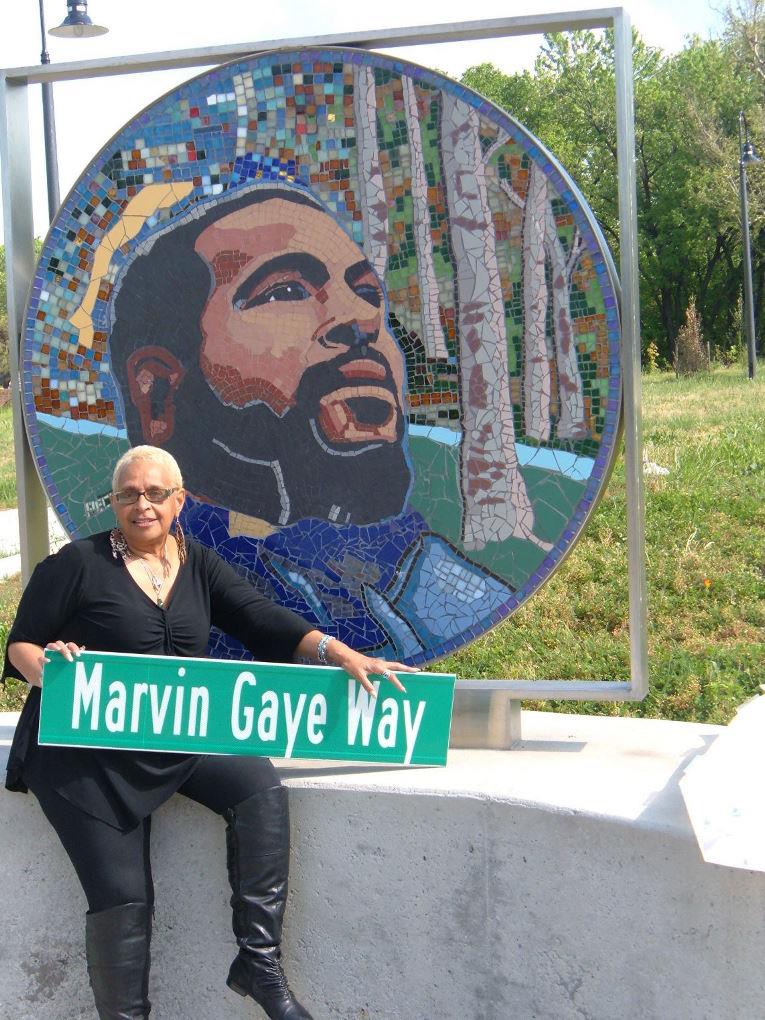 iRJ:  Why did you choose to write the book?
ZG:  I basically wanted to set the record straight. It took many years. However, the things I would read over the years, interviews, documentaries, and articles about what they "thought" happened and why it happened; the relationship between my father and mother, between my father and Marvin; it took its toll on me. I said enough is enough, and I need to straighten out the record. My feelings are, if you were not in my household, you cannot tell the story. I felt the need to tell the story, to write the book to show my family as a family. To tell the story of what can happen to a family when there is addictions within it. People need to know that we were a loving family. Our family was a normal family with the exception of, we had Marvin. I felt a really strong need to write the book and be totally honest about everything, whether it was good or bad. It was a good form of therapy for me.
iRJ:  Do you think your book set the record straight and since you've written the book what has been the result on people's perceptions?
ZG:  I think my book has opened a lot of eyes and hearts. I've received a lot of positive comments and critiques. People are thanking me for being open, candid, and having a sense of integrity.  They appreciated my transparency and honesty. People are so happy that I wrote it; they had so many questions. I did not hold anything back. If I couldn't be totally honest there wasn't any need for me to write the book. There are a lot of people out there who love the truth and a lot of people out there that can't handle the truth. I gave it the way I saw it; it was through the eyes of my life.
The book, My Brother, Marvin, A Memoir by Zeola Gaye can be purchased at www.Amazon.com and www.ZeolaGaye.com.  Zee and the family are planning a return of the stage play, My Brother Marvin. 
Currently, they are working on a screenplay of their family's story.
Words by  Sharlene Bymun