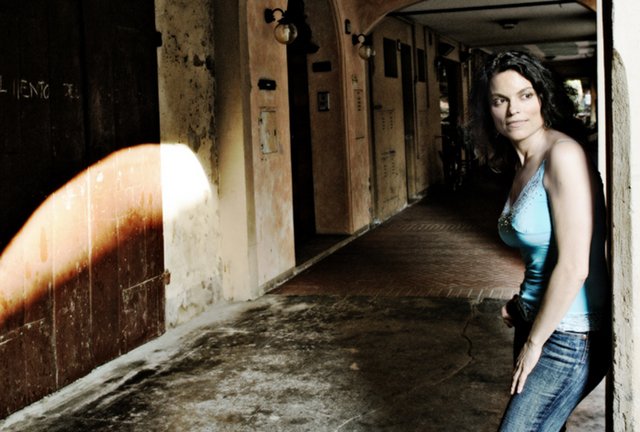 Roberta Gambarini is a singer who started taking clarinet lessons after being caught by her father for playing his tenor saxophone in secret. After having trouble with classical voice lessons, Gambarini decided to trust her instincts and learned jazz improvisation from self-teaching and listening to the masters of recorded jazz music. After moving to America from Italy and making a name for herself as a talented and respected musician as well as putting out her own records, Gambarini developed a professional relationship with Jimmy Heath, and she is now working with him to transform his instrumental jazz standards into vocal tunes.
Roberta Gambarini recently spoke with an iRock Jazz interviewer about her musical past and her current project with Jimmy Heath.
iRJ: How and why did you start playing the clarinet?
RG: My parents were big jazz fans, and my father was a tenor saxophone player in his youth. He didn't follow through with it as a career, but he remained a big fan. What I really wanted was to play my father's saxophone. With complicity from my mom, I used to play my father's saxophone while he was at work. I taught myself to play some melodies, and I even brought the instrument to my middle school at the end of the year party and I became a hit. The following day the principal called my home and told my dad that I was playing this strange instrument. My dad didn't want me to play the tenor saxophone because he didn't think it was suitable for a little girl. He said I could take music lessons, but I had to take clarinet. That's what happened basically. But I started out with singing; I really love to sing. I took these music lessons but what I wanted was to sing, or to play the tenor saxophone which was not allowed [Laughs].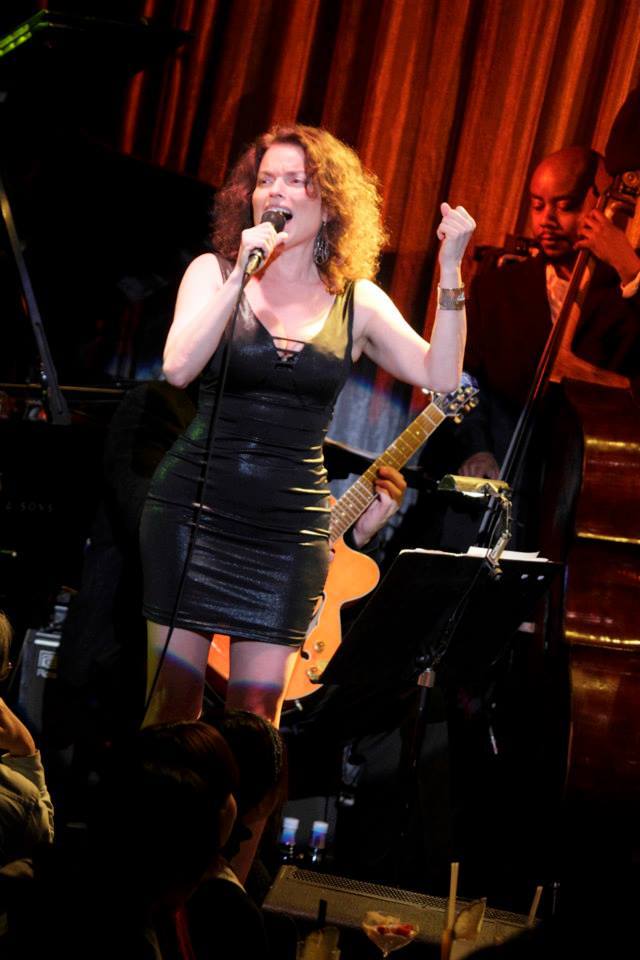 iRJ: What are the advantages and disadvantages of being self-taught?
RG: I think that it's an advantage but now I might be saying something that people might be offended by. I can say for me…well if you want to know the whole story from me, it started like that. I used to sing naturally since I was very little. I used to sing with the records, and I had fun singing and improvising. I never really thought about vocal technique or something but everything would just come naturally.
When I started performing, I was very young, about 17. I thought maybe I should get some vocal training. As I said, there were no jazz schools or jazz education available at the time. So I went to a conservatory teacher and she put me in sort of a classical, but I would say more academic, training. Meaning as an audition tune I did "Donna Lee" by Bird, and after I finished singing she told me 'You're doing everything wrong.' and I said 'What? What do you mean?' she said 'Oh, you're singing in a range that you shouldn't be singing, because you're a soprano, you can only use…' blah blah blah. You have to do this and that and that and that. So I started with this teacher in academic training that was a lot based on what not to do and how things should be or should sound, and it was something that was not what I was feeling and not what was coming naturally to me, so it ended up being disruptive rather than helping me.
It really hindered me so much, that after only a year basically of this training, I had to stop because I didn't feel it was for me. I felt like I was losing that natural ease that I had. So from then on, I started thinking about finding my own way to train my body and train my voice and get acquainted to my voice and try to train me to do the things that I was hearing in my head.
I started really from scratch. I said to myself, 'Let's see what the basic is,' and the basic is the breathing. That's how I got acquainted to a lot of different bodies of work and things that come also from other cultures. I started getting into Qigong [a Chinese martial arts and meditation practice] with a will to try to discover what my body would do in a completely natural state. Because I think that to sing this type of music, your instrument has to be completely working well, but in a complete unconscious way.
Your body has to be trained; your ear has to be trained, and when you step up on stage and sing everything must be, to me, second nature. There needs to be no training showing in order to be free. Because I want to be able to get on stage and be able to be completely, utterly, totally free. And it's a quest; I think it's a quest that will take my whole life. But everything I do is geared to that; everything I work on is geared to that.
iRJ: How do you balance being a beautiful and talented performer while also being respected as a woman in the music industry?
RG: I come from a country, Italy, where women are really not respected, I have to tell you. So, in my country I lived a type of disrespect that I haven't seen anywhere else in the world, so I'm kind of prepared in other words. Nothing kind of really fazes me much. Regarding the environment of jazz, in New York especially, if you can play, if you can sing, if you're serious you have no problems in being accepted, I think. The fact of having pleasant looks can help in the industry of course, but my career was not really a classically industry driven career. My career was made possible, really I owe everything to these greats, to the masters who helped me and took me under their wing. To them it really doesn't matter how you look. [James] Moody even would laugh when he would see me. I'll never forget, for my CD "Easy to Love," we tried kind of a more alluring look for the cover. I remember when Moody saw this cover, he burst out laughing like 'What were you trying to do?' in a very nice way. But [he said that] because it's all based on the music. However, by the same token because you're a performer and the audience sees you before they can hear you, it's your duty to look the best you can. But there's a difference between that and having a looks driven career, which has never been my case.
iRJ: Tell us about your project with Jimmy Heath.
RG: We're doing the Jimmy Heath vocal songbook. Jimmy Heath has, of course, written some of the greatest standards like "Ginger Bread Boy" or "CTI", you know, standards that are mostly known as instrumentals. But his music, and this is something I [have] always felt very deeply about, his music has an amazing melodic beauty. His music calls and screams for a voice to sing it, in my opinion. He's one of the strongest melodists ever; his melodies are just simply amazing. It's been a long time, and I've always felt like these melodies should have some lyrics. So I asked him, and it turned out that some of his melodies he put lyrics to because he felt the same way.  You can hear it in his playing; his playing is so vocal. He's really singing with the instrument. So we spoke about that and he said 'Yeah let's do it.' There were some of the melodies that didn't have lyrics, and I put lyrics to some of these melodies. Others Jimmy himself wrote. I'm so excited. It's great music. I'm so proud and honored to be doing this project.
iRJ: Why do you think you were chosen for this project?
RG: I think it's because of my passion. I was so passionate about these songs. I went to him and told him 'Yeah we should do something; these songs need to be sung.' I think it's really because of my passion and the fact that I knew the music. I knew these songs and I've known Jimmy for many years. We played together in the Dizzy Gillespie All Stars Big Band. I think he knew about my love for his music and passion for the music.
Words by Jarrett Shedd