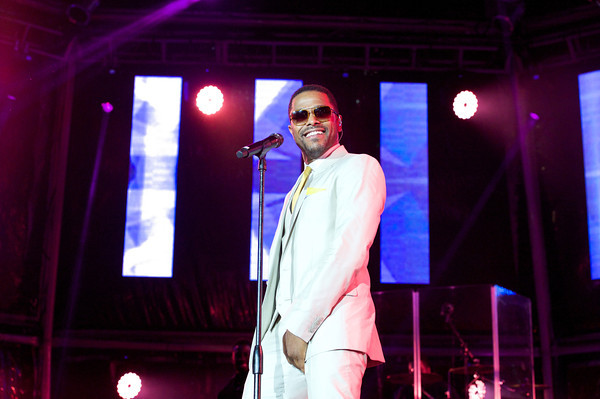 The 23rd St. Lucia Jazz & Arts Festival came to a dream-like conclusion thanks to the soulful sounds of R&B crooner, or for many ladies, "swooner," Maxwell. The enigmatic soul superstar made a classy reappearance at the ocean side dream venue to tune up his live show in anticipation of his upcoming "Summer Soulstice Tour." For anyone who has seen Maxwell in the past, this "greatest hits" show found him dialing down the tempos and the energy on several numbers, bringing new meaning to the phrase "If it's cool" that he co-penned with veteran Leon Ware from his early hit, "Sumthin' Sumthin'."
Chalk up the cooler vibe to the soul man's natural evolution of maturity. For a while now, he has begun wearing custom made suits and ties while distancing himself from the bohemian attire he donned earlier in his career. His music has also increasingly drifted more into the ethereal, tinged with shades of jazz and laidback African grooves. Flirtatiously hinting that he would get freakier but that he was behaving on their behalf, Maxwell's cooler vibe at the festival may also have been out of respect to all the mommies and their families on blankets under the stars that night.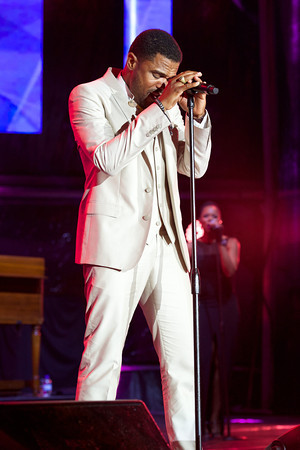 As the headlining American soul star of a four day lineup that was broadly spiced with jazz, reggae, Latin, Caribbean and pop stars, Maxwell was representing R&B along with singer/songwriter KEM, raw soul mama Leela James and today's trio version of `70s funk-pop sextet the Commodores. iRock Jazz spoke to Maxwell backstage before his set, and asked about today's incarnation of what is known as R&B and his feelings about its return. "We're experiencing a `90s revolution right now. People want a little more soul in their music," Maxwell said. "The cycle is coming back around to what I'm used to. There's a time and place for everything, and I'm happy the time is now for R&B," he concluded.
It's been five years now since Maxwell released the first part of his proposed epic trilogy titled, "BLACKsummers'night." Few are the artists who can go for such a stretch and maintain the level of passion and interest in not just their most devoted fans, but also the industry at large. But 12 time Grammy-nominated Maxwell remains one mysterious and dedicated exception. "I want to give people something fresh, something lived that they'll really want to hear," Maxwell insists. "A life lived within the music gives a better album than one that just comes out to sell records. I don't care about fame. I've worked with my same people like Hod David and Stuart Matthewman for 21 years. I do what I do for the sake of the music. I enjoy making music for myself and a world ready to hear it."
And the world is most definitely ready for Maxwell's forthcoming sixth CD, "blackSUMMERS'night" – the long-anticipated second part of his trilogy. Of the new CD, Maxwell offered, "It's still soul-based, but we've taken it to the future with some different sounds. A lot of things have happened to me. I lost a family member, and that changed everything for the album. It's taken things to a place of forgiveness; about how you can accept the issues that others have, your own issues, and do the right thing about them."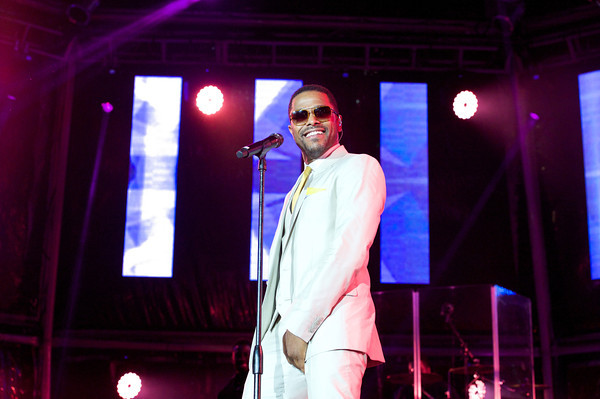 Concluding our chat, and raising up to take those magical few paces from backstage to the stage to deliver his patented brand of "Cococure," Maxwell expressed gratitude to his fans and especially those who waited all day in Saint Lucia just to experience him. "It's great to play here in my lifetime. I can't believe all these people still care. As I go through my life's high and lows. I don't take for granted all I've been given."
And, by the time Maxwell reached the crystalline conclusion of his set with an encore that included his Grammy-winning "Pretty Wings," it was evident that on this warm spring night fans do indeed still care, and are anxiously awaiting for their "blackSUMMERSnight" to begin.
Story by A. Scott Galloway