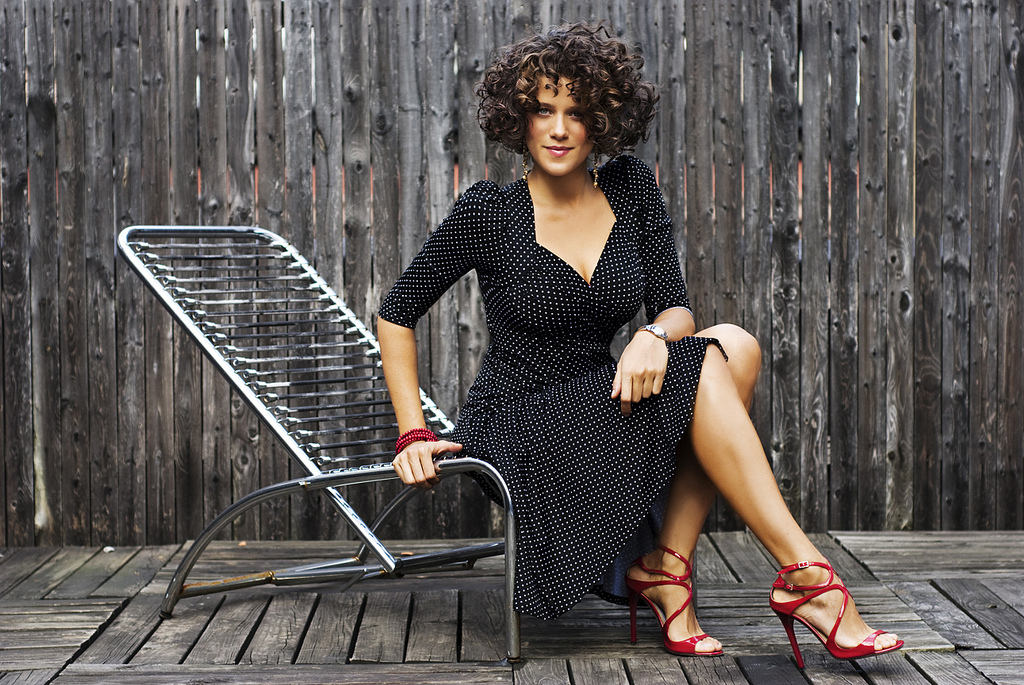 French native Cyrille Aimee has been impressing American audiences with her amazing vocal talents for a few years. The sultry songstress has traveled the world captivating audiences with a unique blend of Dominican rhythms and French Gypsy Jazz.
In this interview with iRockJazz, Cyrille opens up about her transition to the United States, her musical influences, and her exciting new CD.
iRJ: You are part of this new generation of artists that are turning jazz upside down. Tell us about this movement that is either popularizing jazz or pushing it toward the mainstream.
CA: I think it is a good thing that the people that play and the people that listen to it [jazz] are getting younger and younger. Once they hear it, they like it and they are going to like it forever. I think it's good that jazz gets noticed by a larger audience because it is music made for everybody, especially when it's young artists performing it. [The music] is fresh for the artists and new to them, so it's new for the audience as well.
iRJ: What is the meaning of your name?
CA: In French, Cyrille doesn't mean anything, but, Aimee means "loved."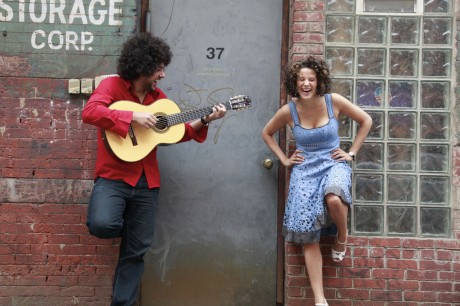 iRJ: Your mother is Dominican and your father is French; how did those cultures influence your music?
CA: Oh, immensely. When I was young, my mother would play a lot of salsa in the house, also merengue and bachata. She loved to dance, and my parents loved to throw parties. They both liked every kind of music. My father would play a lot of classical music in the house, for me and my sister, especially when we were going to sleep. My mom loves French songs too. We always loved music in the house.
iRJ: Did your perception of jazz change when you came to the United States?
CA: Well I came here about 8 years ago to study jazz music. To study jazz music because that's what it is. And I learned a lot.  When I was in France, I wasn't yet a professional working musician, so I really started my career here.
iRJ: Was it difficult to break into the jazz culture?
CA: It wasn't so difficult because the reason I came here was to get immersed into all of these differences. I didn't want to encounter something that was the same as where I had been brought up, so it was very satisfying that it was diiferent. And I came here for a challenge. I want to challenge myself and hear other singers and other musicians that I would learn from.
iRJ: Did you have any struggles finding gigs when you first started in the US?
CA: At first I wasn't really looking so much because I was living on campus. I got really lucky because the second year, a drummer hired me and a bass player to come and play at this place called the Cupping Room in SoHo, NY every Saturday. And so I did that gig every Saturday for 7 years. I've just stopped doing it this year. I really had a regular gig in the city. From that gig came a lot of other gigs. It really helped a lot.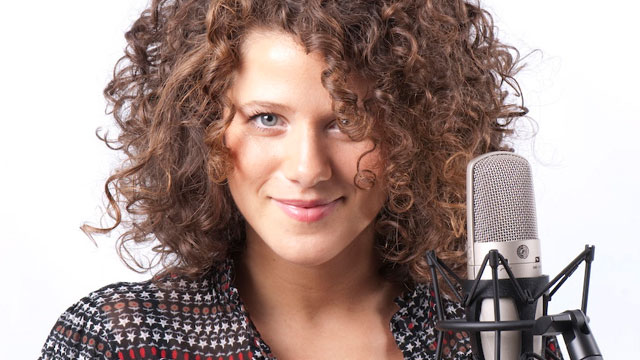 iRJ: Jean "Django" Reinhardt is one of your favorite artists. What about him and his music resonates with you?
CA: He was kind of the first musician I got into. But throughout our lives we go through a lot of phases where your favorite musician changes and your favorite singers change and your favorite song changes. But when I first got in, Django struck me because I grew up in his hometown, so first if all I was really close to home. And I love the Gypsy spirit and fell in love with this kind of music. 
iRJ: Most artists are doing 80% of the American Song Book and 20% original work. Do you follow that same formula?
CA: I'm doing more of my stuff, but not less of the American Song Book; I love the Rican Song Book. I think a lot of them are some of the most beautiful songs ever written. I do now, more than ever, try to create my own take on each song that I sing, and I really pick songs that I want to sing because they are close to me or because I can relate to the lyrics. I'm much pickier with which song I decide to take on because I take on a song and I really want to work hard to make it my own.
iRJ: When you perform, do you find it easier to lead with your original music, or lead with music the audience is more familiar with?
CA: It all depends where you are coming from. I came from learning a lot of jazz standards and singing those, so then of course I started like that. But I think any way is good as a musician.
iRJ: What advice would you give other musicians from Europe who want to come and be successful in the US?
CA: Be ready; hustle-a lot! [Laughs] And you are going to need a lot of energy; but it's the most fun thing ever. And you can do it [become successful] if you really want to do it.
iRJ: What new projects do you have coming up?
CA: I have a CD coming out in August, and that's going to be my first major release on a major label. It's called "It's A Good Day," and I'm really excited about it. It's really fun. It's a mix of jazz standards, original songs, rock songs and French songs. And it's very different from my other CD's because it's less straight ahead jazz. I kind of went back to all of my influences. There is a Gypsy guitar player, a Brazilian guitar player, and a jazz electric guitar player. All 3 guitars playing together with really different sounds but all mapped out so they sound beautiful together
iRJ: Is there any song on the CD that is a favorite of yours?
CA: They are all my favorites! I love the title track. This CD is my new baby; I love it so much!
Words by Steen Burke