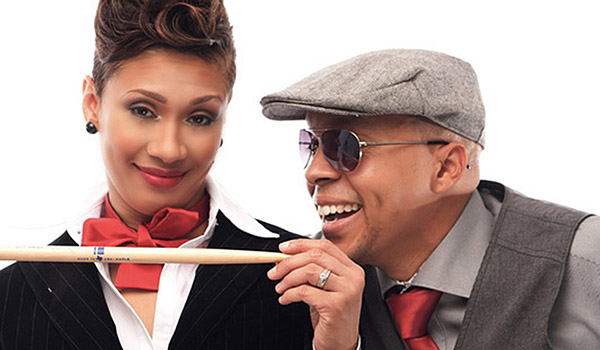 It is no mystery that music is a great way to unite people. It forges bonds, inspires change, carries us through difficult times, clears away differences and brings people together in a way only music can.
Often times, musical partnership develops into deeper connections that ignite romantic ties. Such is the case with Jean and Marcus Baylor who met at a time when they were both established artists in the music industry.
Jean Baylor, formerly of Zhané, brought us classic chart-toppers like "Hey Mr. D.J." and has written for R&B greats such as Mary J. Blige, while Marcus, a member of the Grammy award-winning jazz "Yellowjackets," has worked alongside jazz greats such as Kenny Garrett.
The couple has now brought their individual talents together as a dynamic husband and wife duo. In addition, they have been carefully prepping the release of their debut album, The Baylor Project.
iRock Jazz recently had an exclusive opportunity to catch up with the couple to find out what formula makes for a solid balance of creative and personal success. With a deep love for the music and a healthy sense of humor, the couple had a lot to say about how they have managed to balance their personal and professional lives.
iRockJazz: Thank you both for taking the time out this evening to do this interview.
Jean and Marcus: Oh, no problem at all. Thanks for having us.
iRock Jazz: What is it like being a husband and wife team creatively working together? What are some of the advantages and disadvantages of it?
Jean: I would say, it's a really interesting process, because when we met, of course we were already doing music professionally. But once we got married, we started working on things, almost experimentally. Marcus was in the studio working on drum tracks and I would come in and start writing some lyrics, melodies or arrangements over them, and that's really how we got started. Not long after that is when we did our first project together called, "Testimony: My Life Story," and from there it just continued and developed and morphed into a full production between the both of us. There's definitely some challenges being married (laughter). Being married and working together, you spend a lot of time together. Therefore, you have to make sure you get some space between yourselves. I think that any couple that is married and wants to work together needs two TVs in two separate rooms (laughter). But, I also think the advantages are such that when we work together, or with other people, I know that nobody knows me quite like Marcus. There are certain things about him that only I would know. For example, I'd like to take full credit for him being a producer (laughter).
Marcus: I would say our music is a gumbo of sounds. Of course both of us are preacher's kids, so gospel is a serious element of it, straight-ahead jazz like Nancy Wilson and Carmen McRae and even R&B music like Anita Baker. But the root of our sound is jazz. Really, for us, I mean we both went to college for jazz music. Jean went to Temple University and I went to the New school for Social Research jazz program in New York City. So, on this project, jazz is the root of it at heart.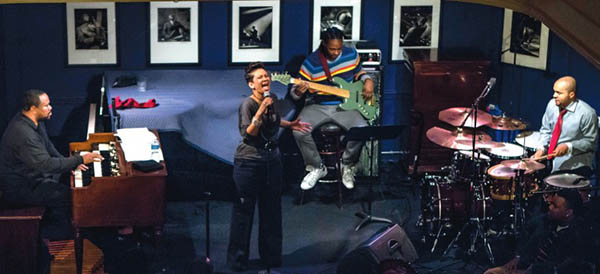 iRock Jazz: Jean, what are the challenges as an African-American woman working as independent artist in the music industry?
Jean: Well, I don't know if the challenges come from being an African-American woman, or just being a woman and working in a male-dominated industry. Sometimes, especially being a vocalist in New York City working with musicians, you kind of have to (unfortunately) make a statement here and there that you know your stuff and that you know what you're doing. For me, that's more or less done through music, as opposed to just telling someone "I know what I'm doing." When you sit down and say, "Here's the chart" or "I want the change to go like this" …when you know what you're doing, I think that's when a lot of those challenges dissipate and then you can just focus on the music.
iRock Jazz: You have a very unique sound. Have there been challenges in coming up with something that musically catches?
Marcus: I would say for us, when we go in the studio, whether we're writing or producing for others, we have a production team called the Baylors, which we write and produce for other artists as well as our own projects. So the way we approach music is that we tailor make music for the artist and we tailor make music for ourselves. Basically, we go in based on the way our vocal makeup is along with style of drumming. Or if it's for another artist, it could be based on their voice. We go in and create music and work with what comes out of that. We're not always thinking right at the creative part, that is, about the marketing. Sometimes, I may have an idea about a certain direction, but it's about the music first. The music is created first and then after that, it finds its space and where it needs to go. So that's the way we approach music.
iRock Jazz: Tell me about the business model behind the Baylors? Who does what and how is it organized?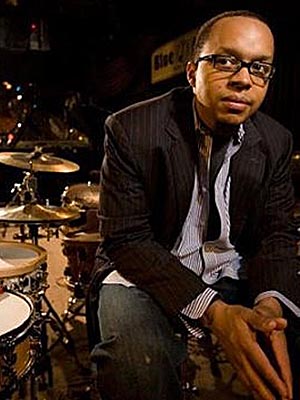 Marcus: Basically, the Baylors are a production team. Jean has been in the business for a while as a writer for various artists and soundtracks, so the model is that Jean plays piano and writes. For myself, it's the same thing. I may come up with a piano idea… We go into the studio together and work with the artist as a team. We both collectively share ideas, whether it's chord changes or vocal changes. Jean is a mastermind when it comes to vocal arranging, so we really just work together. Sometimes she may start an idea at the piano and then sometimes I may start with a drum groove. We were both jazz majors in school so that really helps, especially with the theoretical part.
Jean: And I think too, Marcus and I compliment each other really well in the studio and on stage. We bring different things to the table, so we really like to focus on our strengths. At the end of the day, our goal is to always serve the music and serve the sound as best we can.
iRock Jazz: Tell me about how you market yourself?
Marcus and Jean: That's a great question. Wow!
Marcus: I would say, when we started back in 2002-2003, it was before social media was really taking off. We had a download site back then, but downloading wasn't as popular as far as purchases. So for us, social media has been a major driving force. We've done video press kits before they were even that popular. But, you know, live shows are really the way. And what's been true for us, in that we love to perform. When you perform in a city like New York City where we live, word of mouth spreads really fast when you have a good show.
iRock Jazz: Why does your music matter?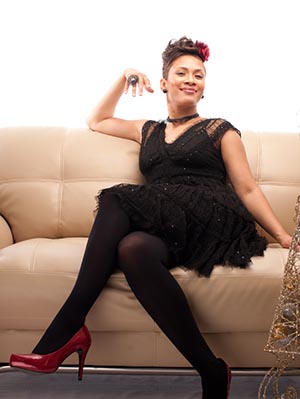 Jean: It matters because we say it matters (laughter). I'm kidding. I would say our music matters because it's honest and it's authentic. We have the ability to go out and make some really cheeky music with a three-word hook that means absolutely nothing. We could go in the studio and do that in an hour, but that's not an honest reflection of who we are as musicians and as people. We made the conscious decision to make authentic music that means something to us and I would say that's why we matter.
Marcus: I also feel that we have a torch we have to carry. When you look at the jazz greats like Betty Carter, Art Blakey, Miles Davis, and John Coltrane, that's a legacy we're continuing to build upon. I think in order for the next generation to understand what the music has been and where we are trying to take it, all that stuff has to be a reflection of who we are. So, I think that is really important to us as musicians.
iRock Jazz: What can we expect from the Baylors in 2014?
Jean: I would say that you can expect the first debut Baylor project, completed and released with some really great original songs, a couple of covers that I think will be interesting for people to listen to, and hopefully the beginnings and development of a really solid career.
Marcus: Basically expect that we're looking to come to a city near you. We're touring in the states as well as internationally, so we're really excited about it and excited about the new single, "More Love" to give people a taste of what we're doing.
iRock Jazz: People often write music based on the reflection on whatever is going on in their lives. What does this project represent to you as a collaborative process between the two of you?
Jean: I would say it represents a coming of age for us as individuals and as a couple. I started out in the industry establishing myself in R&B and Marcus started out establishing himself in jazz, but we've also worked alongside other established performers like Kenny Garrett, the Yellowjackets and Cassandra Wilson. So I think the Baylor Project, more than anything, represents the two of us really coming into our own as solo artists. It's been kind of a tough road reinventing myself outside of Zhané, so I think this is the project that is really giving people another side of me. This is also the project that is really going to give people more of Marcus as his own artist and not necessarily fitting into someone else's sound. Therefore, I would say, it's a coming of age for both of us as individuals and as a unit.
Words by Kristen Elisabeth