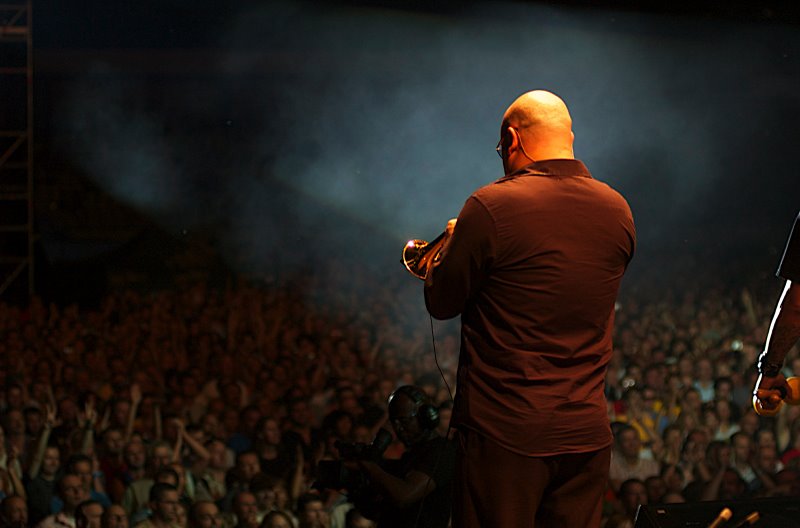 Albert Einstein once said, "If I were not a physicist, I would probably be a musician. I often think in music. I live my daydreams in music. I see my life in terms of music," Bill Ortiz has shown us the interconnection between his life and music with Highest Wish, his new full-length release and follow up to last year's EP, Winter in America.
Ortiz, a long-standing member of the Santana band, enlisted the help of conscious emcees such as Casual, The Grouch, and K-Maxx,  as well as poet and vocalist Linda Tillery, and former Santana member and and 11 time Grammy winner Tony Lindsey to unite jazz and hip hop and create an album that will definitely be on everyone's highest wish list.
iRockJazz recently caught up with Bill Ortiz to speak to him about his latest album, his musical influences, lessons learned, and the fusion of music with consciousness.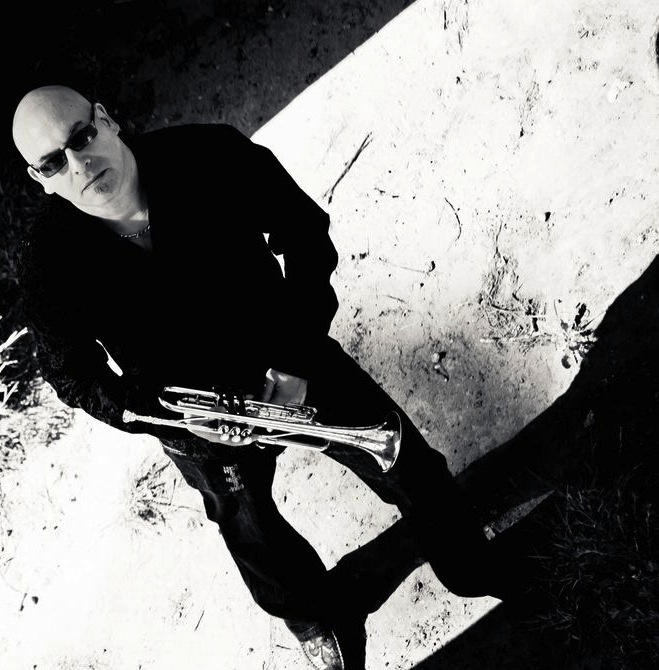 iRJ: What music influenced Highest Wish, and why did you take a more urban and less Latin direction with this album?
BO: When I first started playing gigs, when I was like sixteen-years-old, the music that I played mostly was with groups that were horn bands. If you look at the music that [was played by] horn bands at the time on the radio it was like all the Motown stuff. It was Sly and the Family Stone, you know, groups like that. To me Rhythm & Blues and Jazz were the musical genres that I started playing, when I first started playing the trumpet. I didn't start playing Latin music until I was right out of high school. So it came a little later, but obviously I have a pretty long history of playing Latin music as well. To me, it's all music that comes from the same place and it just depends on which window you want look out of, you know what I mean?
What I was trying to do with my current CD, Highest Wish, was to first of all present contemporary Hip-Hop and R&B with an element of improvisation and harmonic complexity that you find in Jazz. In addition to that, it was important to me lyrically to be focusing on consciousness and trying to raise the bar. Again in respect to Carlos Santana's music, one of the things that he does that I value is realizing the power of music to heal and to unite people together. Instead of doing the trash-for-cash thing, I wanted to present music that has some consciousness.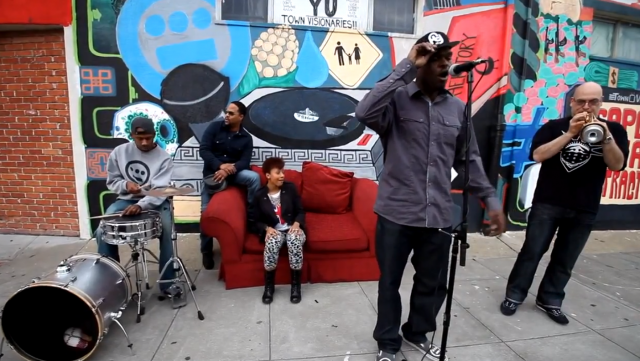 iRJ: Speaking of consciousness, it seems music was a part of your consciousness from a very early age, correct?
BO: I started playing trumpet when I was ten-years-old, and music was always in the house before I started playing. My parents had a lot of records including Louis Armstrong records, plus I'm old enough to remember seeing him on TV. So he was, before I even started playing trumpet, somebody who I enjoyed listening to and admired. Then I was in the 5th grade and the high school band came down to recruit people for the music program, and trumpet was the one [instrument] that drew me in. I came home and asked my folks and they said 'Yes.' Of course that was before they found out that they had to buy me a horn instead of rent one.
[laughing]
iRJ: So, besides Louis Armstrong, who were some of your other musical influences?
BO: Well, as far as trumpet I would say Lee Morgan, Miles Davis, Blue Mitchell, Kenny Dorm, Freddie Hubbard, Dizzy Gillespie, of course, I mean it's kind of hard to stop. Those would be the ones that I think as far as influencing what I play would probably be the top few. But of course as an artist I listen to all kinds of music. I grew up playing not only Jazz but also Rhythm and Blues. Growing up with the music of Donny Hathaway, Curtis Mayfield, Marvin Gaye and Stevie Wonder was as important to me as the Jazz artists that I was listening to. To me it was all the same music, it came from the same place and it was like different branches on the same tree.
iRJ: Regarding branches on the same tree; how long have you been playing with Carlos Santana, and how did you get that gig?
BO: I've been a member of his group full- time since 2000, which was right as Supernatural was being released. I had played with him before as a freelance musician in the past. I think the first record I played on was Milagro which was maybe '92 or '93. Carlos Santana had lived in the Bay Area for many years. He had seen me play with different groups around town, plus I was friends with people who were already in the group. That made it a no-brainer when it came time to add horns permanently. Besides him knowing my playing, there were people in the group that I had played with outside of Carlos Santana for many years, and fortunately for me, they put in a good word and had my back.
iRJ: Playing for Carlos Santana, although rewarding had to also be educational. What are some of the lessons you've learned from playing with Carlos Santana?
BO: I've learned a lot about band-leading and approaching music in a certain way. He and I have similar views on the creative process and improvisation. We both like music that's organic and changing all the time from night to night as opposed to just putting it in park and playing the same thing every day. One of the things that he does as a band leader is encourage people to not put it in park, but always to be striving to play something new and fresh, and also to play with passion. He describes it as wild animals going after raw meat, where there's a single focus and everything else that's not about what you're doing on the stage at that moment has to drop away. Anything that's happening in your personal life at home, or someone in the front row, you just have to be in that moment and your intent has to be right there as far as what you're playing. He also has a way of looking at it as a child looking at something for the first time with the wonderment and excitement that you have the first time that you see something: or the first kiss, that type of thing. One thing that he values, and I value as well, is playing music with that sense of excitement and trying to find something new and exciting to do.
By Jarrett Shedd