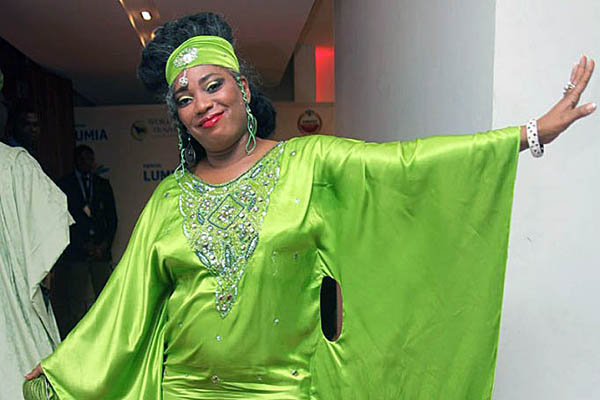 Yeni Kuti, is the first child and daughter of the late Afrobeat legend, Fela Anikulapo-Kuti. Yeni remembers her father's legacy, life, and music by hosting, Felabration, a celebration of life. Fela was born in Abeokuta, Nigeria in 1938. Fela's parents sent him to London in 1958. He registered at the Trinity School of Music, where he spent the next five years in London. There, he married Remi, and fathered three children, Yeni, Femi and Sola. In his spare time, Fela played in a highlife band with other Nigerian expatriates.
Fela returned to the Nigerian capital in 1963, three years after independence. Afterwards, he was leading a highlife and jazz band, Koola Lobitos. In 1969, during the civil war in Nigeria, Fela took Koola Lobitos to the United States. Towards the end of a ten month tour, he changed the name of the group to Fela Ransome Kuti & Nigeria 70.
In America, Fela met an African-American woman, Sandra Izsadore, a political activist and close friend of some prominent members of the Black Panthers. She introduced Fela to the writings of Malcolm X, and Eldridge Cleaver, who in their time, were considered black radicals. Fela became aware of the link existing between black peoples all over the world. With this insight, Fela also gained a clearer understanding of his mother's fight for the rights of Africans under colonial rule in Nigeria. Before returning to Nigeria, Fela also found the inspiration needed to create his own unique style of music, which he named Afrobeat.
Afrobeat was a great success in Lagos. Fela was able to open a club in the Empire Hotel, called the Afro-Shrine. In his songs, he depicted everyday social situations, which a large part of the African population was able to identify. Young people from all over Nigeria flocked to hear Fela's music, which developed themes related to Blackism and Africanism, and encouraged a return to traditional African religions.
iRock Jazz was granted an exclusive interview to meet with Yeni to talk about her experiences, influences, and insights of growing up as the daughter of her iconic father, Fela.
iRock Jazz: What kind of father was Fela?
Yeni Kuti: He was not a conventional father. He had a "free flowing" easygoing spirit. However, he did not like it when you disobeyed him.
iRJ: Where were you when he came to the United States? What was he like before he left for the United States?
YK: I was in Lagos at the time. He was more of a conventional father. For example, he did not smoke or drink and he stayed at the house with my Mother, Maternal Grandmother, and my siblings before he left to go to the States.
iRJ: When he returned from the States, what was different about him?
YK: There was a big change when he came back. When he returned from the States he was very quiet. He had started to smoke. Also, he began wearing an earring in his ear. His music had changed too. He no longer was playing "HighLife," he was playing, AfroBeat.
iRJ: He is at that Iconic stage in his life and legacy. People all over are recognizing his music and political contributions, what does that represent to you? How do you feel about his influence as a musical leader and as a Nigerian Icon?
YK: I am very happy and proud of my legacy, who he was and who he still is. Any child would be proud to have a great influential father. His identity, his pride in being an African man and being Black, that is what sticks out the most when I reflect on my father's life and legacy. His influence has made me a proud Black African person. That's not to say that there is anything wrong with other ethnicities. But, I am proud of who I am.
iRJ: Which do you feel is greater, your father's music or the long-term lasting affects of his politics?
YK: I think that both his music and his political voice has had lasting affects. His political views were expressed in his music. You cannot divorce the two. The political climate in Lagos was reflected in his music. He spoke about the issues that concerned them in his music, which resulted in major changes in Nigeria. His music is a reference point for the political change during that time.
iRJ: Femi, your brother, has done a lot musically, Do you feel that his music is close to your Father's style?
YK: They both have their own paths. Femi plays AfroBeat, but his music is different. He has his own style. He is doing his own thing. When people play AfroBeat like Fela, they are copying Fela's style. Femi has his own music, his own style, his own level, his music is his own, however, politically the voice and message is the same.
iRJ: Define AfroBeat?
YK: AfroBeat, I love this music very much. It is political music, fantastic music, Soul inspiring music, my kind of music.
iRJ: What was the best advice your father gave you?
YK: He made sure that my siblings and I stuck together as one and supported each other. Where you find siblings fighting, we are very close. I remember when my brothers and I used to fight a lot. He built a structure with matches and had us acknowledged the existence of the structure. Then, he pulled one match out from the structure causing the entire structure to tumble down. He said if you continue to fight this is how you will crumble. If you stick together, you will grow from strength to strength; united you stand and divided you'll fall. That stuck in my mind. We were always there for each other. Growing up a lot of people did not want to be our friends due to what Fela represented. We had to be there for one another. This resulted in us being very close when we were faced with opposition from others.
iRJ: When you were growing up your father was very popular, but making a lot of political statements. How did the children treat you?
YK: Some were nice and some were unfriendly. Their parents did not want them to be friends with Fela's children. It wasn't everybody. Some admired us. In secondary school, people wanted to be my friend because of who my father was. Then you had the upper class children who did not want to know us. The upper class children did not want to be our friends, they looked down on us. It was a traumatic experience. It didn't get us down because my brothers were always there. We were there for one another. We just moved on.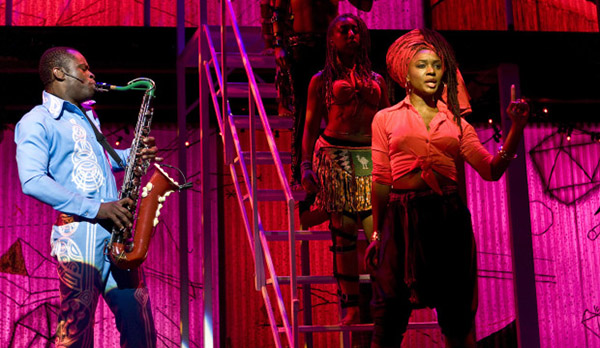 Scene from Fela! On Broadway
iRJ: Why did you make a decision to allow Fela's brand to be brought to the United States and Stephen Hendel to do the play? Why was that decision made?
YK: Fela's brand for me, it was very, very important to maintain. It was always in my mind's eye to protect and continue his legacy. I started a celebration, Felabration for his birthday to celebrate his life not his death. He died prematurely. He had been looking forward to his birthday. So, I maintained the celebration for his birthday. When Stephen came along and said he wanted to do the play, in all fairness and all honesty, I never thought it would be as successful as it was. We had been approached by a lot of people saying that they wanted to do this and that, sign the contracts, asking to let them do it, however, those offers never made the light of day. In all honesty in Stephen's case, I thought it was going to be the same thing. There wasn't any reason for me to stop it because if it was successful, then, Fela's brand would increase.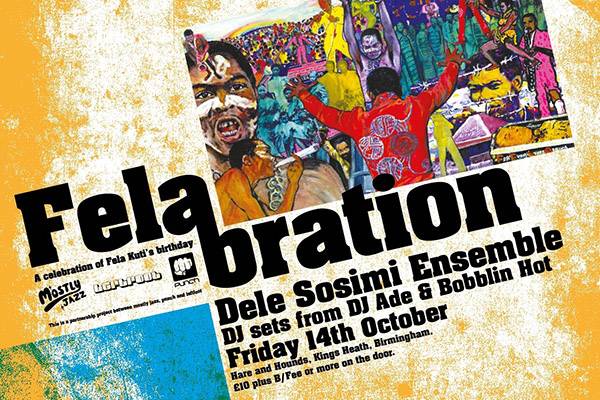 iRJ: As a child did you know or realize that there was something special about your father, realizing that he was not a conventional father?
YK: He was an all-encompassing person, his Music, Politics, Charisma, and ideology. I don't know, I was in awe of my father. I hung on to his every word; his politics, his ideology, I guess I must have known. Publicly people came up to him, performing on stage seeing him in action. I was proud of him. Remember we did not live together. I saw him in the life that most people did not. He was my Father.
iRJ: Did you Father's marriages or your upbringing have an effect on your beliefs about relationships? Did they have either a negative or positive influence in your personal life?
YK: I believe in polygamy, whether that is positive or negative. It depends on what side of the fence you're on or are coming from. I might not practice it, but I'm not against it. I could have easily been in a polygamous relationship. It's not a negative concept to me. A lot of people would classify it as something negative because they don't believe in it. Regarding men and women, it is mostly about polygamy. I'm not in a polygamous relationship but if I were I would be able to accept it. If you're a woman and you decide to get into a polygamous relationship, I believe you should know what you're getting into; either you take it or you leave it. Either you don't go into the polygamous relationship or you commit to it whole-heartedly. I believe that women who go into these relationships know what they are getting themselves into. Honesty is the best policy.
iRJ: The World has embraced the politics, plays, movies, museums, life story and legacy of your father. What can they expect in the future from the Fela brand?
YK: My father did not record all of his music. In the near future, my two brothers will work on those unpublished numbers, to record and released them.
His children also maintain Fela's musical legacy, with his eldest son, Femi, and his youngest son, Seun, each creating their own style of Afrobeat. In Nigeria, Yeni, together with Femi, has built and opened The New Africa Shrine, to honor Fela's memory and to "contribute to the evolution of African emancipation." Each year in October, Yeni and Femi hold the Felabration festival, to commemorate the life and times of their father. The festival takes place in the Shrine and throughout Lagos.
by Sharlene F. Bymun