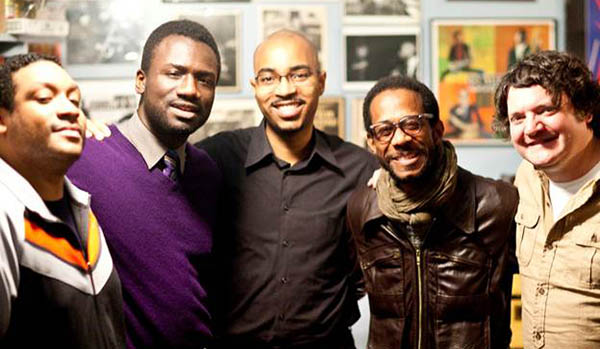 Brian Blade & The Fellowship Band will return to Blue Note Records for the release of Landmarks, the stunning fourth album from the remarkable collective which is led by acclaimed drummer and composer Brian Blade. Landmarks – which is being released in cooperation with the Shreveport, Louisiana based label Mid-City Records – will be given an exclusive early release on vinyl for Record Store Day ahead of its official release on April 29.
Landmarks was co-produced by Brian and his longtime pianist and collaborator Jon Cowherd, who refract their myriad stylistic influences into their own musical poetry, with an ear to the individualistic styles of Myron Walden (alto saxophone, bass clarinet), Melvin Butler (soprano and tenor saxophone) and Chris Thomas (bass). For the recording of Landmarks, Marvin Sewell and Jeff Parker are featured on guitars. Excepting the guitarists, The Fellowship Band has remained a unit since their eponymous 1998 debut and its 2000 follow-up, Perceptual, both on Blue Note. That fact can be heard in the cohesion and exploratory spirit of their collective and individual interpretations, orchestrated and propelled by the leader's in-the-moment beats and textures.
Seven of the ten compositions from Landmarks were recorded at the recently launched Blade Studios, which was founded by Brian's older brother, drummer and producer Brady Blade, Jr. in Shreveport, an inland port city situated 40 miles south of Arkansas, 20 miles east of Texas, and 100 miles north of the Gulf Coast, where the Blade Brothers were born and raised. Its location makes it a sonic catchment basin for numerous musical strains—gospel, blues, folk and various iterations of jazz.
The Fellowship Band recently premiered several of the songs from Landmarks at the famed Village Vanguard in New York City, listen to the NPR Music/WBGO broadcast HERE. Read a Q&A with Brian and Brady from NPR Music's A Blog Supreme HERE.
"The word 'landmark' seemed to have an arrow attached to it," says Brian. "The idea is that we're here right now, and we're passing signs along the way that mark where we are. I like the journey aspect of Landmarks, the trip that the songs seem to comprise. There's a lot of through-composition, some short, poetic things, then some long, epic landscapes that we travel. I try to write what I have discovered and realized with as much clarity as possible, while thinking of the band. When they play it, all this rhythm, melody and harmony becomes alive, and other ideas reveal themselves."
Brian – who also leads a singer-songwriter project called Mama Rosa – is as comfortable composing word-songs and propelling and entexturing the flow for masters of that art like Joni Mitchell, Daniel Lanois, Emmylou Harris and Bob Dylan, as personalizing the complex codes of jazz drumming with the likes of Kenny Garrett, Ellis Marsalis, Joshua Redman, Bill Frisell, Chick Corea, Herbie Hancock, and, for the last 13 years, Wayne Shorter's extraordinary quartet.
"Wayne has been an enormous blessing in my life," says Blade, who performed on Shorter's recent Blue Note recording Without A Net and numerous 80th birthday events during 2013. "I've learned from him that we start from nothing, what he calls 'zero gravity,' and must be faithful to the idea of being fearless, taking a chance together to walk out on the wire."
That same spirit of risk animates Landmarks. The tracklisting is as follows:
1. Down River (Jon Cowherd)
2. Landmarks (Cowherd)
3. State Lines (Brian Blade/Marvin Sewell)
4. Ark.La.Tex. (Brian Blade)
5. Shenandoah (traditional)
6. He Died Fighting (Blade)
7. Friends Call Her Dot (Blade)
8. Farewell Bluebird (Blade)
9. Bonnie Be Good (Blade)
10. Embers (Blade)