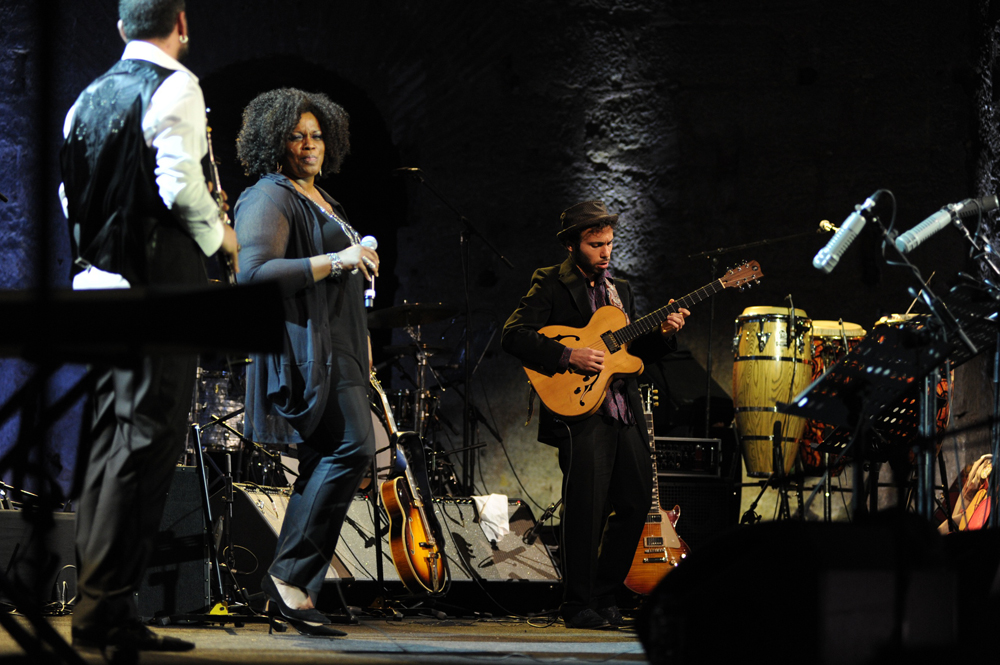 One of the preeminent female jazz vocalists in the world, Dianne Reeves, is set to release her Concord Records debut, Beautiful Life, on February 11, 2014. The album showcases Reeves' sublime gifts by melding elements of R&B, Latin and pop within the framework of 21st Century jazz. "At its essence," says Reeves, "Life is beautiful and I wanted to celebrate that which is too often overlooked."
There should be no overlooking Beautiful Life, a journey of 12 songs which includes singularly memorable covers of Bob Marley's "Waiting in Vain," Fleetwood Mac's "Dreams," Marvin Gaye's "I Want You" and Ani DiFranco's self-empowering "32 Flavors."  Included in the rest of the tracks, which cover the spectrum from jazz to soul, are two new songs "Cold" and "Satiated" which are emotionally volcanic. Produced by Terri Lyne Carrington, Beautiful Life features an all-star cast that includes bassists Esperanza Spalding and Richard Bona, vocalists Gregory Porter and Lalah Hathaway, pianists Robert Glasper and Gerald Clayton and Reeves' cousin and frequent longtime collaborator George Duke.
Reeves, a four-time Grammy winner, has recorded and extensively performed with the Lincoln Center Jazz Orchestra and Wynton Marsalis, who said of Reeves, "She has one of the most powerful, purposeful and accurate voices of this or any time." Reeves has also recorded with the Chicago Symphony Orchestra conducted by Daniel Barenboim and was a featured soloist with Sir Simon Rattle and the Berlin Philharmonic. In addition, she was the first Creative Chair for Jazz for the Los Angeles Philharmonic and the first singer to ever perform at the famed Walt Disney Concert Hall. Reeves appeared throughout George Clooney's award winning Good Night and Good Luck and performed every song on the Grammy-winning soundtrack. More recently, Reeves has toured the world in a variety of contexts including a program entitled "Sing the Truth," a musical celebration of Nina Simone in which Lizz Wright and Angelique Kidjo were also featured.
Complete Track Listing:

1.      I Want You (4:57)
2.      Feels So Good (Lifted) (4:25)
3.      Dreams (5:19)
4.      Satiated (Been Waiting) (5:38)
5.      Waiting in Vain (6:35)
6.      32 Flavors (5:26)
7.      Cold (6:13)
8.      Wild Rose (5:50)
9.      Stormy Weather (8:02)
10.  Tango (6:35)
11.    Unconditional Love (For You) (5:42)
12.  Long Road Ahead (3:59)