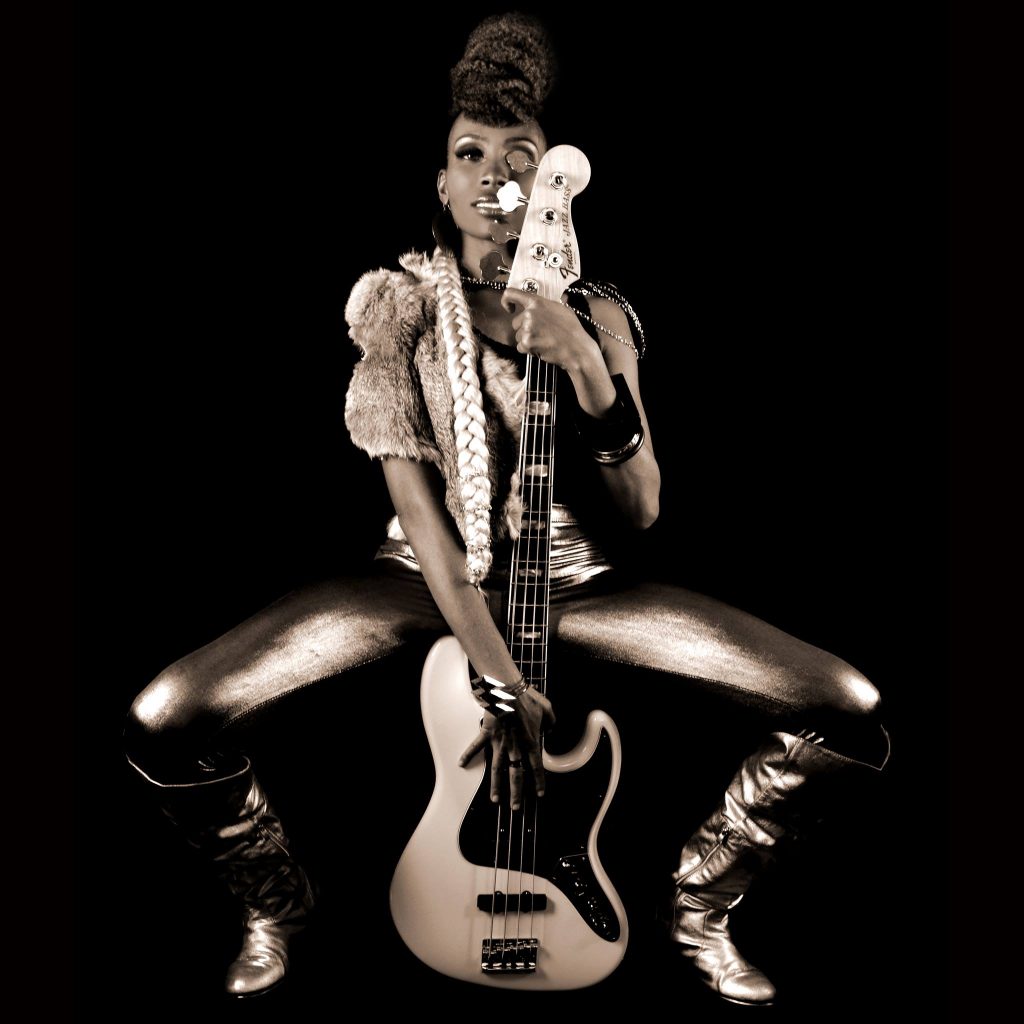 Make no mistake about it:  Bass goddess Nik West is nobody's conformist, a fact made abundantly clear for anyone who's ever seen the video to her blazing, bodacious and accidental cover of AC/DC's iconic "Back In Black."
The Phoenix, Arizona native is well into a remarkable career as one of the most talented and versatile bass-slingers on the scene today.  Her iconoclastic style (her trademark is a colorful braided Mohawk that resembles a bass clef), good looks and prodigious talents as a bassist and vocalist have garnered accolades from the likes of Prince, Bootsy Collins, John Mayer, Lenny Kravitz, Dave Stewart, and Larry Graham.
 West recently completed a self-produced album with collaborators Dave Stewart (Eurythmics legend) and Phoenix-based songwriting partner Paris Toon.  The first single off that project is a funky, horn and guitar-laden affair entitled "My Relationship."  Co-written with Paris Toon, the track features acclaimed musicians such as fellow female musician Orianthi, Australian guitarist who shot to fame as a member of Michael Jackson's This Is It band; Tyrone Chase; and Big Sam of Big Sam's Smokey Nation on horns.  Nik describes how the track came together:  "Paris Toon sent me over some lyrics, we were kind of going through the same similar kind of thing.  I took the lyrics and made them my own and added some more to that and came up with a bass line.  As soon as I had the bass line, I had the melody to the song.  Shortly after that, I started singing horn parts, I would sing all the parts in harmony – I had the soprano, alto, tenor, the bari sax – everything I wanted from the horns, I sang them.  I sent them to Big Sam of Big Sam's Smokey Nation to record the horns for me.  Then, I got Tyrone Chase (Jill Scott, Brian McKnight) to just give me some straight up funk guitars; I edited them how I wanted to hear them.  Then at the very end of it, I let Orianthi hear what I had going on and I said 'you know, you should play a solo and do some more rock guitars,' so she did that and the next day I had the song complete."
 Collaborations between Nik West and Orianthi don't just end at recording. Along with Jennifer Batten and Rhonda Smith, the two young musicians are empowering other aspiring female guitarists and bassists as judges for Queens of Strings, a worldwide competition sponsored by Guitar Center, Fender, and Groove Gear. Prizes include lessons from the judges and the ultimate seal of approval from some of music's finest female talents.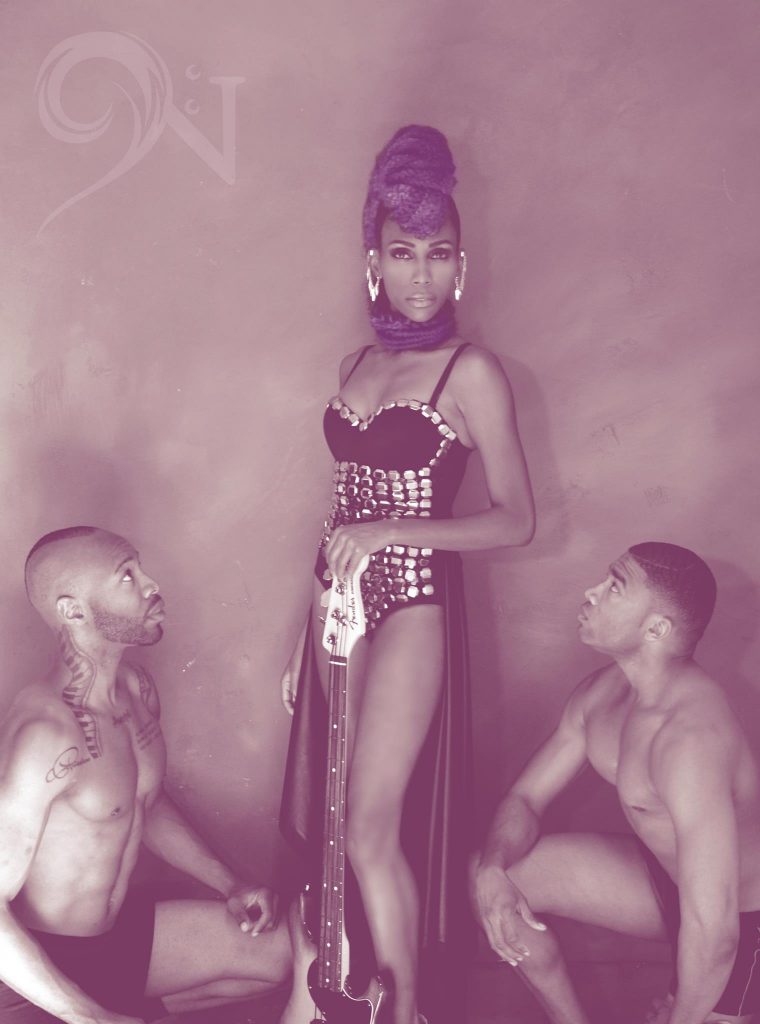 The savvy, brand conscious West balks at limitations.  Her journey toward "world domination" began in earnest. "At first, I started out saying 'I'm gonna play my bass because I like it,' then that metamorphosed into 'I want to sing inspiring music and I want to inspire people.'  All of these things are still true, but I see the big picture now," West said.
She draws from the funk tradition and adds flair while still respecting it. By examining the big picture, she also is unique in her own right through her branding.  However, there were concerns about whether or not West's singular image and style were at risk because of the radical difference. "I think it's risky not to be different. It would be an injustice to them and to me. I wouldn't be true to myself and because the audience is looking for something different, it would be an injustice for me to just do what they're [the audience] already seeing and hearing," West said.  The fierce streak of independence, as noticeable as her vivaciously colored hair, is nothing new.  Flashes of her rebellious genius were evident throughout her childhood and wisely nurtured by her parents.
Her rebellious energy is part of what renders her cover version of AC/DC's rock anthem "Back In Black" so irresistible.  The accompanying video to the song has garnered over 140,000 views on YouTube – not bad for a performance that nearly didn't happen.  West signed on to play bass on the project while she was in New York City multitasking on several projects.  At the time, the guitar player was going to sing the lead.  The director had other plans, certain that "something magical" would happen if West sang lead.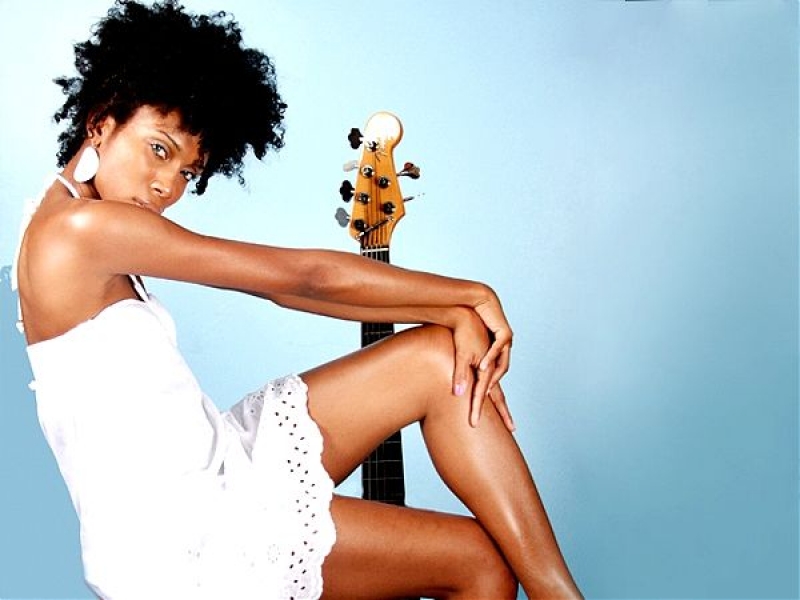 The image, as bold as it can be, is merely the packaging to West's musical brilliance.  While her music is funky and rooted in the old school, her image is futuristic, theatrical and colorful.  The balance between flash and fundamentals is part of what allows West to attract fans of all ages.  She is quite aware of the power of visuals in today's contemporary music industry.  "The visual and the fantasy are huge.  People want to see something; before they listen, they have to see it.  [The audience asks] before I have to do any work, how are you going to appeal to my senses?"
West makes a point to draw inspiration from her deep historical understanding of funk and its impact on Black people. "The funk era did something to Black people; it created a certain confidence.  The music I do comes from that.  So, that's one of the reasons why my music matters; it makes a bold statement and comes from an era that was very important to my parents and grandparents," West said.
Words by Tanisha Jackson