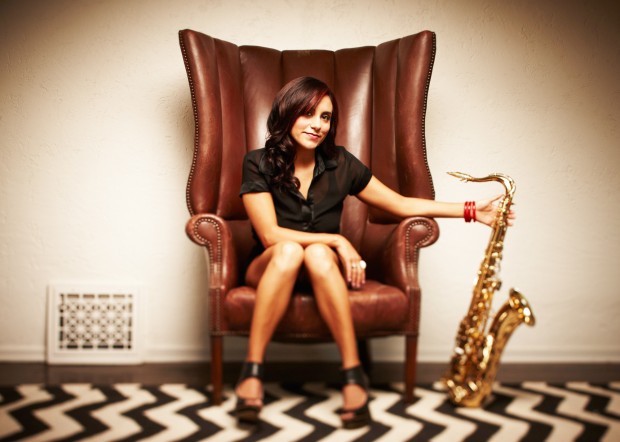 Jessy J is a Latina saxophone player who broke onto the scene in 2008 with her chart-topping debut album Tequila Moon, which combined influences of jazz as well as Latin rhythms. Jessy earned the Radio & Records 'Debut Artist of The Year' Award and Contemporary Jazz 'Song of the Year' by both R&R and Billboard for the title track, which held the #1 spot on the chart for eight weeks. The talented saxophonist, pianist, singer and songwriter, who has worked with everyone from The Temptations to Michael Bublé. She has been developing her musical voice since she was very young, when she could be found practicing the saxophone instead of heading out to play with friends.
Recently, an iRock Jazz interviewer chatted with Jessy J about her challenges in the music business and her latest album, Second Chances.
iRJ: As a female saxophone player, have you found it difficult to earn respect in a music genre that has been traditionally dominated by men?
JJ: Initially, it was difficult because in college there were only maybe three or four female instrumentalists playing jazz  So, I noticed right away that it was a different crowd. In high school, there were so many female musicians that it was almost fifty-fifty. [In] my senior year, I think that I was maybe the only one, the only female instrumentalist, of the four or five that started off my freshman year. It is difficult because you want to have the camaraderie, but there's a different way of attaining it. Luckily, I was able to meet up with my mentor, Clora Bryant. She's a really beautiful trumpet player. She played with Charlie Parker and Dizzy Gillespie in the 1950s. [Clora] lives in central Los Angeles right by USC [ University of Southern California ]. I met her at an event and she said that she wanted to be my mentor. She showed me the ropes of being a woman in the business and maintaining your femininity while also being aggressive and showing people what you can do on your instrument. You don't have to talk about what you can do; you just show them what you're doing. [Clora]showed me how to be a lady with the horn.
iRJ: What was some of the advice that Clora Bryant gave you?
JJ: The advice she gave me was 'don't be afraid to wear a dress on the stage. Just because you're performing with men, you don't have to be a man. You don't have to wear pants all the time. Do your hair; look beautiful; it doesn't matter.' A lot of times, guys just show up to the gig and they don't really get into it as much as females. That is women like to spend more time getting ready. Clora just encouraged me to be myself and to also maintain my demeanor onstage: no swearing, no drinking and no smoking. She was old-school. But, she was just showing me [how to] be respected. In order to be respected, you have to respect yourself. [She encouraged me to] command the stage [and] be friends with everybody, but don't be like one of the guys.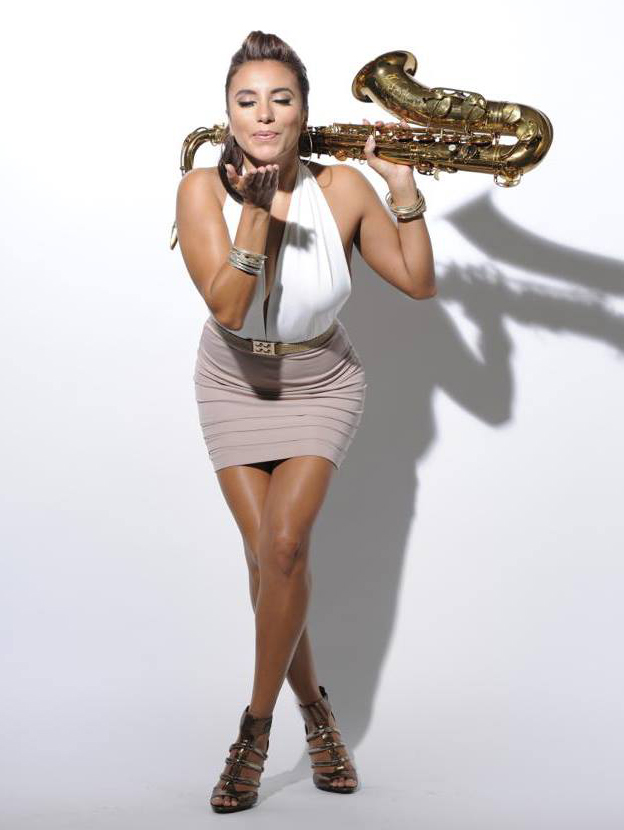 iRJ: As a female bandleader, have you found any evidence of gender discrimination in clubs and concert venues?
JJ: As a leader, luckily I have not run into anything like that. Most of the festivals that I'm performing at are well established and there are other female artists that perform there too. I think it is more common now for people to see a female leading the band. A lot of the behind-the-scenes is taken care of by either my manager or somebody at the record label. They deal with the contract. So for me, our job is basically to come and play and put on a great show. I've had a great interaction with my band. We're all friends and we've been hanging out. They're also from the new generation. So, I think they [want to achieve] the same things that I would like to achieve. We're all just open-minded about the music and sexism. It's been a fairly easy journey for me. I think that [it happens] more as a side-person [that] people assume that you're there to entertain people by the way that you look versus the way that you play.
iRJ: Have you ever experienced being taken less seriously as a musician because of your appearance?
JJ: It's a fine line between being well respected and then showing too much, or being outrageous. For me, I'm just myself. I've always been conscious about maintaining a healthy physical body. I love swimming, I'm very active, I like to run [and] I have a dog. I'm usually outside doing something or going to the beach to ride my bike, so it's kind of my lifestyle to just be a healthy person. In general, I also love fashion and I think a lot of the fans also like fashion. That's something that we can have in common. Frank Sinatra was a very handsome performer, [and so was] Billy Eckstine. Going back through the ages, a lot of jazz singers were the heart-throbs of the day. I think it's just a matter of continuing [that tradition by] looking good, maintaining yourself [and] playing very well. The musicians do respect that because they know that I'm here for the music. I haven't had any issues with [lack of respect] now. But, when I was first starting out, it was an issue because people didn't know what I played, or they thought I was a singer. They also thought I was just a friend of the band or something. I had to always explain 'No, I am the band. I'm here to perform; I play the saxophone.' People do a double-take because they don't expect a woman to play an instrument.
iRJ: Do you believe that the music that you have created is danceable jazz music or is it concert jazz music that should be listened to seriously?
 JJ: Definitely. Some of the songs are danceable, and some of the songs are more introspective. I think it would be a little bit of both on this album [Second Chances].

 iRJ: What influences the music that you have made recently?
JJ: I love to create something that hasn't been done before. Being a Latina , my dad is from Mexico [and] my mom is from Texas . I grew up with a varied musical background. My dad loved Trio Los Panchos, my mom loved Mariachi music and my sister and I loved Michael Jackson, Madonna, and Stevie Wonder. When I started playing the saxophone, I listened to jazz. I also fell in love with that, as well as playing Classical piano [while] growing up. It was a big melting-pot of music in our house. I started to find myself drawn to Jazz music and to Latin rhythms. I also really do enjoy Pop and the simplicity of it and how so many people can understand it. When I was getting ready to write music for my project, I wanted to incorporate those elements into my very first CD. It grew from a Latin Jazz/Pop project into a project with more vocals, more R&B [and] more intricacies and sophistication. I think that the music is just becoming itself, but I'm enjoying the journey.
Words by Jarrett Shedd