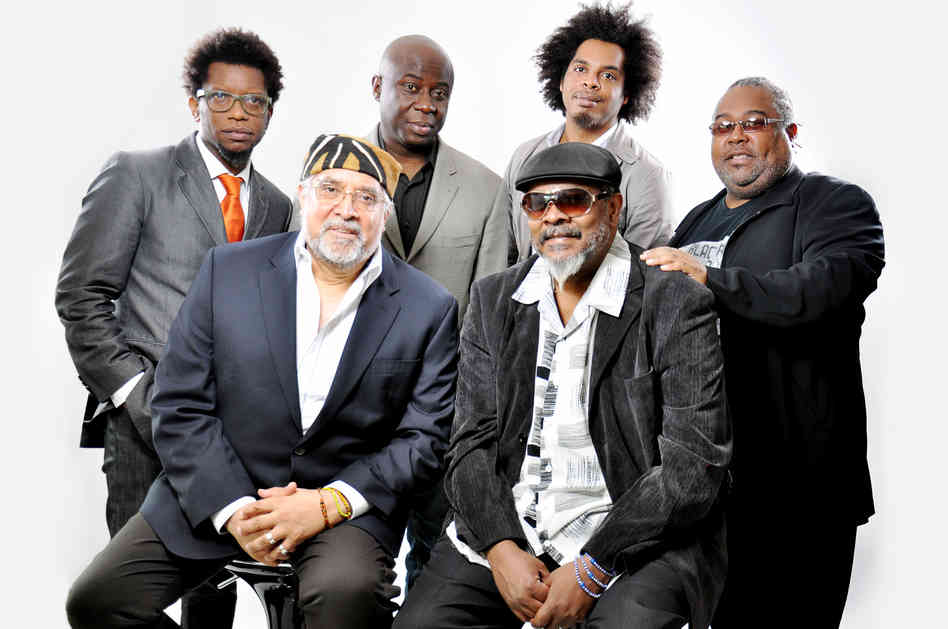 Drummer/percussionist Francisco Mora Catlett made some serious noise in New York jazz circles with the release of his ground-breaking Afro-Horn MX, a wildly eclectic mix of Afro-Cuban ritual, avant-garde jazz, and Latin American surrealism. Fans and critics alike were enthralled with the thematic direction of the music, which was inspired by the Henry Dumas story about a set of legendary horns with mystical powers that had been created in Africa and made it to these shores.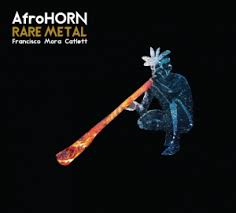 Those who thought Mora creatively peaked with this recording will be surprised and gratified to know that his follow-up recording, Afro-Horn Rare Metal, (AACE, 2013), not only lives up to the promise shown in the first release but actually transcends his previous effort. What distinguishes Mora's music is that, while he utilizes Afro-Cuban musicians in his ensemble, he bases a lot of compositions on other Afro-American idioms.
For this date, Mora uses most of his crew from the first Afro-Horn, which includes the great Alex Harding on baritone, the ubiquitous Cuban pianist Aruan Ortiz, bassist Rahsaan Carter, and Afro-Cuban Master drummer Roman Diaz. For this date, though, Mora adds underrated Sam Newsome on soprano and another Detroiter, Salim Washington, on tenor, flute and oboe.
The set opens in a traditional invocation to the orisha Eshu, which is sung by Diaz, on "Moyuba Afro-Horn." This segues into the powerful "Afra Jum," which highlights some masterful soprano work by Newsome. Mora gets to show off his musicianship on his tribute to his mentor Max Roach on "5X Max," which also highlights the powerful mastery of Harding's baritone skills. Mora then ventures into less-explored musical realms with the performance of "Salina Ago," which is a choral piece based on the Afro-Haitian culture of Cuba's eastern region and features the ethereal vocals of Danys "La Mora" Perez along with members of her troupe :Oru Oyo. Another highlight on the cut is the hypnotic soprano of Newsome, who for some reason fell into the cracks and never received the critical acclaim of his peers in the Young Lion pride. Mora uses another variant of African rhythms on "Blue People," which is based on the Tuareg of Northern Africa, This time the music draws on traditional Afro-Arabic rhythms and harmonies. Mora also pays homage to the late poet Jayne Cortez with a moving rendition of "Make Ifa."
Though Mora has labored in artistic obscurity for the better part of 30 years, he has definitely made his presence known in musical circles with the release of Rare Metal. There are new musicians who can match Mora's skillful use of variant musical idioms and form an entirely new synthesis based on those idioms. With the production of Rare Metal, Mora has managed to create some of the most inventive and wildly original music to be played and heard since the first progressive rumbles of the early '60s. This release should be considered one of this year's best releases and Mora's apotheosis as a master musician.
Tracks: Moyuba Afro Horn; Afra Jum; Barusuayo Mamakenya; 5x Max; Salina Ago; Olodo; Blue People; Blue People Epilogue; Make Ifa; Yeye Olude; Salina Ago Reprise
Personnel: Francisco Mora Catlett: drums, percussion; Sam Newsome: soprano sax; Salim Washington: tenor sax, flute, & oboe; Alex Harding: baritone sax; Aruan Ortiz: piano; Rahsaan Carter; acoustic & electric bass; Roman Diaz: percussion & vocals; Andrew Daniels: percussion; Danys "La Mora" Perez, Meredith Wright, Liethis Hechavarria, Sandra D. Harper: vocals
Words by Steve Bryant