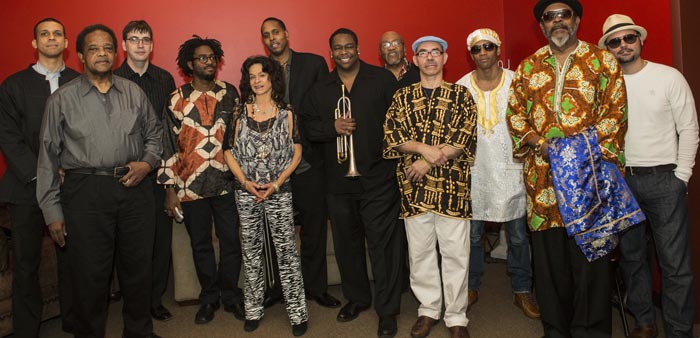 Pianist Michele Rosewoman is considered one of the most versatile players in modern jazz. For over 30 years, Rosewoman made a name for herself as an active exponent of Afro-Cuban music and culture, studying traditional Yoruba rhythms and incorporating them into her personal work.  She worked with the late great master percussionist, the legendary Orlando "Puntilla" Rios, who was considered the Dean of the 2nd generation of Afro-Cuban drummers that came to New York during the 1980's and 1990's.  Rosewoman created music which was a synthesis of ancient Yoruba ritual and the futuristic sounds of avant-garde jazz.
Rosewoman's new release, New Yor-Uba: 30 Years-A Musical Celebration of  Cuba In America, (Advance Dance Disques, 2013) is a 2 CD culmination/celebration of the 30 years she led her ensemble, New Yor-Uba. As a matter of fact, alto player Oliver Lake and baritone/tuba player Howard Johnson, are veterans of New York's progressive jazz community,and were members of the first inception of New Yor-Uba. Rosewoman's drum battery includes the new generation of Afro-Cuban master drummers Pedrito Martinez, who was the winner of the first Thelonious Monk Hand-Drumming Competition, and his mentor, the ubiquitous Roman Diaz. The music on this date is heavily influenced by Afro-Cuban/Yoruba music. Most of the tunes on this are Yoruba chants set to Rosewoman's compositions. As a matter of fact, Rosewoman structures this date as if it were a bembe or religious ceremony.
 The set commences with "Divine Passage," an invocation to the orisha Ellegua who must be acknowledged before the start of any Yoruba ceremonies. The next tune "Dance For Agayu," features some deft interplay between the bata crew, Rosewoman, and vocals by Martinez, while "Natural Light" is a word-for-word rendition of an invocation to Obatala, the Creator.
"The most interesting piece, though, is "Old Calabar," which is based on the music of the Abakua secret society in Nigeria. Diaz, who is a certified Master of Abakua drumming, gets a chance to showcase his superior skills.
The 2nd disk features more of ritual Yoruba music with a rumba/yambu, "Perdon," thrown in for some variety.What makes this recording so intriguing is that Rosewoman is adept of interposing modern progressive jazz melodies on the ancient Afro-Cuban rhythms. The musicians that Rosewoman works with have an uncanny rapport that allows them to effortlessly exchange their ideas. It helps that Martinez, who is considered a superstar in Afro-Cuban music circles is on this date along with Maestro Diaz. In a breakout year for a wide variety of Afro-Cuban jazz releases, Rosewoman's New Yor-Uba is a standout work and definitely warrants its kudos.
Disk #1: Divine Passage; Dance For Agayu; Natural Light; Por Ahora y Para Siempre; Vamp for Ochun; Old Calabar; Rezo a Ochun.
Disk #2: In Praise of Spiritual Guides; Perdon; Obalube; Where Water Meets Sky; Agua Dulce del Bosque; Warrior; Earth Secrets.
Personnel: Freddie Hendrix: trumpet; Oliver Lake: soprano and alto saxophone, flute; Mike Lee: tenor saxophone, flute; Vincent Gardner: trombone; Howard Johnson: baritone saxophone. tuba; Michele Rosewoman: piano, Rhodes, vocals; Yunior Terry: acoustic bass; Adam Cruz: drums; Pedrito Martinez: lead vocals, bata, conga; Roman Diaz: bata, congas, lead vocals (CD1 #5);  Abraham Rodriguez: bata (CD 1 #1,3,4); vocals, clave (CD2 #1,6); Daniel Carbonell: bata, (CD1 #2,5); shaker, (CD2 #3,4,5); Nina Rodriguez: vocals, (CD 1 #1,3,5); (CD 2, 1,3,4,6,7)
Words by Steve Bryant