Derrick Hodge fell in love with the electric bass when he was seven at Beulah Baptist Church in Philadelphia, and has never looked back. He continued developing his talent at Temple University, and while touring with Jill Scott. He has collaborated on over fifty albums with other artists such as Bilal, Gretchen Parlato, Maxwell, Terence Blanchard, Marvin Sapp and Kenneth Whalum, to name a few. Hodge is a writer, composer and producer, as well as renowned bassist. He writes for an array of genres, and performs for many as well. He is now celebrating his debut album, Live Today, which was released on the Blue Note record label.
An iRock Jazz writer had the pleasure of sitting down with Derrick Hodge to talk about his career in music.
iRJ: What is the biggest highlight of your career so far?
DH: It is the realization that it will be okay. You spend so much time trying to document something that's very honest, and [then] you put it out there. You're the artist; it's your baby, and you feel so exposed…and you never know how you're going to feel until it's actually out there. Then, when it's out there, and people are showing love, and it's touching them in a certain kind of way, it's humbling.
iRJ: How were you introduced to the electric bass?
DH: I was introduced to the electric bass specifically from one person, Joel Ruffin, from Philadelphia. He was actually the bass player at my mother's church. She would take me there. She knew I was "into music" and the bass player just blew me away; it was a musical church. I wanted to be just like him to the point I told my mom I wanted to be just like him and she said, "Well, let's pick up the bass in school." But it was too big for my body [to hold]. They ended up putting me on [the] guitar. I actually started on guitar at seven. And, later that year, they found a miniature bass guitar for me, and put me on that; I was on "cloud nine."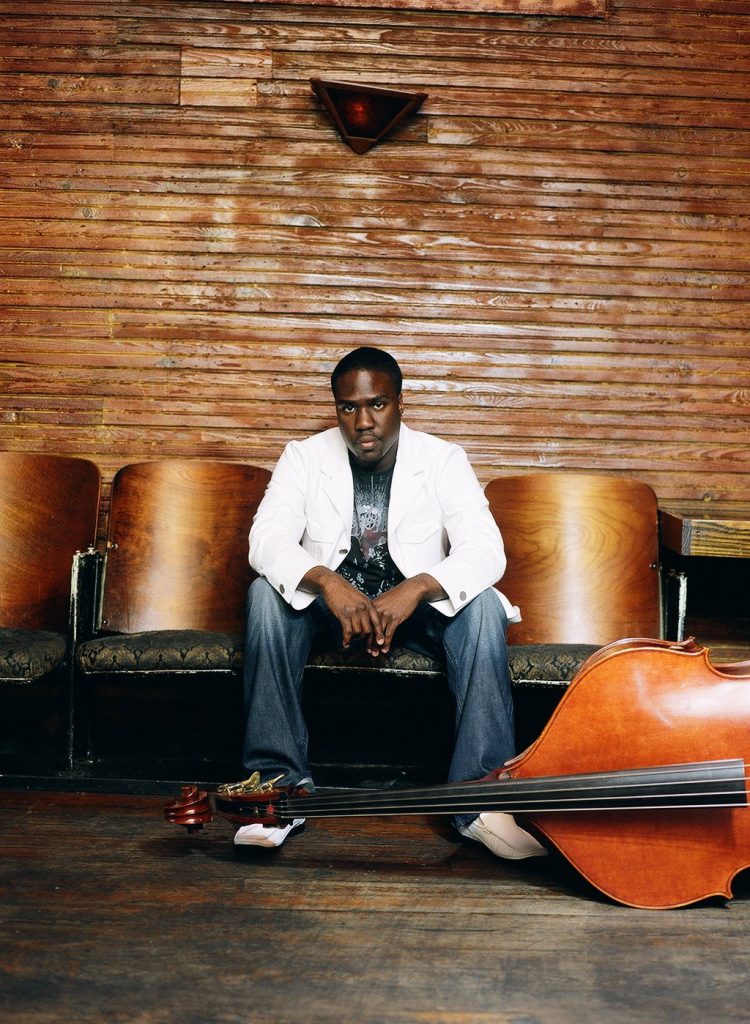 iRJ: How did having that foundation in the church help you as a jazz musician today?
DH: I think, above all things, it helped me to never let go of the thought that music is a strong tool, which can help people; that can lift them; inspire them; and [help] take them into a direction to express things that maybe words can't say. It's a music birthed out of the spirit of the moment. No matter how "studied" the musician is, coming out of that tradition, "nine times out of ten," there is a certain feeling that is going to be applied to whatever style of music he or she does "down the road." It can be a love song; it doesn't have to be religious or spiritual. But, at the core, it's still the essence of the spirit of the music you are playing.
iRJ: Tell me about your decision to leave Jill Scott's band in order to complete your college education.
DH: That point [in life] for me was kind of crucial, because I went from [being] a musician, playing in college (barely making any money) to touring with a very popular and talented artist, Jill Scott. Now, I had money in my pocket. I thought that was the "end all; be all." I had a lot of influences in my life at the time that encouraged me to always try to finish what I start, not for the sake of finishing [just] to say "I did it;" but to get the most out of it. I knew in my heart I hadn't got the most out of the college experience yet. I knew I hadn't put the one hundred percent focus I needed to [apply], and I knew it was a lot I needed to learn. Just going out and touring, I had a feeling [that doing so] was really in my best interest at the time. I talked with Jill about it, and she encouraged me to follow my heart and dream. I went back to having no money, and not knowing exactly how things were going to pan out. But what ended up being birthed from that [experience] was [learning to] focus.
iRJ: What was your lowest point after having made that decision?
DH: The lowest point was getting about a year into college, and almost finishing, and realizing the phone had stop ringing. I wasn't getting the calls. Fortunately, by that point, I was documented on record, but now it was known [that] Derrick was back in school. The reality was, at the time, I didn't have gigs. And, for a young person who [had] turned that down [touring] for what I had believed would better me in the long term, it was "tough to swallow." When I got out of school, the phone just wasn't ringing like that. Sometimes when you're in the moment, [and] you make a decision, sometimes it gets a little worse before it gets better. But [going through] that [experience] is all [a] part of it.
iRJ: What was the turning point after going through that?
DH: [laughs] That [is] when things [became] intertwined. I decided to go back to school. And I ended up working with Terrell Stafford, who was my professor at the time. Terrell really looked out for me, and offered me [a chance] to play on his records. Then, I started working with Bootsie Barnes, whom I met when I was at Temple during senior year. All of a sudden, the word-of-mouth thing started happening on the jazz scene, which was something I wasn't expecting. I didn't even know that Bootsie Barnes [had] put in a word to Mulgrew Miller about me. Mulgrew came to a gig [at which] I was playing for George Burton, who is a pianist from Philadelphia. And Mulgrew showed up at the gig to "check me out." That conversation after the show changed everything. It started off as simply, [saying], "Hey man, let's get together and play some tunes." And I showed up at his house, with a suit on [laughs]; nervous, played a couple of tunes, and he said "I have a couple of gigs coming up; you want to play?" And I said "Absolutely!" The next week was my first week [of playing] with Mulgrew. It happened to be [playing for] a week at The Village Vanguard, and [going through] that [experience] changed everything.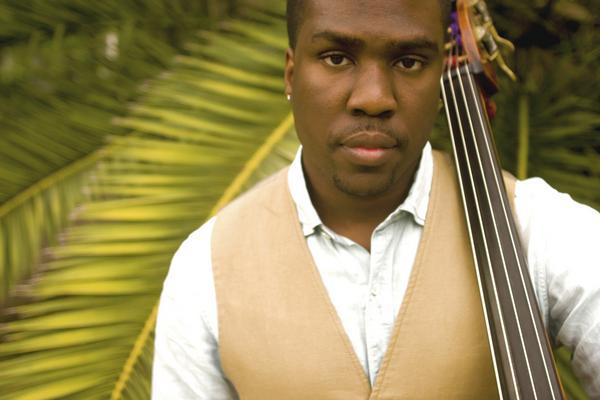 iRJ: You have worked with Q-Tip, Kayne, and Common, to name a few. What is it that you bring musically to the collaboration, and what are they seeking from you as a jazz bassist?
DH: I've been very fortunate in my career to work with people I can call friends. And to say that they have showed nothing but respect for whatever it is I have to bring to their art. Really, I've never had that discussion with any of them about what it is about me in particular. What I can say [is] it's always been [a show of] mutual respect with everyone in the hip-hop genre that I have worked with. You bring up Kayne; you bring up Common; and my brother, Q-Tip…those guys were definitely generous. And [they] would literally tell me "Whatever you play; that's going to be what it is…[laughs]." For me, it was never a challenge to go between different genres, because I was fortunate to work with people I really respect.
iRJ: What's your fascination with composing music for film?
DH: Composing music for film and movies was something I [have] wanted to do since I was in college. And didn't know how the "doors would opened" so I would be able to do it. I was just always fascinated with the sound, and that way of expressing something that you're looking at, and [the] multiple ways of telling a story (and communicating that through music). Terence Blanchard, and people who went out of their way to give me an opportunity, that's how my composing career [got] started…directly from [working with] him.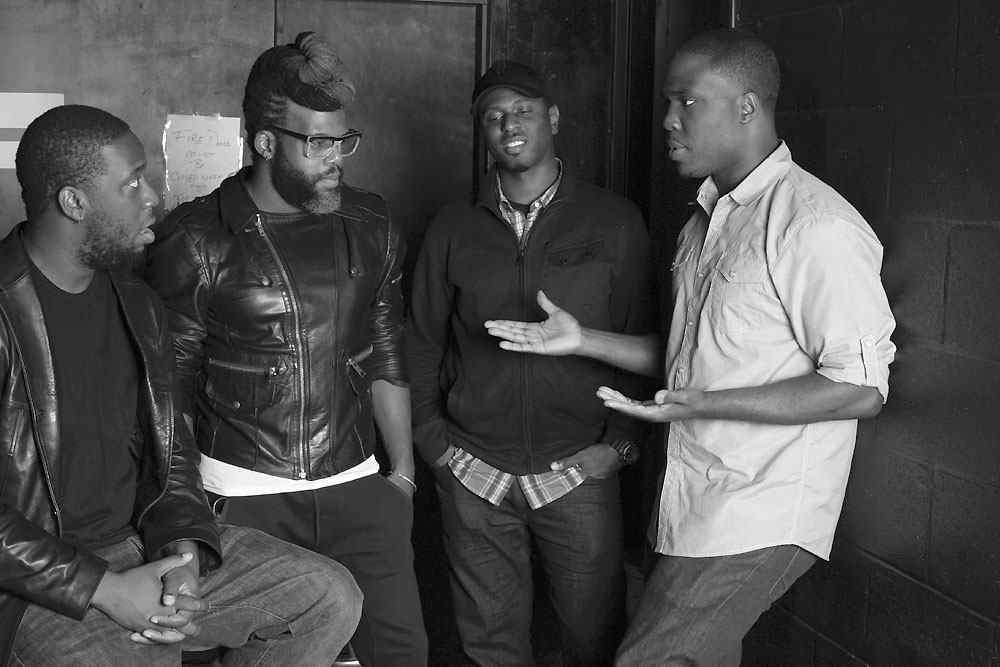 iRJ: What is it like working with Robert Glasper in his band?
DH: I'm glad you brought Robert up, and the Robert Glasper Experiment, because from the first day I met him, even until now, it's just a representation of our friendship, and who he is as a person. Regardless of what he says, he's always speaking from his heart. The group really, in every way, has opened itself up for honesty — not in just the way you play, but in the way you carry yourself. I give Robert total praise for [doing] that because he's always been that way, regardless of the criticism or acclaim. He doesn't really focus on either one. He's just being himself. And I know that for a fact because I'm around him a lot [laughs]. We're paying respect to all [of] those guys, even in the sound and DNA of our songs. We're still paying a lot of respect to those who came before us. But we're still being honest to our influences, and being honest in our story. He's definitely someone who has put [in] a lot of thought, and made a choice to be himself. And the genius is in [doing] that. We all know he's a phenomenal musician. But what makes him one of the greatest thinkers of our time is he's fearlessly himself.

iRJ: What's next for you?
DH: I'm working on the next record already, as well as planning tour dates for Live Today. I also am focusing on continuing to show comradery, supporting projects that my friends are on. I think the "real magic" of this time is us "all sticking together. " And, trying to promote each other for the greater good of creating a sound that's honest, and uniquely our own [is the key]…by doing it together.
To find out more information about Derrick Hodge, please visit http://music.derrickhodge.com and www.facebook.com/OfficialDerrickHodge.
Words By Shonna Hillard