Latin Jazz legend, Pete Escovedo, has captivated audiences worldwide with his musical prowess and insight. From the early formation of the Escovedo Bros Latin Jazz Sextet, to his days with Santana alongside his brother Coke Escovedo—and the subsequent launch of their joint venture, Latin Rock-Jazz fusion group, Azteca. Staff Writer for iRock Jazz, CJ Francis, recently caught up with the internationally-beloved percussionist, and band leader, in San Francisco, during the Pete Escovedo Jazz Orchestra's recent appearance at Yoshi's. We took a backstage look into his business management experience as a club owner; the Escovedo family tree; and his flourishing career in the art world.
iRJ: How do you define Latin Jazz?
PE: I think of Latin Jazz as a marriage between jazz music and Latin rhythms. The combination of it works very well because you can take practically any standard jazz song and add Latin percussion to it, and [doing] that, in a sense, makes it Latin Jazz. But, at the same time, every musician has their own interpretation. Some incorporate Latin rhythms into their jazz charts. And, then some do it the other way around, so it varies.
iRJ: You have done everything in the business, including club ownership. What were the challenges in being a musician, and running a club at the same time?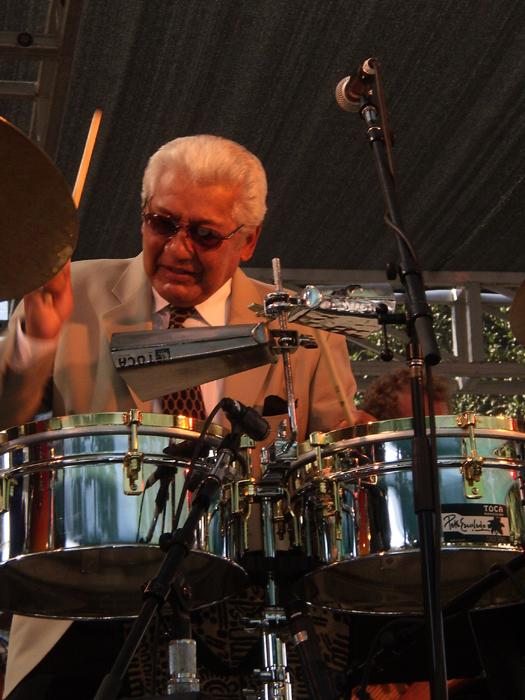 PE: Running both was pretty hard for me because I still wanted to go back out on the road and tour. And I couldn't because I had to spend most of my time running the club. Although I enjoyed it immensely, it was very challenging.
iRJ: How did doing that affect your perception of club owners, and what they have to do to keep the doors open?
PE: I think I understood more of what it takes to run a club. And being on "both sides of the coin," I could really understand what it's like for owners to make it a money-making situation. There's a lot to it as far as advertising and getting the right help. You have to pay your employees, and so many other things, including taxes, so I can sympathize on what the club owners go through. Running a club is all about numbers: how many people you get in; how many drinks you sell; and it's a very complicated thing.
iRJ: Was there ever a situation, as a club owner, when you had a band that you respected (in terms of musicianship), but didn't have a strong following? How did that affect your decision about that band moving forward?
PE: Well, I couldn't have them back if I didn't think they would draw enough people to at least break even. If I broke even on any of the engagements with the bands that I hired, then I was totally happy. And if I made a little money, then that was fine. But, it mostly comes down to how popular the entertainer is. It's kind of like putting your money on double-0, on the roulette wheel, and you don't know where they [will] come up until you try. It's a hit or miss situation.
iRJ: Whose responsibility do you think it is to promote performances—the artist or the club?
PE: Well, I think it has to be both. I think the club is going to do whatever they can financially as far as advertising [is concerned]. They'll either run radio spots or flyers, or put in ads in newspaper or music trades, and put it on their website. They have to get a jump on it. But, I think it's also up to the artist to encourage the club to get interviews or newspaper ads. Or, go on the air—to send out e-mails to let people know where they're playing, and make sure that their calendar is on their website so people can see where they're playing. It's in their benefit to make money for the club owner so they'll be able to go back there once or twice a year.
iRJ: The Escovedo brand covers several demographics. How have you all maintained your individual fan base, and your ability to stay relevant today?
PE: I think we're very fortunate, and overall blessed, because we all like different styles of music. My son, Juan, plays more with me than Sheila and Peter Michael do. But, at the same time, he has his own band up north. With me, Sheila, and Peter Michael living in LA, it's kind of a different thing because I have my Latin Jazz band there also. And, at the same time, Sheila has her own band, and my son, Peter Michael, works in television as a music director. And he's also produced for television. So, we all kind of have our own niche. But, at the same time, we combine all of that when we play together. For instance, if Sheila is doing her band, and her style of music, the three of us are still able to sit in with her, and be a part of her show. If I have the Peter Escovedo Jazz Orchestra, then Sheila and my sons are capable of coming into my style of music, and playing in the band also. We've all, at some point, worked for other artists and different bands. And, then we kind of incorporate all that [experience]. It's like putting money in the bank with all these styles of music. We're very fortunate that we can do a lot of different styles of music, and play with each other.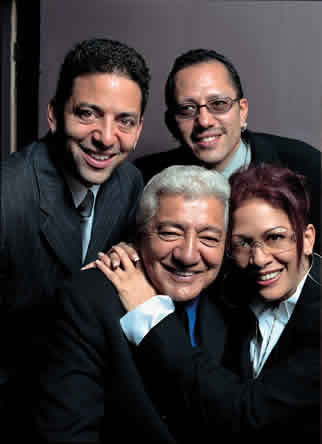 iRJ: What is it like to have your family performing on stage with you?
PE: Well, I guess it's the closest I'll get to heaven [laughs]. I hope I get to heaven, but in the meantime, this is heaven for me. I'm so proud of all of them, and the fact they've all become such great musicians in their own right. And they have their own careers, and they've progressed so much. They're great people to be with. We have a great time together—we're a family, but the music is such a part of our lives. We live and breathe this stuff, and [with] that being said, it's because of that [passion], that we have so much fun when we perform. It's not only the joy of playing together as a family, but it's also the excitement of being able to play music the way we like to play it. You know, a lot of times you work for people, and you have to do what they want you to do. But, with us as a family, we do what we all really love. There's no greater joy than that, and I truly appreciate it.
iRJ: As a father, when Sheila started working with Prince, what were your thoughts on the branding, and marketing strategy created for her as Sheila E?
PE: Great question! When she first started out with that, she was in the process of trying to get her own band and career going, and she was struggling. We talked about it and I just asked her, "Is this really what you want to do?" And she said, "Yes." Knowing Prince, and being under his umbrella, has really helped her career. Some of the things (as far as her appearance), and that of the other bands that were under his umbrella, kind of didn't "sit well with me." But, as long as she was able to handle it…I must admit that there were times that it got to be "too much." As a father, you don't want your daughter out there dressing half naked or anything [laughs]. But, it was a stepping stone for her career. It truly helped her in the sense of getting notoriety, and people knowing who she is. The partnership with Prince has, all in all, served a purpose. She has a great following; a great fan base. Eventually, she's been able to move forward, and she's doing well now.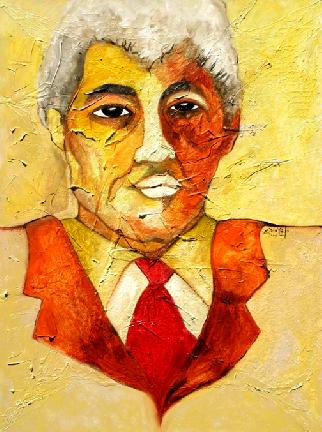 iRJ: Are there any plans to exhibit your artwork?
PE: Actually, I have been doing art shows all along. I have the same love equally for painting that I have for music. And I give each of them 100%, or even more. I've been fortunate to be able to do something that people like and purchase. I've come full circle with both, and I'm very happy that my artwork has started to get more notice. My artwork is currently at the Cupertino Inn (Cupertino, CA) in every room. So, I'm very proud of that [accomplishment]. My artwork is also online at www.peteescovedo.com. I'm so happy that my fans have embraced me. And my family [has done so also], with not only their support, but [with] the love of the music, and the artwork. It's been a wonderful journey, and I hope to continue [doing] this [for] as long as I can. If not me, then it will be the kids. The legacy will go on, down to the grandkids, and the great grandkids. It's going to be a blessing.
Words by CJ Francis