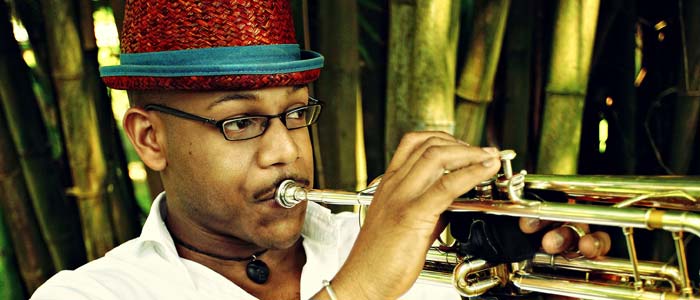 Etienne Charles is a versatile professional who serves in the multiple roles of performer, arranger, composer and educator at Michigan State University. He has already released three albums since 2006, and is releasing Creole Soul this year, an album that prominently includes Afro-Caribbean influences. Etienne Charles has an intelligent passion for music, which he displays both in his music and in the way he speaks.
iRock Jazz recently sat down with Etienne Charles to discuss his music, his heritage, his work as an educator, and what it means to be a Creole soul.
iRJ: You're originally from Trinidad, correct?
EC: Yes, sir.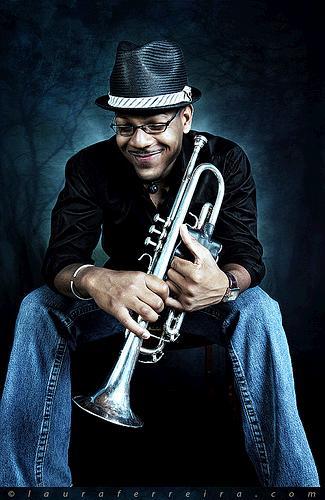 iRJ: Tell me a little bit about Creole Soul. How would you define it?
EC: Creole Soul is basically about bringing things together. In a musical sense, people listen to so much music today. For some reason, people started dividing styles of music, and putting them into different categories. Somehow people forgot about the feeling of music, in a sense. My concept for Creole Soul came from me only being able to answer "I don't know, just music." — when I was asked how I defined my music. When people would ask "Well, what are you?" I would say that I'm from Trinidad; I have roots all over the place, and I live in America. So, in a sense, I'm a Creole by birth, by blood, and by culture and environment. These are all the different things that make me who I am…so I am a Creole soul. And from that, my music reflects many different sounds that I've imbibed over the years.So, the music is Creole.
iRJ: What's the greatest influence in Creole Soul?
EC: The sounds and colors of the Caribbean [are]. There are many influences. It's about call and response; improvisation; the music having a bounce to it; and syncopation.
iRJ: Would you define Creole Soul as a danceable music? Or is it more cerebral where you are listening closely and getting into the groove?
EC: When I write music, to me, Caribbean music must dance. It's weird to say I want it to be this or I want it to be that. What I'll say is this: if you hear something cerebral in it, great! And, if you feel like dancing when you hear it, great! Ideally, I want it to be both. If you listen to Count Basie, that's dance music. If you listen to Cannonball Adderley, they bouncin'. If you listen to Duke Ellington, they bouncin'. If you listen to Thelonious Monk, that music just bounces. These are my idols…the people I listened to when I came up as a jazz musician. They definitely have a cerebral element to their music, but it doesn't out shadow the bounce.
iRJ: You're an educator as well. What types of students are showing up now in the classroom in comparison to the professionals you see performing around the world?
EC: I think that what you see in a classroom is definitely different than what you see on the road, and on the bandstand, but not too much different. The students that we have now, specifically my students at Michigan State, they have so much [information] at their fingertips because we're [living] in a completely different age. We're [living] in the YouTube age, so they have the ability to watch John Coltrane's quartet play. They have the ability to watch live gigs, so they are way more connected to seeing, and emulating, what this music is about. And they're hungry man! They come out of there playing well. So, there's not much difference between what's happening on the bandstand, and what's happening in the classroom. A lot of graduates are in New York playing weekly gigs; playing here, playing there. Ben Williams went to Michigan State…there's a lot of talent coming out of there.
iRJ: Do you think that the increased use of technology, by the current generation of jazz students, has devalued the tradition of older jazz musicians acting as mentors?
EC: I think that technology definitely helps the younger jazz musicians because it puts them in touch with so much music, though it can be overused. I think that many jazz icons are accessible, but less accessible compared to the days of Bradley's (New York jazz club with regular jam sessions) for a few reasons — one of which being that Bradley's is no longer there. At the jam sessions that I go to in New York, there's only a few of the older heads that you used to see. For example, Karriem Riggins will tell you about sitting down at Bradley's, and buying Elvin Jones a drink; or hangin' with Hank Jones; or hangin' with Ray Brown; or kickin' it with Betty Carter or Art Blakey. He'll tell you about being in direct contact with those icons. When I think about the stories, and life lessons, that some musicians got from being in direct contact with these legends, I think it's a little bit tougher now.
For one, I think that there are a lot more jazz students in school today. Secondly, there aren't as many jazz icons just out hangin' about and kickin' it today like they used to do. The musicians who experienced the Bradley's Dynasty (as they call it) talk about the differences between that time and now.
Another thing is that the musicians who were once the "young bloods" at Bradley's are now becoming the new icons. Jazz is one of the few styles of music where the generation gap is really small. And as long as we keep that aspect in the music, we'll be in good shape.
iRJ: How would a musician living in America go about learning Creole Soul music?
EC: There's YouTube, Amazon.com, iTunes…I wouldn't have been able to do this record 10 years ago, because I wouldn't have had access to videos of Guadeloupean drummers. I wouldn't have had access to Amazon.com to get Emory Cook or street recordings. This record is definitely a result of the Internet. The music is completely live, but it came from a lot of research[being conducted]. And that research came from being able to go on YouTube, and search [for] Eiraoul or Bob Marley, and see live videos of the band. Just being able to see that [footage], and hear that sound, that's how an American could try to get into that sound. For me, it was also about discovering parts of myself that I didn't know existed, or perhaps parts that I knew about, but didn't know to what music it was connected.
iRJ: Jazz, like Hip-hop, is music that musicians made based on the times. When you think of Creole Soul, what time period does it really represent?
EC: I really believe that it represents now, simply because we're at a time in the world where people need to understand that we're one. If we can't understand right now in 2013 that the world is made up of one people, [then]…you know what I'm saying? Because people talk about this race and that race, but race is a created concept. There is one race of humans…one! Creole Soul brings everything in a melting pot. It puts everybody, of what we call different origins, in one place. If you look at the band that did the record, you have three Americans; a Guadeloupean; me from Trinidad; and people from all over the place that came together to do this record. Dividing is not the way to conquer…we are always stronger together. I couldn't do this record by myself.
Words by Jarrett Shedd