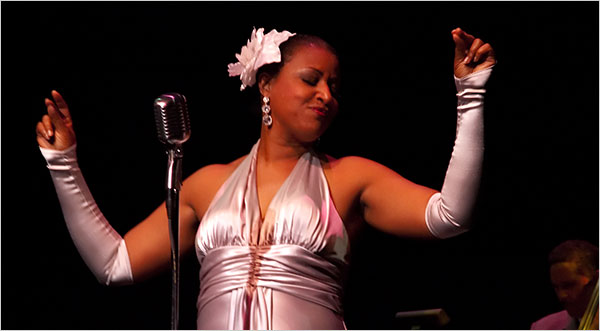 Vanessa Rubin is a jazz vocalist, composer, producer, and actress who has graced the jazz scene since the early 80s. She has worked with Etta Jones, Frank Foster, Lewis Nash, Patience Higgins, Kenny Burrell, Grover Washington Jr, and Steve Turre to name a few. Rubin studied under Barry Harris at the Jazz Cultural Theater in New York and as a result, she has continued to follow her musical passion which has brought her success and to a place that has qualified her as a great jazz singer.
 iRock Jazz had the pleasure of speaking with Vanessa Rubin about her start in music, her career and her current projects.
iRJ: Were you exposed to music as a child?
VR: My father was a WWII veteran so he was really into jazz; big band, Count Basie, Gene Ammons, and American jazz. My mother, coming from the Caribbean, obviously was into Sparrow, Calypso Rose, and all the traditional calypsonians. We just loved music. My mother was a very cultural woman and a lot of us took music lessons and piano lessons. I played flute. She just always made sure we were exposed to art, music, dance and things like that. I grew up in a very artistic household. I've always loved music since I was a child. I guess it's not unusual that I am in music as a profession. My parents didn't encourage me to be a professional singer. They expected me to go to law school or medical school; they stressed academia as well. I went to school for journalism, which is what my degree is in, but my passion spoke louder than my need to be a journalist.
iRJ: While competing in the Miss Black Central Ohio contest you performed "God Bless the Child", were you inspired by Billie Holiday?
VR: At the time I didn't know much about Billie Holiday. I didn't know that tune was so very closely associated with her. I wasn't even singing professionally and I didn't compete in beauty pageants. A girlfriend of mine and I, in college, did it as a joke. It was something to do, to have fun. When it got to the talent portion I was really a dancer, but I could always sing a little bit. I kind of leaned on whatever natural music ability I had. There's a well-known jazz pianist in Columbus, Ohio by the name of Bobby Floyd. He was the musical director for the event. I don't know how I got to, "God Bless the Child", but that was the song that I chose to sing. It wasn't because of Billie Holiday; it was just learning a standard. That is what I presented as my talent and won the talent award. At that time a light went off and I said, 'Wow I did pretty good. Maybe I should consider this for something I would like to do as well, in terms of work.' I didn't take it seriously then, because I was always involved in music. As a younger person it was never something I thought I would be doing as a profession. It definitely was an aha moment, as some people would call it.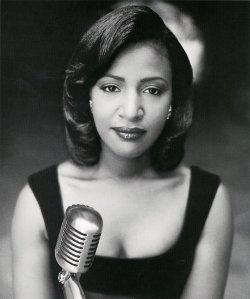 iRJ: What was your big break in the business?
VR: Obviously, living in New York afforded me the opportunity to network with the best in the business. It's hard to say because it's never one moment. It's always an accumulation of a lot of achievements that kind of build up to things. Coming to New York and meeting people like Barry Harris, Kenny Barron, and Paul E. West, and people who were already known and proven entities in the jazz world was good for me. I was able to work with them, study with them, and most importantly learn from them while I was working with them. Steve Coleman, who people may be familiar with, a wonderful saxophonist was recording for RCA at the time and decided to mention my name to the guy who was doing the jazz label, Novus. He decided to take me on as a production project. Steve Backer was the guy who was the head of Novus at the time. Steve Backer heard a demo tape that Steve (Coleman) did with me in the studio and decided to sign me. That might have been a break in terms of my recording, but I was already singing. I spent a couple of years singing in Cleveland. I had been to Singapore, but I really didn't have any international acclaim at all. When I started recording for RCA one of the important breaks was getting on a label that had international ability to put your record out around the world. That helped as far as name recognition. It's never really one big thing that happens. It's all of the things you do building up to that. All of the little gigs I did prior to that allowed me to hone my skills. Certainly signing to RCA, Novus and having Steve Coleman as a friend, was certainly an important moment for me.
iRJ: Do you think paying tribute to other artists is the formula that was used to start your career?
VR: I think it's a formula for the record company or the industry maybe. It's always an honor to play homage to someone you really admire. Carmen McRae is someone I absolutely love as a jazz singer, but I loved Sarah Vaughn and I loved Ella Fitzgerald. I loved R&B singers, Marvin Gaye, Gladys Knight, and Diana Ross. All of them were inspirations for me. By the time I had become a professional singer and chose jazz to be the genre, how many people could I have done a tribute to? There are many others. Every time I come out and sing and I do a standard, I take a little piece of each one of those singers with me – I'm paying tribute to them. They are all wonderful and important influences. I stand on all their shoulders.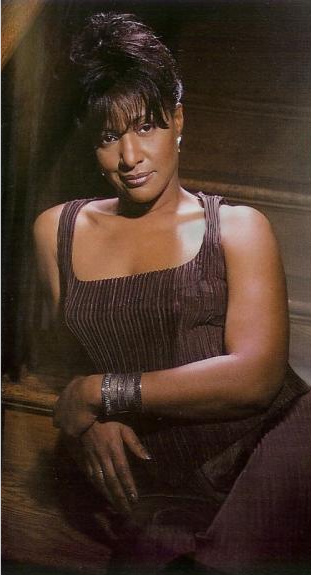 iRJ: Why do you think we don't see as many vocalists in jazz today?
VR: If the majority of people don't see singers it's because they are not looking for them. There are a lot of jazz singers out here. There are a lot of people doing original, contemporary, cutting edge, and people like me who are holding up the great American songbook. The times have changed and when those singers were out it was more so the popular music at the time. They got more publicity. The big bands were in and a lot of them sang with big bands. There were a lot more clubs and people have always loved singers, but a lot of those venues are not here anymore. All those places out in Vegas and some of the places in my own hometown of Cleveland like Leo's Casino, they don't exist. Those rooms don't exist anymore, so where do those singers go? The places that do exist, where a lot of them went, you see some of everything in there now. These jazz clubs are presenting more than just jazz. It's not that singers are not out here. I'm out here, Carla Cook, Diane Reeves, Nnenna Freelon, and Carmen Lundy. There are tons of them, but we got too much to focus on nowadays. People aren't really digging on live entertainment. People aren't going out spending their money on live entertainment like before. I think the times just don't support all the things it takes for a singer to get around and be heard and be known. It's like Nancy Wilson told me, "If you like jazz you got to go out and look for it." Classic jazz I guess. Smooth jazz is all over the place. When you think of radio being owned by corporate America they decide what's going to get played. So it's whatever making the dollar.
iRJ: As a musician today, with the changes in economy, lack of clubs, and the format of radio stations, how difficult is it to make it in the industry today?
VR: I think it's an argument on both sides. Some would say it's very difficult and some who are not used to the old ways would say it's great. You've got some people who are so technically savvy, they're doing it all. They're doing their own records; they're promoting their own records online. They're doing their own publicity online and reaching more people than the record companies used to be able to do, because now you can push a button and your stuff is gone. It's like liquid. So I guess it's the way you look at it. Yes it's difficult because everything is very expensive. If you are a hard worker, you have determination and you don't mind rolling up your sleeves and getting in the trenches, you can accomplish a lot of things. Success is relevant to a lot of things. The whole paradigm is different now.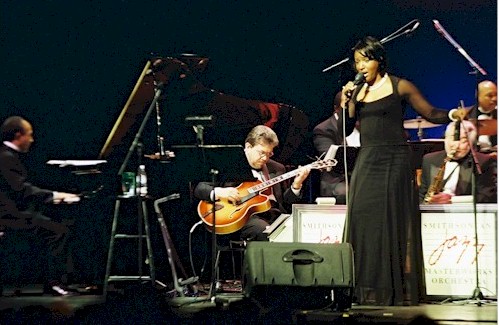 iRJ: What are your current projects?
VR: I have a new record out with Don Braden. It's called, Full Circle. Don Braden is a wonderful saxophone player with his Organic Trio. We've come full circle with our musical relationship. We started out early in New York together in the early 80s. We always wanted to do something together and we finally did. It's not only full circle for me and Don getting back together, but for me getting back to the organ. It's my first organ record. I was raised on the organ back in Cleveland. I've been doing a one woman show on the life of Billie Holiday. It's called "Yesterdays: An Evening with Billie Holiday", written by Reenie Upchurch. It's directed by the great Woodie King of The National Black Touring Circuit. I've been doing it off and on for the past three years. It's really wonderful. We've toured it in a couple of cities. I was very honored to get nominated, in 2011, for a Kevin Klein Award for Outstanding Lead Actress in a Musical. It has a lot of potential for continued growth and hopefully we will get it out to a couple more cities.
You can get more information on Vanessa Rubin and her tour dates at: www.vanessarubin.com
By Shonna Hillard