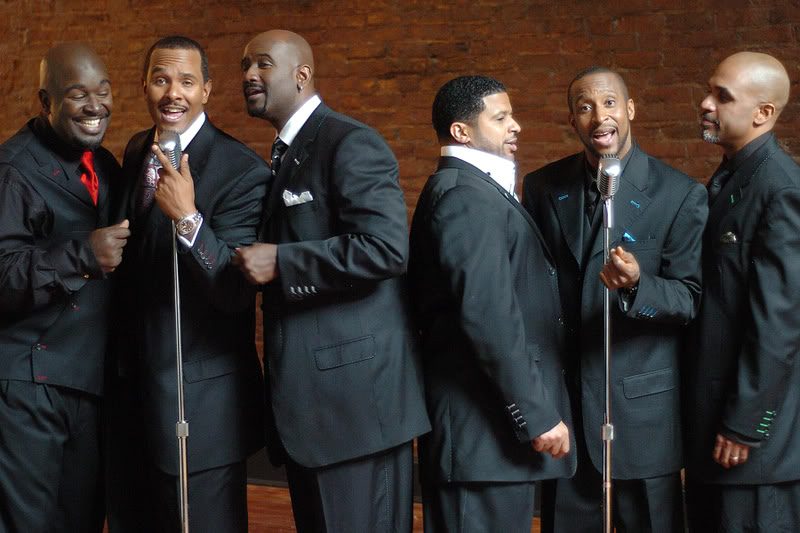 In 1980, Claude McKnight formed Take 6, an acapella gospel jazz group. The members are: Claude McKnight, Mark Kibble, Joel Kibble, Dave Thomas, Alvin Chea and Khristian Dentley. Seven years after their beginning on the campus of Oakwood University, Take 6 signed a recording contract with Warner Bros. Records and went on to win 10 Grammy-Awards, 10 Dove Awards, and many more. They have worked with countless artists throughout the years and have achieved notable success and are now celebrating 25 years together as a group. iRock Jazz had the pleasure of talking with Claude McKnight about his career and Take 6.
iRJ: The McKnight's are a musical family. Do you play any instruments?
CM: I grew up playing the trombone and playing the piano. There are four boys in my family. I'm the oldest, my brother Fred plays guitar and the baritone horn, my brother Michael plays bass guitar and lead guitar, and Brian plays guitar, bass, trumpet, and a few other things. We have a very musical family and mom plays keyboard. Everybody in my extended family plays something.
iRJ: How did Take 6 come together?
CM: I was a freshman at Oakwood University in Huntsville, Alabama and that particular school has a really rich heritage of acapella groups: choirs, quartets, and all kinds of things. At that time I just wanted to have a group of my own on campus. It started out with three other guys who were freshmen as well. We added a member, Mark Kibble, who is now in Take 6 and the primary arranger. We added one more guy because we wanted to be as different as possible from the other groups and get more of a jazz element. The rest is pretty much history. We just wanted to be an acapella group on campus that was able to cover, as far as arrangements are concerned, all of the aspects we can think of musically.
iRJ: Did you expect the acapella group to take the music industry by storm when you all came out?
CM: We had no clue. When we first came out, we did this kind of music because we loved to do it. All of a sudden the general public started warming up to it and it was one of those perfect storms. We came out at the right time. I think the music, quite honestly, was done in a way that we tried to be excellent. We wanted people to hear what we were hearing in our heads and I think the public really dug that. For young groups and artists now it's not so much about getting out there and seeing how popular you can be just be the best that you can be and it'll find an audience. That's what happened for us.
iRJ: How was it to lose key members, considering the dynamics in an acapella group, and please clarify Brian's affiliation with the group?
CM: A lot of people don't realize my brother Brian wasn't actually in Take 6. My brother Fred was in Take 6 back when it was a college group. Brian is seven years younger than me so he grew up listening to this music and when we lost Mervin Warren who was one of the original 6, we asked Brian if he'd like to come in and join the group, but at that time he was already working on being a solo artist so he never sang in our group. To answer your question; we've lost key members and that's quite a blow because you get really comfortable with certain guys, especially in an acapella group. It's not even so much about the voices; it's about the ears and how you hear each other and how you play off each other. We had to get past that and find comfort levels with newer members on the fly almost.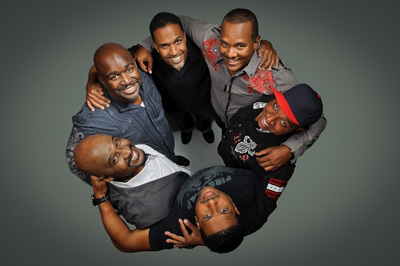 iRJ: Did you and your brothers ever have sibling rivalry in regard to who may be better in the music industry?
CM: No. Not really. With us I think the bigger rivalry was sports between all of us when we were growing up. We all played football, basketball and every other sport so there is that kind of rivalry. As far as music is concerned the four of us grew up singing together in church. We've always been each other's biggest fan once we started doing this professionally, so there was never any music rivalry.
iRJ: As the leader of a group, what is the challenge in keeping the group together?
CM: The biggest challenge I have found is anytime you have more than one person doing something you're going to run into differences of opinion. You're going to run into the possibility of people having communication issues. A lot of times not even based on what you're doing musically, it's all the other things that can come into play. So we have learned over many years that open, honest, and transparent communication is the key to keeping a group together. You're not going to always be on the same page. You're not going to always even like each other, but as long as you respect each other and can talk to each other in a way that try to resolve things before they become an issue you can stay together. Case and point, we've been together now professionally for over 25 years.
iRJ: What was the turning point for Take 6 that jettisoned you to where you are today?
CM: Our first album came out in 1988 and we literally were nominated for three Grammys for that album. So it happened, as far as the music business is concerned, overnight for us. We sang on that next Grammy telecast. We won two of those three and the third one being the best new artist category. But we were jettisoned into success that a lot of artists may not see for quite a while or if at all. We were kind of like on the job training. We never really looked back, we had to really grab it by the tail and keep moving.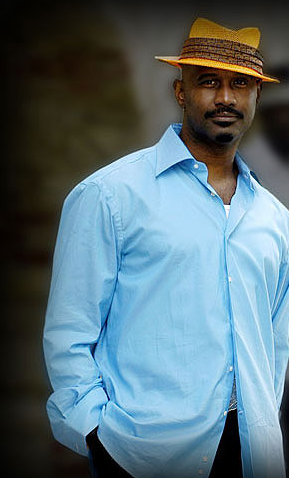 iRJ: When you win Grammys that soon, how difficult is it to maintain an expectation from the industry and your fan base?
CM: That's an interesting question because I think when you win something right off the bat you do have a certain expectation that this is just what happens. One of the great things about this group is because there are 6 of us we're able to pretty much keep each other humbled and grounded, if in fact somebody is tripping on his own stuff. As the time goes on and you may not get a Grammy nomination, you start understanding certain things don't happen all of the time. You just have to be true to your art, be true to your craft, be true to why it is you got into this business in the first place and you can hopefully stay on a path musically, creatively, spiritually, and emotionally that is healthy for you. We've been very fortunate to be able to do that.
iRJ: How would you describe singing in an acapella group opposed to a group with a band?
CM: When you're singing in an acapella group obviously you don't have a band behind you that's keeping the pitch reference true or keeping rhythm true and you're singing on top of that. You have to have all of that done with your voice, which means your ears have to be in tune as a group to all those other elements that come natural when you are listening to a band.
iRJ: What inspires Take 6 and how do you remain relevant after twenty five years?
CM: What keeps us inspired is just being creative. Within this group we have 6 of the most creative cats on the planet. We're always pushing each other and I think when you're creative you will be relevant, even if it's just to yourselves. You have to please yourself first. If you like what it is you are doing it will find an audience of some sort. If you're doing it for others, trying to be on the radio, or trying to have a hit I think that's a harder way to go. More often than not there's an authenticity that is lacking if that's why you're doing it. For us we still love doing this, whether everybody has heard it or no one has heard it. We can listen to it and say, 'We've done our best work and that's great'.
IRJ: What new projects are you currently working on?
CM: We are finishing the re-recording of our first album because this is the 25th anniversary of that album. The next thing we may do is an orchestral project or we may do something that is completely different for us. We try to push ourselves in ways that people might not expect from us.
iRJ: Will there be a tour scheduled for Take 6?
CM: We're in the midst of this 25th anniversary tour. It's a world tour that's taking us all over the world, which includes here in America. It's going to be a fun time. We look forward to seeing our tried and true fans as well as new fans out on the road.
You can connect with Take 6 and obtain updated information on the tour at their official website, Facebook page or on Twitter.
http://www.facebook.com/Take6Official
https://twitter.com/take6official
By Shonna Hillard