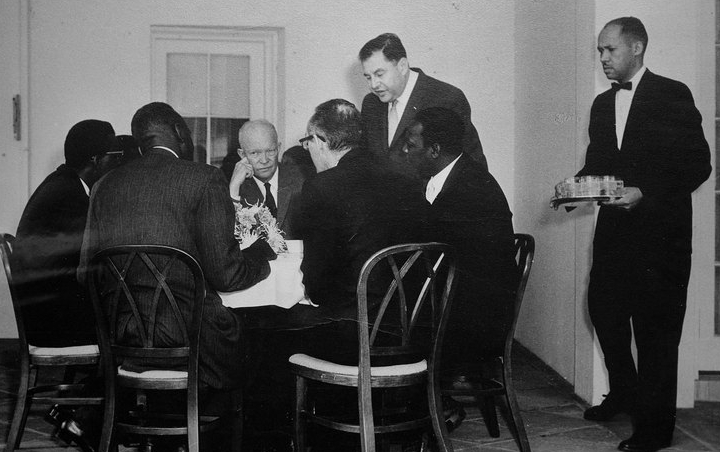 White House butler Eugene Allen (right) with President Dwight D. Eisenhower (center)
This summer Oscar nominated director, Lee Daniels and an all-star cast of actors including Oscar winners, Forrest Whitaker and Cuba Gooding, Jr., will release the highly anticipated major motion picture, "The Butler". The film will present a portrayal of a man, Eugene Allen, who served eight U.S. presidents over 35 years as a White House butler.
iRock Jazz was granted an exclusive interview with author and journalist, Wil Haygood, the writer of the 2008 Washington Post article, "A Butler Well Served by This Election" which sparked the initial interest in Eugene Allen's story. Days after the article – a vivid chronicle by Haygood of Eugene Allen's life in the historical context of the long and complex relationship between African-Americans and the White House – was published the story went viral. The article was later reposted in the Los Angeles Times and shortly thereafter, nearly 15 Hollywood actors and producers reached out to Haygood hoping to secure a movie deal. Four and a half years later, "The Butler" will share with the world one of the unsung champions of history.
Speaking to Haygood, a prolific biographer, having written celebrated texts on Adam Clayton Powell, Jr., Sugar Ray Robinson, and Sammy Davis, Jr., you get the sense that Eugene Allen's story may be Haygood's masterwork, an assertion not solely based upon the brilliant content of the article or Haygood's adept journalistic rectitude, but the striking parallels that weave Allen and Haygood together. Both men, gracious and professional, proud and persevering, fully committed to their vocation, and in the face of worldwide attention are remarkably humble.
Haygood's two year immersion into Allen's life strengthens his confidence that his story has the elements to resonate on the big screen. To Haygood, Allen is nothing short of an American hero whose life plays out like a movie and whose story deserves to be told. "It had the stuff of drama, the stuff of cinema – this one man that was in the white house for eight presidents. It's almost like a novel, but it's a real story. It really happened. Now he has a movie about his life. His life is important enough to be on the big screen. It's really pretty magical," exclaimed Haygood.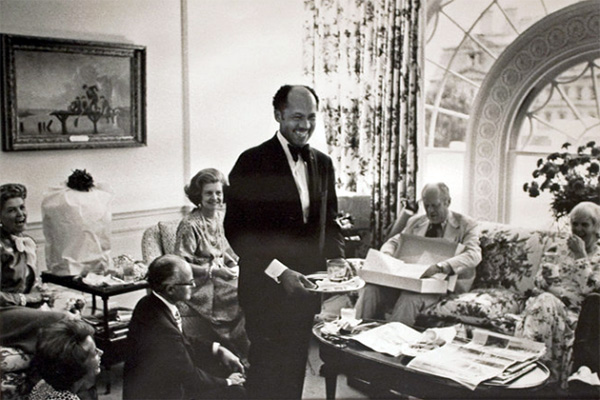 White House butler Eugene Allen (center) with President Gerald R. Ford (2nd from right)
However, the life of Eugene Allen may not fit the standard mold of the blockbuster Hollywood biopic. While the sweeping grandeur of riveting cinematography, a gripping screenplay, and a lush emotion evoking score can serve as a recipe to garnering box office success, audience's appetites are often whet with the star power of larger than life historical figures whose name and life are more recognizable throughout popular culture. So, why is the story of Eugene Allen noteworthy? Why make a film about his life? Why would Lenny Kravitz, after reading the script, cancel his European tour for a role in the movie? Why would Oprah Winfrey appear in this film after a 15 year hiatus? Eugene Allen did not break the color barrier on the baseball field or shake up the world in the boxing ring. He didn't liberate a people from the shackles of slavery with the stroke of a pen or revolutionize the world through music or technology. Eugene Allen, a butler, a humble man from Virginia, is not a mainstay in history books, but he was an eye-witness to history for over three decades from a significant vantage point – 1600 Pennsylvania Avenue – the most powerful address in the world.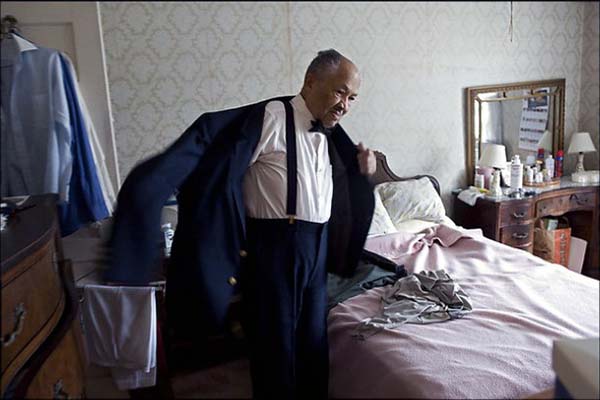 Retired for over twenty years before receiving Haygood's call, Allen and his wife Helene lived according to Haygood in a, "Very modest house, small, on a quiet street, here, in northwest Washington D.C.". Haygood would soon discover that the stories Allen held within him were just as rich as the treasure that lay beneath the Allen residence floors. Haywood describes the scene as he enters the Allen's basement, "There were pictures of him and Harry Truman, him and President Eisenhower, him and President Kennedy, him and the Kennedy children, him and Duke Ellington when Duke Ellington visited the White House, him and Sarah Vaughn, him and Frank Sinatra. I almost started spinning on a top. It was like finding this unknown man and his life that nobody had written about."
It is possible nobody had written about Eugene Allen for the same reasons the date January 20th came and went sixteen times, through ten U.S. presidents for nearly 60 years before President Barack Obama invited Allen to attend his first Presidential Inauguration in 2008. In 1986, Allen made history as the first White House butler to be invited as a guest to a Presidential State Dinner, a tribute bestowed upon him by President Ronald and First Lady Nancy Reagan. He took the moment so serious that a picture of he and his wife at the event is the only White House photo in the front room of their home. Yet, there was a time when he grappled with the racism and segregation that kept black American's stifled from social, economic, and political progress. And with his training he defaulted to react discreetly, not wearing his political affiliation or views on his sleeve. The effect was nonetheless impactful. To witness both emotional events like assassinations, Civil Rights movement violence and, in time, triumphs like the passing of The Civil Rights Act and Voting Rights Act, it is evident that he exhibited a herculean amount of restraint.
Even the White House, his daily destination of duty, was not immune nor could it serve as a place of refuge. "In 1962 he was working at 1600 Pennsylvania Avenue, the most powerful address in the world. He could leave there, get in his car and drive to a rest stop in his native Virginia and have to use a bathroom for blacks only. And then go back to work under the American flag. The dual emotions that must have been rumbling inside of him – he was able to quiet any anger and go in to work every day, not in a restaurant, a bar, or factory, but at the most powerful address in the world that was supposed to be an emblem for world freedom. He didn't have his rights and yet he never missed a day of work," Haygood presented with zeal.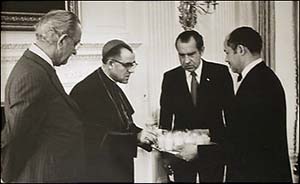 Eugene Allen with President Lyndon Baines Johnson (left) Vice President Richard Nixon
"When JFK was assassinated, Mr. Allen stayed at the White House all day heart stricken. He waited until the plane from Dallas had flown back to Washington, D.C. He stayed around as long as he could and helped everybody and then he went home at about 11:00pm. His son told me this – at about three o'clock in the morning he woke up, he got dressed and his wife asked him where he was going. He said, 'I have to go back to the White House. Somebody might wake up in the middle of the night and need me. Everybody is in pain. Everybody is in shock'. And as he was walking down the hallway he crumpled to the floor and sobbed. And his son told me it was the first time he had seen his father cry. As with the assassination of Dr. King, Allen was heartbroken, but determined. Washington D.C. was engulfed in riots. While he drove to the White House through the fire and violence he got out of his car, parked it and walked the rest of the way. As grief stricken as he was it was important for him to get to work that day," Haygood explained.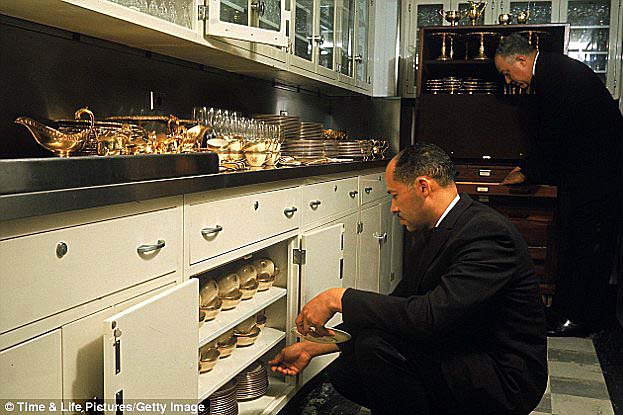 Eugene Allen's resilience of character in the face of internal turmoil displays an example of what we all hope to be – courageous, everyday heroes who know quitting is not a viable option. Quite possibly the studio upped the release date three months earlier not to delay capitalizing on the opportunity to connet the public with Allen's story. In describing Eugene Allen's stature amongst celebrated history makers, which ultimately reveals both his conviction and connection to everyman, Haygood places Allen near the top. "He almost rises to the top. It's interesting that the men I wrote about are famous figures and Mr. Allen was unknown to those men. Two of them he probably served. He probably served coffee or tea to Adam Clayton Powell or Sammy Davis, Jr. in the White House.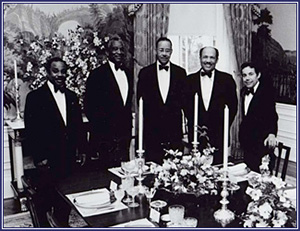 Mr. Allen stayed on the same job for thirty-four years. He represented to those eight presidents an example of a black man who works for his family, who believes in the country, who salutes his flag, and he never quit. There were other butlers who came and went especially after the 1960s and the social revolution during a time where it might not have seemed so cool to be a butler, a servant, in the White House. The Civil Rights Bill had not really taken full hold yet, and to stay on that job had to have meant that he believed in America and that he loved his country. And it didn't matter that the occupant of the Oval Office was a Democrat or a Republican. He did his job very well and in the end he rose to be the maître d', the highest ranking butler at the White House. So, his life had an amazing American song to it and I think we are in his debt to him."
Oprah Winfrey, who plays Eugene Allen's wife, Helene, explains her reason for taking this role which reveals more of Allen's heroic commitment to provide a better life for his family and many others. "It was people like Eugene and Helene Allen who helped build the black middle class in this country. And that is a big reason why I took this role." Allen chose to leave a legacy by staying on the job, which enabled him to put his son through college, extend finances to relatives who desired to migrate from the brutal south, and mentor many of the butlers and service people that came through the White House. According to Haygood, "Many who passed under his tutelage went on to get jobs in big hotel chains in LA or Chicago."
"If a man is called to be a street sweeper, he should sweep streets even as a Michelangelo painted, or Beethoven composed music or Shakespeare wrote poetry. He should sweep streets so well that all the hosts of heaven and earth will pause to say, 'Here lived a great street sweeper who did his job well."
-Martin Luther King, Jr.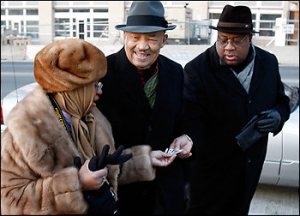 Eugene Allen, with daughter-in-law Ortaciana and son Charles, was a special guest at the swearing-in. (photo by Kevin Clark)
Eugene and Helene Allen were very much inspired by the life of Barack Obama and his vision for the country. The election of President Obama in 2008, a black man who defied the odds, who noticed the historically relevant achievements of another black man enough to help him see, "the dream" not as a servant, but as a special guest, not as butler, but as a beacon of bravery and beneficiary to that dream. As Martin Luther King, Jr. gave voice to the dream, it was men like Eugene Allen whose life made the dream real every day. Eugene Allen served more than the inhabitants of the White House, he served humanity.
iRock Jazz is honored to have a first look at Eugene Allen's life and Wil Haygood's enlightening perspective and story.
By Johnathan Eaglin