Blue Note Records, the world's premiere jazz label, has launched an iPhone and iPod touch version of its Blue Note by Groovebug App, which was introduced for iPad last year, both versions available exclusively on the App Store. Developed by Groovebug, the new Blue Note delivers a rich experience for both jazz aficionados and newcomers alike, providing an immersive way of discovering and enjoying classic jazz recordings from the legendary label. It features a deep catalogue of seminal tracks to stream and a wealth of interactive content from iconic Blue Note artists such as Wayne Shorter, Dexter Gordon and Art Blakey, as well as exclusive features such as Blue Note vocalist José James' new 11-song playlist of his favourite classic Blue Note tracks from Donald Byrd, Jimmy Smith, Lee Morgan, and others.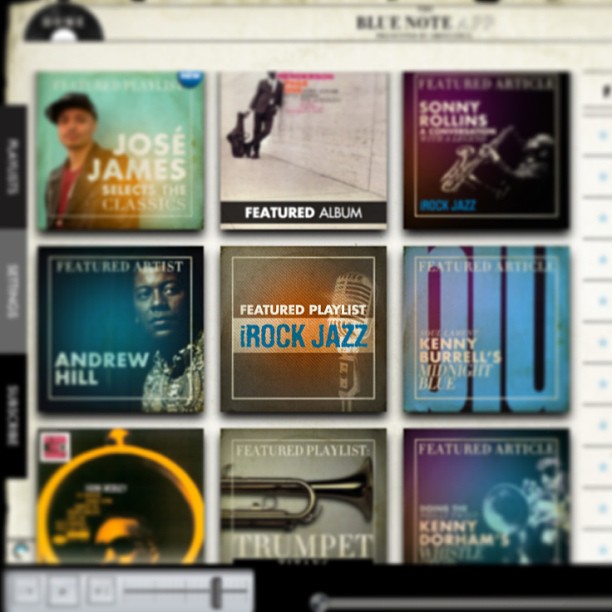 The iPhone and iPod touch version houses all the quality content and features as the previously released iPad app, conveniently optimized for iPhone. The app now features a sidebar menu that allows easy access to featured artists, playlists and editorial content, artist navigation, user favorites, user playlists, and settings. The Featured Content screen has been redesigned for iPhone and iPod touch, and a "Now Playing" bar at the base of all screens allows quick navigation back to music.
Featured articles, playlists and editorial are available from the Home screen. Artist discographies, biographies, videos, news, and similar artist recommendations are presented on unified and easily navigable Artist pages.
Existing Blue Note by Groovebug iPad app users may share their subscription between their iPhone, iPad and iPod touch, with Favorites and Playlists automatically synced between devices via iCloud. Music can be easily shared to Facebook or Twitter and users can discuss tracks with fellow jazz fans from right inside the app.
Jeremiah Seraphine, CEO of Groovebug, said: "We designed the Blue Note by Groovebug iPhone and iPod touch experience from the ground up. It is important to our users to quickly play music, navigate with one hand, and still enjoy the immersive and visually stunning experience we achieved with the iPad app. We're excited to get this in front of jazz fans everywhere."
The Blue Note by Groovebug App is available for free exclusively on the App Store for iPhone, iPad and iPod touch at www.AppStore.com/bluenotebygroovebug. The initial download features 30-second clips of all the music contained in the app. For all of the app's tracks a monthly subscription charge of $1.99/£1.49 via In-App Purchase is required