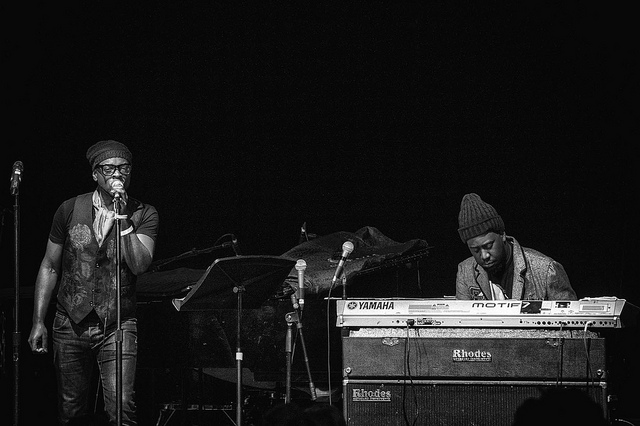 Photo by Marc Millman
Stevie Wonder was the cause but the Robert Glasper Experiment along with his selected vocalists Eric Roberson, Lalah Hathaway and Mint Condition's front man Stokley Williams was the effect.
Songs in the Key of Life gathered lovers of Stevie Wonder's incredible body of work and Robert Glasper's vision of paying homage to such an incredible musician and humanitarian under one roof in solidarity. Although there were no songs from Stevie Wonder's September 1976 release of Songs in the Key of Life performed, songs in the key of all of our lives were heard and felt throughout Philadelphia's Kimmel Center's Verizon Hall. The lighting was deep crimson and bronze, rich and warm as if we were sitting inside of Wonder's very heart and soul and Glasper was our tour guide.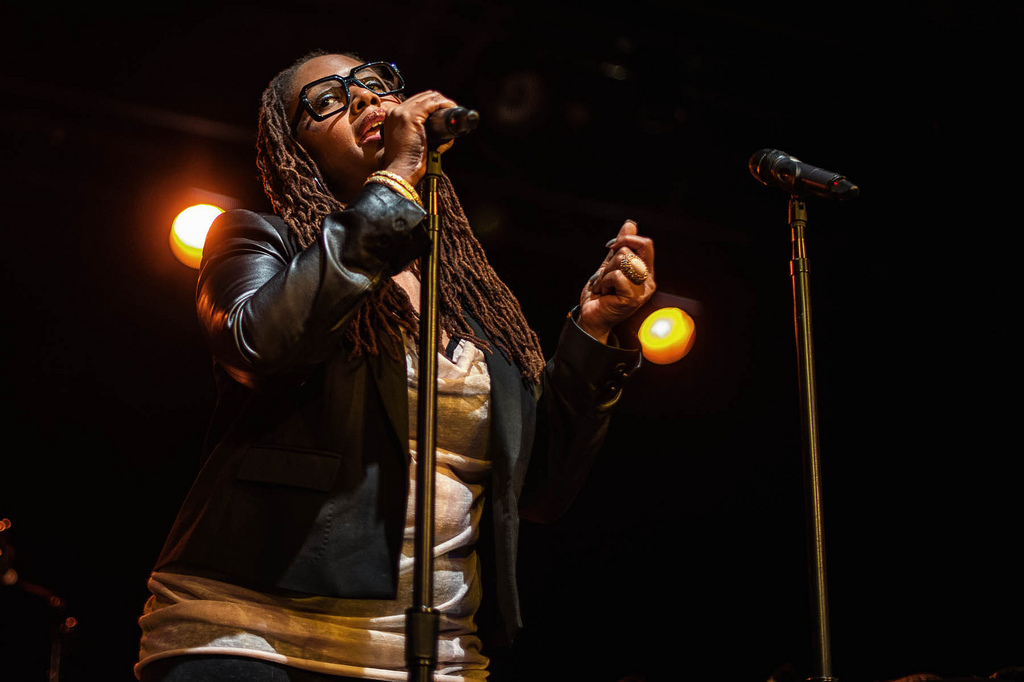 Photo by Marc Millman
Philadelphia's own legendary radio personality Dyana Williams gave us all a brief synopsis of what the night would entail. She described each performer and shared her personal love of the artistry that would grace the stage in this night of magic and wonder.
The set started with an instrumental version of "Golden Lady" and Glasper enchanted the crowd with his jazz piano interpretation accompanied by his brilliant band of musicians which encompasses a melting pot of ages and cultural backgrounds proving yet again that music is unquestionably a universal language.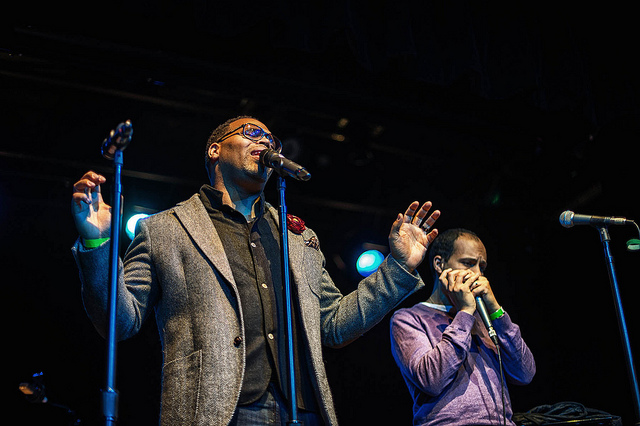 Photo by Marc Millman
As we journeyed with Glasper on our Wonderland adventure our first stop was Eric Roberson, a Grammy nominated New Jersey native and Neo-Soul singer-songwriter who is lovingly called Erro. Taking us back to Innervisions with "He's Misstra Know It All" released three years before Erro was even born – captured its fundamental nature as if it was written just for him. Erro's tone is soft yet commanding causing one to lean forward making certain to catch every lyric as he sings while patting his heart to the beat of the bass drum. Erro soothes whatever musically ails you and playfully nurses you back to health with his lyrical impromptu blend of rhyming words creating an additional narrative inside of the story he just sang. Stopping on the isle of Erro was a marvelous sight and sound seeing tour while in Wonderland and we all prayed that we would soon return.
Our tour guide Glasper humored us between our designated stops, inviting us to enjoy not only his musical greatness but also his fun and loving spirit. He never divulged how he would steer this expedition so we all anxiously waited for who, what and where we were going next. As we laughed at his antics following the relaxing isle of Erro, Glasper announced our next port of call; 'Ladies and gentlemen, Lalah Hathaway'. As Lalah's foot adorned with an open toe high heeled rhinestone sling back sandal hit the stained beech wood of the stage floor the crowd erupted in ovation. Glasper started playing the intro and like a cork being popped from your favorite bottle of champagne on New Year's Eve Lalah began with "Overjoyed". Before she could finish the first word of the first verse the crowd for a second time roared in a round of applause.
We were now docked at the inlet of the first daughter of soul, sitting in awe as we listened to Lalah fill the auditorium with her lower register that resonated to the core we knew we were witnessing melodious royalty. The descendant of the incomparable Donny Hathaway was giving three performances at once right before our eyes. She was paying honor to Stevie Wonder by performing his composition yet we heard echoes of her father in the background as she wailed and moaned. Lalah did choral acrobats that made us wait with baited breath anticipating how she would conclude.
This Wonderland visit was more than one could have ever imagined and our docent Glasper had us in the palm of his hands; hands that stroked the keys of life into the very songs and just when we thought we would have a moment to collect ourselves, approaching the arena was a familiar face smiling in humble appreciation standing center stage was none other than Stokley Williams. Lead singer of the R&B group Mint Condition most notably recognized for chart-topping hits "What Kind of Man would I Be" and "U Send Me Swinging" was without his band but Glasper filled all the harmonious gaps and Stokley began with "You've Got it Bad" from Talking Book released October 1972.
Throughout the evening Erro, Lalah and Stokley took turns compelling us from center stage providing absolute delight as they sang from the immense catalogue of Stevie Wonder's works invoking sweet yet subtle recollections from a time once past and for those old enough to remember the actual release of the selected titles it was a bittersweet reunion of songs for some listened to remember and others listened to forget.
2013 Grammy-award winning, genre infusion aficionado jazz pianist Robert Glasper has managed to put together a balanced blend of vocal talent and master musicianship with the production of Robert Glasper Experiment, Songs in the Key of Life celebrating Stevie Wonder. I urge everyone that has an opportunity to experience this Wonderland cruise to jump aboard and take pleasure in the journey.
By Charlene Cooper