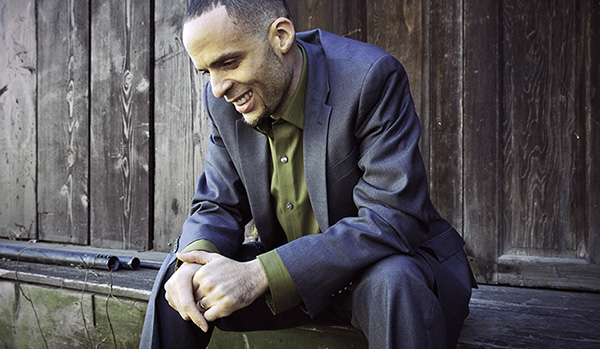 Percussionist, producer and composer Jaimeo Brown began his musical career with his father bassist, Dartanyan Brown, his mother Marcia Miget, a pianist and woodwind specialist as well as his drum teacher Sly Randolph at the tender age of sixteen. The California native studied at William Paterson University where he received his bachelor's degree and continued his studies at Rutgers University where he earned his master's. Brown, a master in his own right, has performed with hip-hop artist Q-Tip as well as music legends; Stevie Wonder, Carlos Santana, Joe Locke, Steve Turre, Pharoah Sanders and Bobby Hutcherson. Working with Bobby Hutcherson, he established his national reputation at just 19-years old.
Brown's debut album Transcendence, has received rave reviews from fans and critics alike. The exciting compilation fuses southern soul, hip hop, blues, electronica and traditional Eastern Indian sounds with acoustic jazz. Jaimeo Brown spoke with iRock Jazz about his debut album and the true transcending power of music.
iRJ: What was your mission behind making Transcendence?
JB: I guess there are a couple of different angles that I can come at it. I would say that musically Transcendence is just a product of me being in New York City for the last 15 years, being a jazz musician of course – and front man. A lot of the ideas on there [Transcendence] whether it be the focus on the spirituals coming from the Gee's Band from Alabama or coming from the hip-hop influence or the North Indian influence; I would say that all of these things that I have a love for in my heart and things that I have been experimenting with in my everyday explorations. So, I would really just say that it is a product of things that I had already been thinking about. It wasn't a project that was concocted intellectually where I was thinking, 'What would happen if I mix this together and mix this together'? I would just say that it was more of an organic expression of things that I was already thinking deeply about.
I'm just so grateful of Chris Sholar; he did amazing production on the album. JD Allen had amazing ideas; and just really appreciative to be around such amazing and creative people. Geri Allen, my family – my father is on the album, my mother is on the album, my sister is singing on the album, and my two-year old daughter has a little cameo on there. Really this record is about trying to celebrate community and I'm just appreciative to have the opportunity to work with everybody.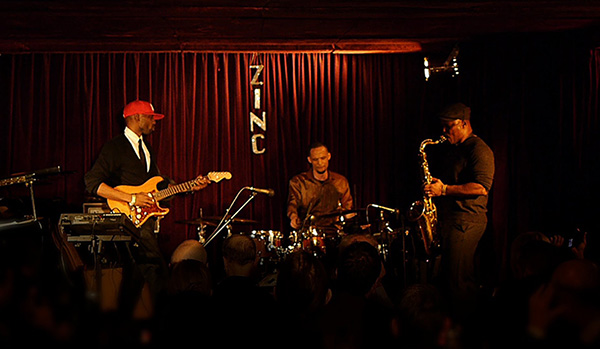 iRJ: When you compose music that includes different genres, where do you start?
JB: From my perspective, when I'm thinking about a composition in general, if I'm not hearing it first then I often don't go in that direction. And so I would say that all of the compositions on this album, and my compositions in general that I strive to accomplish, are compositions that come from really hearing it clearly in my head. Therefore, the process is now how do I manifest this thing that I'm hearing in my head into something that other people can experience? So therefore the technology, whether the technology being samples or whether the technology being instruments or whatever, all of the technology is following what I'm hearing first. It's not a concept of how do I mix this with this that comes first, I'm hearing it first. And the reason that I'm hearing it first is because I'm already experimenting in my mind.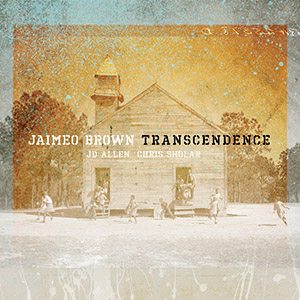 iRJ: How do you convey what's in your mind or what you want to manifest to 4 or 5 different musicians so that they can understand what you want to accomplish musically?
JB: I think that goes to band leading; which is an art all in itself that I think a lot about. The art of what you don't say is just as powerful, and sometimes even more powerful than what you do say. Duke Ellington was an inspiration to me because I think what he really did in I think kind of a genius way, was that he would write the music really around the personality of the musicians and I think that is how I approached this project. When it came time to record, I tried to create an environment where they could just be themselves. And I tried to use some of the concepts that I had been experimenting with and just shape out a general framework that would give them freedom to still feel like they were not locked into some box.
iRJ: How much of a risk did you take with this album?
JB: I guess when you start touching on faith, and pursuing things that are not necessarily seen in the external first and bringing those things into reality. I would say that faith, or having faith in producing a work that doesn't really have a road map to it, or a template you can follow, still requires strong fundamentals in order for it to be a smart path to go down. I think I was able to recognize certain fundamentals within the musicians, within the things that I knew spoke loudly to me. I really did feel that it was music that I needed to hear myself, that I wasn't hearing, and I tried to put down all the loud voices of the industry that would say, you're not going to make money or it's not going to sell unless it is following this thing which is popular here, and really just tried to create something that spoke to my own situation. And I think that those fundamentals were strong enough for me I guess to take that risk and in my mind, the more of those fundamentals that are there for yourself the less of a real risk it is. I had a lot of confidence in the musicians and the meaning of the project and the purpose of the project that I tried not to look down too much [laughs].
iRJ: Growing up with a musical background, what was some of the best advice that your parents gave you about music?
JB: Probably the best advice is – that I can think of is – it's so hard, they're your parents, you know, just so much of who I am and how I think comes from things that I'm not really even conscious of what they gave to me or what they contributed to me. I didn't really play music because they wanted me to or anything, I almost kind of went against it until high school when it became a social thing. I had friends who were playing music and then all of a sudden I start realizing well let me see what this is about and it came out of me because of my parents. But I would say that one of the things that sticks with me are just the honesty that they expressed about the power of what music can be; the power of music to heal people. They traveled throughout my early life and I was carrying equipment and they would teach about jazz of course and they would also teach about music therapy and how music can heal people. And how music can be profoundly deep to humanity. And I would say that those are the most powerful elements that stay with me today.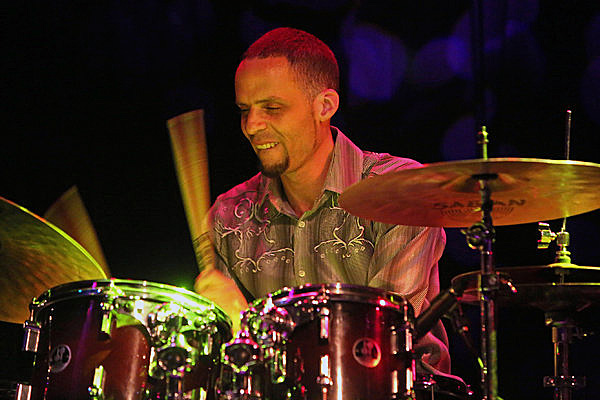 iRJ: When did you as a musician, realize that you had finally arrived?
JB: I don't know if I'm there yet. I have such high standards. At a very young age I started playing with Bobby Hutcherson and I would say that the generation that was coming out of the 50's, 60's and 70's, the whole level of the scene was collectively at a higher place then what's happening in our generation now. And for whatever reason; that's for a whole other conversation. But when I think of Charlie Parker and Coltrane, these are the standards that I have held for myself. So I would say that I'm definitely not there yet and I hope that I never really do get there, honestly. Because I think that there is something within the hunger of reaching that I'm fulfilled by and that keeps me growing at the rate that I know I need to grow at.
iRJ: What gives you more gratification, the completion of a song or the affect that it has on the people that hear it?
JB: I would say that the biggest gratification that I have received in that process is the feedback from people that say that the music healed them or made them see a bigger picture of life. And there is definitely a lot of gratification that I get from producing something and then having it a completed goal. But for me, the feedback that comes from people is deeper than just intellect, where the soul is found, that's really my whole intentions of even writing the composition in the first place. One of the reviews that I received recently came from a person who said that my music helped them to get through liver cancer. I was never more thankful than hearing that. That's what I kinda see my purpose as.
By Steen Burke