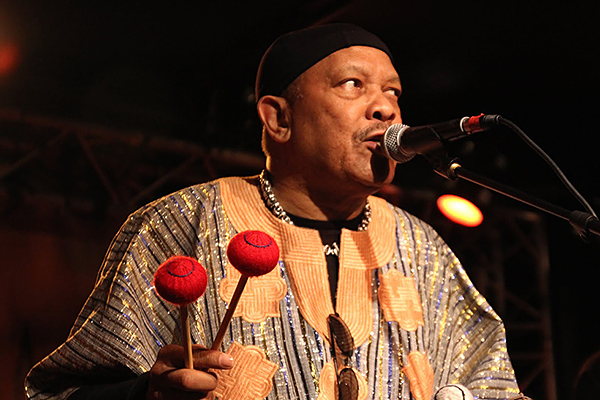 Godfather, king, master, pioneer, and living legend are all titles given that have been bestowed upon Roy Ayers by other music greats, like Erykah Badu and Questlove  of the Roots. The 72-year old music icon has been creating, performing, producing and recording timeless classics for over 50 years. He created epic songs that transcend music genres such as "Everybody Loves the Sunshine", "Africa – Centre of the World", and "Running Away".
Ayers' versatile sound has been sampled by more musicians than any other artist in musical history and has sparked an entire collaborative effort to preserve his music, his art and his legacy called the Roy Ayers Project. Currently, the master vibraphonist is touring and recording with The Common Ground Collective, a band who draws inspiration from the music of Nigerian band leader and musical activist Fela Kuti.
iRock Jazz was fortunate enough to talk with Roy Ayers about the early days, his music, his experience with Fela Kuti, Guru and Donald Byrd, and his current musical collaborations.
iRJ: When did you begin playing music?
RA: I started playing music as a child. My mother always had a piano there and my mother taught piano. And of course there was always music in my house so I was playing the boogie woogie and banging on the piano from the very beginning.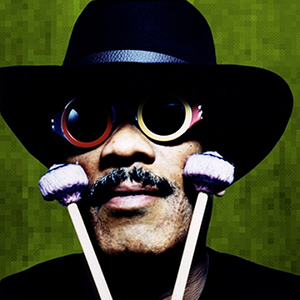 iRJ: Did your father play the trombone?
RA: He didn't play professionally, he just jammed on it. Lionel Hampton's records were always played in my house; that was my greatest influence. For a while there, I thought I was going to be Lionel Hampton, I didn't know better. They took me to see Lionel Hampton when I was 5 years old; my folks did, at the Paramount Theater. And I never got over that. That venture was wonderful and I never got over that. As a matter of fact Lionel Hampton gave me a set of vibraphone mallets, I don't have them but I wish I had kept them. My mother told me that Lionel Hampton laid some spiritual vibes on me because some 12 years later I started playing the vibes.
iRJ: Can you name all of the instruments that you play?
RA: I play the guitar and I played the trumpet in the school band. I played all the percussion instruments as well as a glockenspiel, which is a small xylophone.
iRJ: Were you self taught on all of these instruments?
RA: No. I'm mostly self taught on the vibraphone. I had lessons on the steel guitar. My best teachers are people like Jack Wilson, Herbie Hancock, musicians like Gerald Wilson; just the various musicians I've had the opportunity to perform with and spend time with. Just being associated with all these great musicians has been a great help to me.
iRJ: What was it about the vibraphone that made you really want to embrace it?
RA: It's the vibration that I get with the instrument. It puts my brain into a mode; nothing else does it like that. Like the vibes – it's great. I have such a great love for Lionel Hampton and I love the way the instrument sounds; it's mesmerizing.
iRJ: Erykah Badu said that you were the "King of neo-soul music".
RA: Right, and I said, 'What is neo soul?' She said 'Neo soul is your style of music.' And she said 'I copy it; I like your sound.' And she said that Jill Scott does it and also the Roots, and several other people had my style. And of course, I have more sampled hits than anybody in the music business. No one has topped my sampled hits. You know people like Mary J. Blige and A Tribe Called Quest, Brand Nubian, the stuff that P. Diddy and Biggie did on Junior Mafia. There have been at least 48 groups with hit records – rappers; some of which I didn't even know [laughs]. So it was just a thrill that they sampled my music and I was excited about it.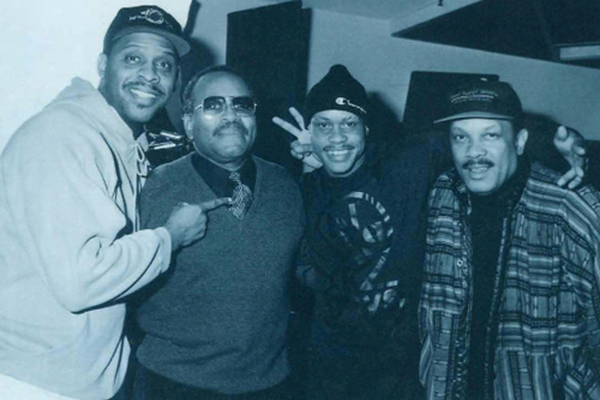 (l-r) Zachary Breaux, Lonnie Liston Smith, Guru, Roy Ayers
iRJ: How would you describe your music?
RA: I play jazz funk or funky jazz, you know? I've always used that terminology.
iRJ: How did you transfer over into R&B?
RA: I was playing straight ahead jazz on the west coast in 1963, 1964, and 1965. Then I went with Chico Hamilton to Japan, and went back to Japan with Herbie Mann's group. That was sort of the beginning of Roy Ayers becoming international. After being with Herbie Mann for a year, I started to realize the importance of radio and I wanted to start incorporating voices. And I started to have hits and to sell records. Because of the singing, I was getting a lot of R&B air play that has made me popular around the world.
iRJ: How did your relationship with the Common Ground Collective start and what's it about?
RA: The Common Ground Collective is out of Atlanta and they copy the music of a man I worked with from Nigeria named Fela Kuti. And working with Fela was truly a rare experience for me as well as any other musicians because as far as I knew, no one else worked with Fela, other than a British musician. But I recorded an album with Fela called The Music of Many Colors in Nigeria. The Common Collective copies the music of Fela and performs the sound that he created called Afro Beat. These are young musicians that copy this music and they sound almost just like his band. And working with them is really a thrill. They also play my music. They have a special arrangement of "Everybody Loves the Sunshine" and a couple of others. They play very well, they are very well organized and I have a lot of respect for their musicianship.
iRJ: What was it like working with Fela?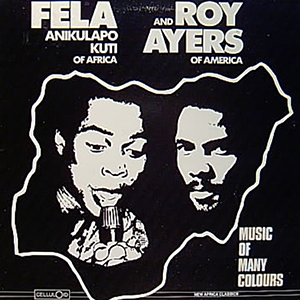 RA: He did things to motivate the establishment over there. He was an interesting man. I never in my life met anyone like him. As aware and as intelligent as he was, to me he was brilliant.
iRJ: What was it like working with Guru?
RA: That was wonderful because he was a very experienced artist. He had me record my vibes maybe four or five times on one track. He was a very creative artist. I liked working with Guru. Actually, he was a graduate of Morehouse College. Of course he has passed, but he was truly one of the greats in the rap business.
iRJ: What was it like working with Donald Byrd?
RA: My goodness, Donald was so exceptionally great. I call him 'professor' because he was a professor of music. He was a musical genius and he was smart enough to know how to change his style and go forward in his musical creativity, similar to Miles Davis. These guys [Guru and Donald Byrd] knew how to move on and change the groove and change the mode and the mood to spark and create new dimensions in music. That's what I try to do all the time.
iRJ: Of all the albums that you have recorded, what was your favorite album?
RA: The one that really grabs me the most is Everybody Loves the Sunshine because of the way I felt then. The vibe that I had with Everybody Loves the Sunshine was so exciting, it was so thrilling! The feeling I had all during the recording, it was a wonderful time for me – 1975.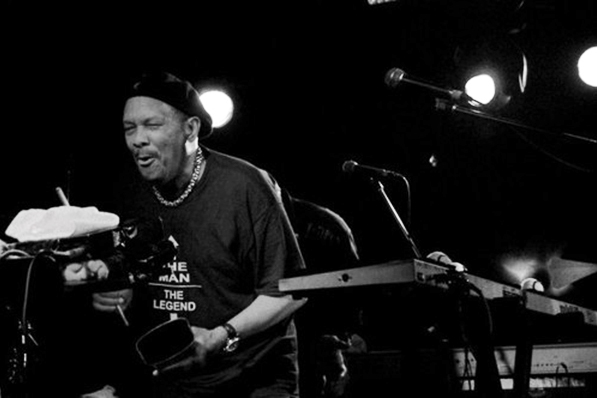 iRJ: What is the secret to your success and longevity?
RA: I think it is a combination of things. I don't know if you are into astrology, but I'm a Virgo and there have been a lot of Virgo musicians like Charlie Parker and John Coltrane, just to mention a few that are Virgos. Cannonball [Adderly], I knew him, was a Virgo. Gerald Wilson is a Virgo, BB King is a Virgo, Elvin Jones is a Virgo; there's so many great musicians that are Virgos. It makes me feel good to be associated with them and being under the same sign as them. So, I'm a happy guy! I'm having fun and that's probably what motivates me and keeps me strong and well; it's my happiness in doing what I do.
By Steen Burke