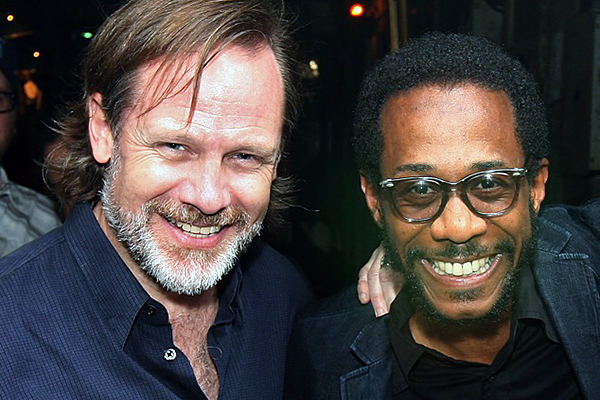 John W. Comerford and Brian Blade
Producer, John W. Comerford is an artist and visionary. Through his lens we are able to take a glimpse of what jazz looks like in the present tense. Today's jazz artists have told their story and Comerford has captured their words and the passion for this ever changing music on film. After hours of interviews, studying, and researching, he has given us a viable documentary that takes a look at jazz today. "Jazz is undergoing changes of monumental magnitude and importance", so it has been said. iRock Jazz had the opportunity to speak with John W. Comerford about the film.
iRJ: What inspired you to go into filmmaking?
JC: It's an interesting story. It's a long story; I'll turn the clock back now to the late-70s in NYC, where I grew up. At that time there wasn't cable television, there were no iPads, no smartphones, so the best way to connect with art in motion picture form was to go to the movies. At that point in the 70s, cinema culture was really happening in New York. So, I went to see everything. That's when I really started my serious film habit.
iRJ: What inspired you to do "Icons Among Us"?
JC: I was approached by two directors. One actually is a cinematographer and the other is the co-director for the film, Michael Rivoira and Lars Larson; Lars being the co-director and cinematographer, and Michael being a co-director (Peter Vogt was added later as a co-director). They essentially started telling me the story of a number of musicians they knew – this is around 2001, who were reacting strongly to Ken Burns' historical series on PBS entitled "Jazz". A lot of the musicians that they knew were upset about the fact that this huge piece had been done – thirteen episodes, thirteen million dollar budget – and only the last twenty-eight minutes of the final episode of the series was devoted to the living generation of jazz musicians who were trying to advance the art form. Ken Burns is an historian, so he's doing what he does best – cover history.  At the same time, of course, these musicians were trying to expand their audiences and put food on the table. They really wanted to bring attention to the fact that jazz is about spontaneity and improvisation; two key components, and that's always about the now, that's always about being in the moment. I felt, after hearing from these two filmmakers, that I should do some research and investigation and see if there was a real sense of urgency. That's always the key thing for a producer; you have to tap into a sense of urgency. Well I followed up and I did a lot of reading, then I spoke to some artists and for sure they wanted to tell their story. They had a burning desire to tell it. As I started to do more and more research I started to see there was an extraordinary group, who was alive in that moment of 2001, that was really making creative waves, big artistic waves. That really excited me because I felt like I was onto something.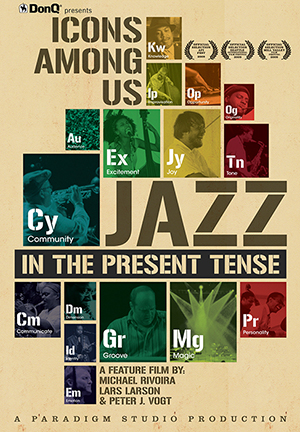 iRJ: During the making of the film, was there one artist in particular that personified what you were trying to capture?
JC: Wow, that's a tough question because I think we conducted about eighty interviews, but off the top of my head there's really three that come to mind immediately thanks to the brilliant editing by Kristian Hill. The first one on the tradition side that I think would be an amazing example would be Jason Moran and how he's benefited from the tradition. When we interviewed Jason I really felt that tradition coming through with him. In terms of the broader net, without a doubt, it would have to be Robert Glasper. He's one of the strongest voices we have in terms of saying, 'Hey, our mandate as jazz musicians is to advance. We've got to keep moving and we've got to take what we know and what's around us and integrate it with ferocity into our work'. Hip-hop is a huge influence on him. Hip-hop has been around long enough to have a real history and all of that is woven into Robert's work. The last artist I want to mention because of her contribution to the traditional art form is Esperanza Spalding. She is, in a way, a hybrid of sort of the Robert Glasper wide net and the Jason Moran deep thrilling. Watching her music evolve, she also has taken a really strong approach integrating everything she's been exposed to as a young person, and she's in her mid-twenties. In talking to her she's just very a matter-of-fact to having a real hybrid approach to music.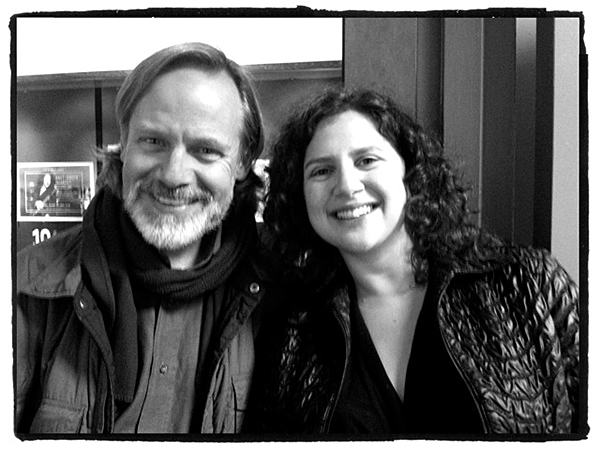 John W. Comerford and Anat Cohen
iRJ: Do you see an impact on the industry as a result of this film?
JC: A couple of things come to mind. The first would be a phone call we got from the pianist Matt Ship, a few months after we released the series on television in 2009. When he called our office and spoke with associate producer B Dahlia he said 'I've been stopped on the streets multiple times by people saying that they recognize me from television', and I thought to myself as a producer; if avant-garde jazz pianists are being stopped on the street because they're being recognized from their television appearance, I'm doing a good job. The other piece I would say, on a more global basis is, we hear from artists on a pretty regular basis and they get calls and bookings from around the world, from places they haven't been receiving calls from previously. I think there is global awareness now of the living generation of talent that's really out there and we're so pleased that we helped carry that message.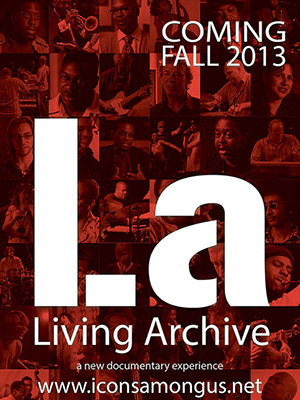 iRJ: In what direction has the project gone since it's release?
JC: The way we always envisioned "Icons Among Us: Jazz in the Present Tense" is a trans-media platform and for us the way that has taken shape has been the feature film version which had an opportunity to play film festivals in the United States and screen globally through our partnership with The American Film Institute. We were taken around the world to China, Russia, Peru, and faraway places to screen the film. In addition to that the television series has screened on the Documentary Channel for three years running here in the U.S. and has also traveled into foreign television markets around the globe. We did a concert tour when the television series came out. We visited about five different markets in the US two times.
Our newest project is the "Living Archive", and that's really the digital piece that I've always hoped for. We're putting together this in hopes that it's not only going to make an impression for jazz aficionados, but also carry through into education and make available all of the source material related to the documentary. It will be organized and categorized for ease of search and access.
If people who have watched "Icons Among Us: Jazz in the Present Tense", want to go deeper than the four part series, they can then go to the Living Archive which is a digital portal containing all of the source material. Currently, the DVD set of "Icons Among Us" (Four-Disc Edition available on Amazon) comes with a CD-ROM Study Guide and a 60-page study guide as a printable PDF. When used in conjunction with the digital portal,  that study guide will become even more interactive with the source material and we're very excited about that. You will be able to access the Living Archive digital portal here, www.iconsamongus.net.
By Shonna Hillard