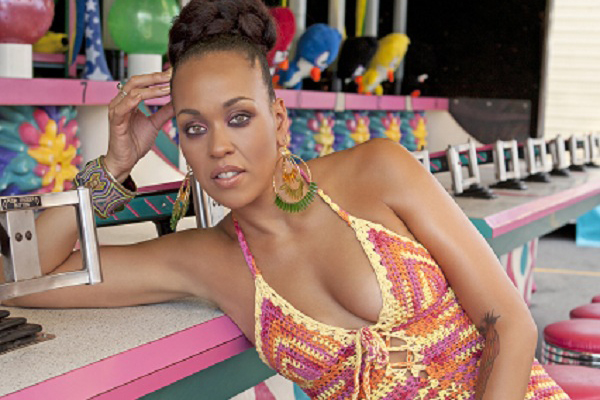 Humanitarian, cultural ambassador as well as an ambassador for Bead for Life, domestic abuse advocate and activist, Grammy-Certificate winner for her collaboration with Stephen Marley on his 2007 "Mind Control", 40 Under Forty Achievement Award winner, Hearing Our Voices Award winner, and MTV's Made Coach and the recipient of the Proclamation from the House of Representatives for her Hope Night Concert Event are some titles and achievements that describe singer, song-writer Maya Azucena. A native New Yorker (a "Brooklynite" to be exact), Azucena began singing and performing at four years old. She says, singing is something she knew she wanted to do even before she was four. "It was never a question in my mind about being an artist. You know how kids say, 'What do you want to be when you grow up?' and they go, 'Oh a doctor, the president and…' In my case it was always always without a doubt, I was going to be a singer or a performer – actress or something. And when I was four, I started singing and that kind of memorizing songs and presenting them to my family as performances. And then I kept doing that through school – I was like the "singer", the one that everyone was like, 'Get Maya to sing it!'"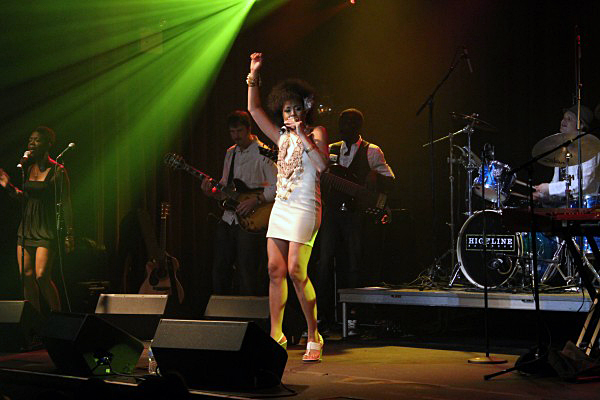 During high school is where she continued studying music. "I ended up going to a performing arts high school where I studied opera and studied classical voice," she says. Ten years ago she started her band and the same year (2003) her first album Maya Who? hit the music scene. Maya Azucena is a "non-labeled artist". Meaning it's impossible to label her sound. Her music comes from the soul, it's a passion that cannot be described in words, only in feeling and listening. "I have my own sound, the core sound is soul – almost like a classic soul mixed with rock, hip-hop, live instrumentation mostly; so it's kind of, almost like the Roots; if the Roots had a singer with four octaves, " she says. And her influences, Mahalia Jackson and Ella Fitzgerald. "My influences would be as a singer, Mahalia Jackson and Ella Fitzgerald, they are two of my main inspirations. Mahalia Jackson was actually one of Aretha Franklin's main influences, she always sang with so much conviction. Every time her mouth was open it was full of this power, it was never half way and that really moves me and really spoke to me as an artist about having conviction believing what you're singing. Ella Fitzgerald, has one of the most technically perfect voices I have ever heard in my life and when she sings you hear joy in her tone and that's something that really inspires me, it's like you can hear her smiling and that feels and sounds so free. And her ability to grasp harmonics – like her ear, she's truly a musician."
Azucena is also inspired by phenomenal song writing and her top three influences are Stevie Wonder, Prince and The Elements also known as Earth, Wind and Fire. "In all three cases, they were genre busters, they've never stayed in one specific genre. On a Stevie Wonder record he could go from a classical music ballad with strings to a reggae tune and it made perfect sense. It was his sound. And Prince – he's probably one of the first to really bring soul together with rock and arrangement. It's just amazing – and on top of it,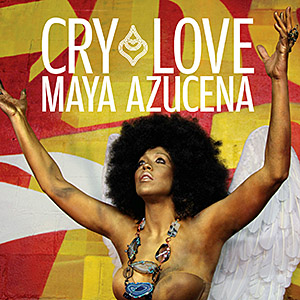 Earth, Wind and Fire are classical harmonies over funk rhythms, with all three cases they were all able to talk about lyrically things that mattered in the world. Things that have cultural relevance and your hands would still be up in the air, [you'd] still be on the dance floor. And I think there is a balance to creating music that has meaning – meaningful lyrics and the gift of doing that and still have your audience almost not even realize that they're singing a civil rights song. It's so dope musically that it's hitting both of the marks."
Music and activism go hand-and-hand for Azucena. There is no separation, they are one in the same. Her activism is demonstrated through her music with the song "Dance Revolution" for the One Billion Rising Campaign as well her "Cry Love" song she performed for TEDx Women in 2012 from her 2011 Cry Love album. It was also shown in her Hope Night event she produced to promote awareness for domestic violence. Azucena says, it is who she is, to help people. "It's my life. I realize that I started with this idea of the arts as a means of – a tool for activism and humanitarianism. It started when I was in high school because I was in a youth leadership, youth empowerment organization called "City Kids", and I realize now that the seed was planted back then because we used the arts to talk about non-violence, we used the arts to talk about protecting the environment and we used the arts to talk about domestic violence and all of these types of things. In my personal walk, I always felt I wanted to help somehow and be involved and I feel strongly about some of these things."
Azucena says the tragedy of 9/11/01 put things in a different perspective for her as well. She felt compelled to help humanity more than she did before. "Around September 11th , because I'm a born and raised New Yorker, and I had that feeling we get when major tragedies happen – this momentary feeling of helplessness. It's like everybody in New York wanted to do something to help and people were lining up to give blood and then to realize that nobody survived to give blood to and you have this sense of, 'What can I do?' And I have that feeling when I hear about genocide, when I hear about human-trafficking of children, when I hear about unfair prison laws, all of these types of things I feel that momentary feeling of overwhelmed and helpless and the very next feeling that I had was, 'I have to get out there, I gotta sing, I have to sing, I gotta sing!' And it was as if I discovered my superpower for me, the thing that dwells within me, that is my power to help the world is my music. It's been from that day, from that time-frame a mission, 'I must help people through music'. So that is the path."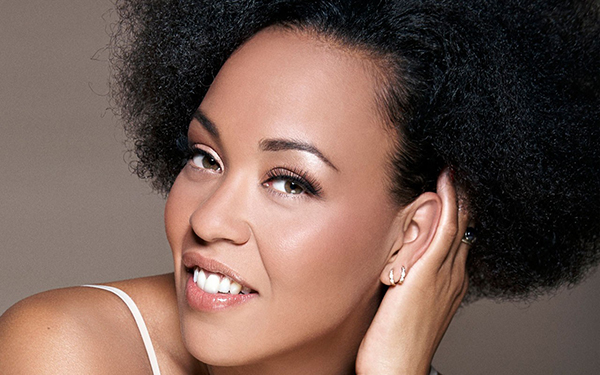 Her Hope Night event came out Azucena's continual work in raising awareness for domestic abuse and something that was also personal for her. "The fact that I was in a very abusive relationship at one point – it was very psychotic, very twisted, very bad and I feel as though being in a very oppressed situation like this warrior in me grew and I am a defender. I feel like I want to defend anyone who may have been in a similar situation and I also want to be willing to share something that is vulnerable for me if it gives someone else the strength. I feel like what's uncomfortable for me can change someone's life, so I'm willing to be uncomfortable if sharing my story helps someone change their life. I've always produced events and as an independent artist I have this approach to my career about how do we get ourselves out there and I always felt there was power in collaborating and so producing events is a natural way of incorporating people who support each other. I believe in music as a powerful tool for bringing people together and engaging conversation so I used a concert setting as a way of bringing people together around the subject."
The same support she offered when she was a coach for MTV's Made. She was referred to the casting director of the show by several people and after auditioning Azucena was cast to assist high school senior and singer Meghan get over her fear of singing in front of people including her family. She says being an independent artist known for her humanitarian work has become her brand. "I'm known for that, I'm known for helping people, being a little bit more than being some girl getting up and singing songs," she says. "I'm respected on the business tip as well, so I was referred to the casting director by more than one person and she looked in to me and brought me in for an interview and thought that I'd be great – as I knew I would be, because, MTV Made; that's what I do all the time, in real life – all the time. I was like, 'Oh, so someone's going to tape it for once'? I mean that's what I do [laughing], beyond singing I spend time with people, helping them. It just feels like me to do that, so it was cool to be able to have that experience with MTV."
As Maya Azucena continues to inspire and help humanity she is inspired by inspiration. " I think one of the best compliments I could ever have is when somebody comes up to me and tells me that they feel inspired at one of my shows. I'm inspired by real people and life." For more information please check out her website: www.mayaazucena.com and her official Facebook fan page. You can also get more information on the Bead for Life program on their website: www.beadforlife.org/en/frontpage/us.
Maya Azucena's Official Birthday Party is May 3rd 2013 and you can get tickets and information here.
By Keli Denise