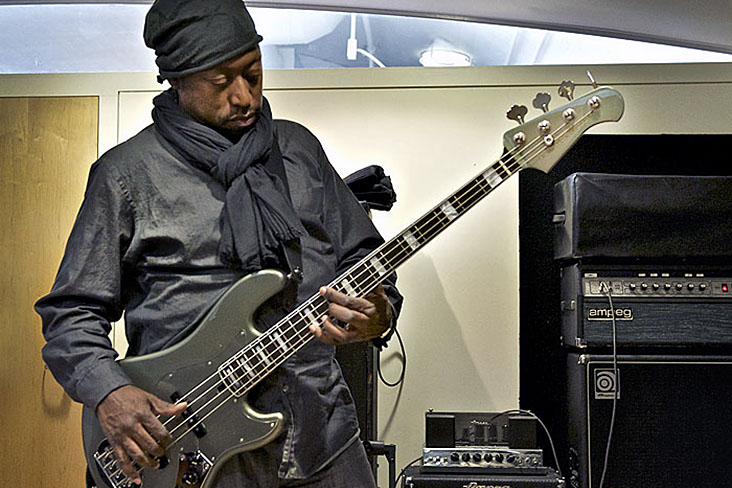 Most musicians start off small and work their way up to a few big names. However, master bassist Darryl Jones began his career with one of the greatest in jazz and has continued to work with musical giants for over thirty years. After touring with the legendary Miles Davis, Jones went on to play and tour with Herbie Hancock, Sting, Madonna, Peter Gabriel, Cher and Eric Clapton. In 1993, after iconic bassist Bill Wyman's retirement, Darryl Jones became the bassist for The Rolling Stones. He is currently on tour with the group.
For some artists, a solid job with the Rolling Stones would be enough to taper the desire to do anything new or different. Not Darryl Jones. The music virtuoso is creating new music, new groups and designing new bass guitars. iRock Jazz had the opportunity to speak with Jones about his amazing musical career, his thoughts on bass contemporaries and what projects he is working on beyond The Rolling Stones.
iRJ: Your father was a drummer; did he encourage you to be a musician?
DJ: Well yeah. He didn't have a drum kit at home, he had a practice pad. And so he would be practicing in the basement and I just decided that I wanted to learn to play drums. I think I was 7 when he bought me this little practice pad. And he pulled out these old xylophones that he had, like a little set of xylophones, and he was teaching me how to play those. I think he wanted me to get the notes as well as the rhythms. That was his way of encouraging me to play an instrument that had pitched notes as well as learning to read rhythms.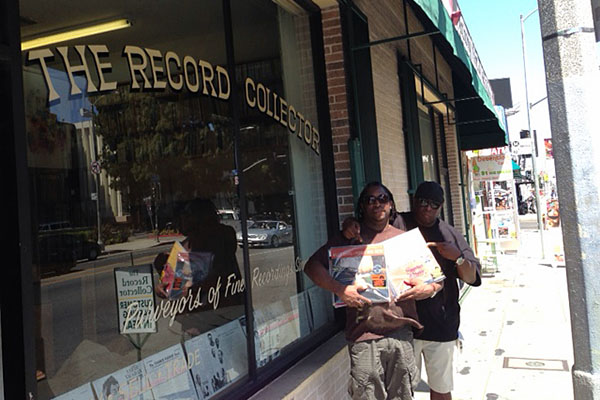 Darryl Jones with Vince Wilburn
iRJ: How did you meet Vince Wilburn?
DJ: We didn't actually grow up in the same neighborhood. We had a mutual friend who introduced us when I was about 13 [years old]. He was close by. And so we saw each other and started to play on the scene in Chicago together.
iRJ: How did you first meet Miles Davis?
DJ: At the end of the night, from some of the gigs, we'd sit in the car in front of my house. He drove me to some of the gigs because I was kind of young. So he'd pick me up and drop me off when we had a gig. And so we'd talk about Miles and what it would be like to play with him. We kind of dreamed about doing that. So he [Miles Davis] was in Japan in the spring of '83, and he decided to make a change with his bass player. He asked Vince, 'Do you know who I should hear'? And Vince said, 'Yeah man, there is a guy in Chicago that you should hear.' So Vince called me on the phone basically and said, 'Miles wants to hear you play over the phone'. Making a long story short, I was looking around for my bass, I couldn't find my bass. I'm a little bit ashamed to say that it was in the back of my car. And when I went back to the phone to tell Vince, 'Hold on a second, I gotta go to the car', he said, 'No, you hold on'. Then the next sound I hear is Miles' voice saying, 'Darryl, when can you be in New York?' I was trying not to sound too eager, it was a Monday and I told him I could be there Wednesday. And he said, 'What's going to take you so long? Are you going to walk?' So at that point I said that I would be there tomorrow morning. So I said, 'Do you still want to hear me play over the phone?' And he said, 'No, you can play can't you?' Before, when someone would ask me that I would say that I'm just learning. But at that moment I said, 'Yeah, I can play'. So I left the next morning and flew to New York and auditioned for him.
iRJ: Were you the only one there?
DJ: It was me, Vince and Miles. I was told to basically go to this address and to wait in the lobby. So I did that and I saw the limo pull up and Vince got out and Miles got out and they came in and Vince said, 'Miles, Darryl. Darryl, Miles'. And Miles looked at me and he looked at Vince, and he looked at me and then he looked at Vince and he said, 'Vince, this is a weird looking dude'. And I told him, 'Well, do you know who Jaco Pastorius is?' He said, 'Yeah, I know who Jaco is'. I said, 'Jaco told me I look like you'. And he said, 'You do, a little bit around the eyes'. The point I'm making by telling this is that he was trying to be funny to ease my nervousness I think.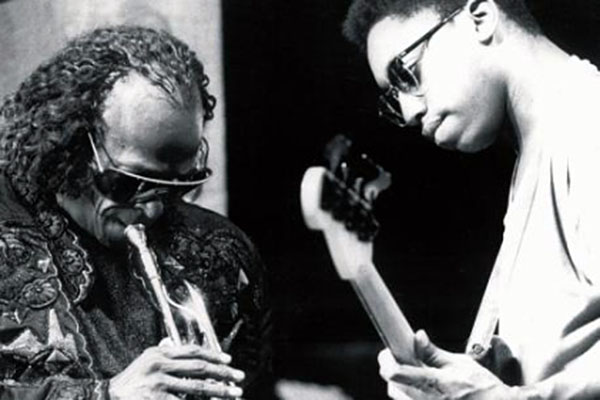 iRJ: How long did you play for Miles Davis?
DJ: For four years, over a period of five years. I left for a year and played with Sting and I came back to Miles in October of 1986 and stayed until February of 1988.
iRJ: Who did you play with after Miles?
DJ: I played with Herbie Hancock in the summer of 1988.
iRJ: What were the biggest lessons you took away from working with Herbie Hancock and Miles Davis?
DJ: The lessons I learned with Miles were pretty singular. And those were the things I went on to use with everyone that I've worked with. The thing that was reinforced is the idea of listening actively. When you are listening for something that is out of the ordinary, you are really listening in a way that is different. I learned that you need to use your ears at least as much, if not more than you use your instrument. You have to be able to listen to and play the music that is going on around you. I probably would have learned those lessons with Herbie if I had played with him first, but the lesson with playing with Herbie was a lesson in learning how to play with a bad motherf****r! [laughs] That's about as much as I can say about that.
iRJ: You went from playing pure jazz to working with Sting and now the Rolling Stones. What was the transition like?
DJ: I basically do the same thing in all of those situations. My outlook on it is just to play the song. My job is to play solid bass so that everyone around me can build on top of that and [the band] functions properly.
DJ: Some more than others. Marcus Miller has a pretty distinctive sound, most of the time. And probably, I mean I hate to use these terms, but if you find an acoustic bass player who is making the baseline his bitch, then that's Christian McBride [laughs]. He has so much facility, he grooves so hard – I'm pretty much in awe of Christian.
iRJ: What about Victor Wooten, Ray Brown, Meshell [Ndegeocello], Esperanza Spalding, Larry Graham and Ron Carter?
DJ: Victor is such an icon and he has this little thing that he does. When he plays the type of music that we all know he is famous for, then obviously yeah – no body does that in a way that he does it. Ron Carter, again, I've heard so much that I can kinda tell that it's him. There are two reasons for that. One, he's one of the players that I was listening to before I started playing bass. And [two] he has an iconic sound. And probably the guy that most of us young bass players look at as kind of the acoustic reference point would be Ray Brown. Meshell is just a crazy solid bass player. I actually used a first record of hers to teach students, because she has a really well developed sense of how to make a baseline swing. Esperanza's playing I don't know so well, except to say that she is a really great, solid bass player and she sings and plays very well together. Victor Bailey is probably my favorite electric post be-bop improvisationalist. Larry Graham is a definitely a big influence. Most of us got our first experience at thumping the bass, or slapping and popping – we call it, from Larry Graham. Some other bass players were doing it, but not to the extent that he was.
iRJ: Miles Davis used a lot of musicians from the Chicago area. Did that have any influence on the make up of the sound of that group?
DJ: Well, some of the Chicago guys transcend the Chicago sound. I would say Herbie Hancock is one. When I speak of the Chicago sound, I speak of the bass players and drummers – not to discount the others. Then also, on a more general level, we have a lot of Southerners coming into Chicago, particularly African-American Southerners. What they bring is a certain kind of soulfulness with them. And then Chicago being an urban center that it is, you have this urban slickness that gets mixed with that, and I think that is why the bass players and drummers from Chicago have done particularly well.
iRJ: What new projects are you working on?
DJ: There are a few bands that I'm co-leading now. One is with Ndugu Chancler and John Beasley, both Miles Davis band alumni from three different periods; we have a band called 3 Brave Souls. We have a record out under that name. It is a soulful, jazzy-like record. There is also a little bit of world influence and I'm singing on one track on that album. I'm also playing in a blues forward band; it's a trio with Will Calhoun who was a drummer with Living Colour, and a guitarist out of Chicago named Jean-Paul Bourelly who played with Elvin Jones' band. And I have some music of my own that I have been working on as a leader and vocalist and I'm actually on my way to a John Carruthers Guitar Shop, where I'm building some basses that I'm designing.
By Steen Burke