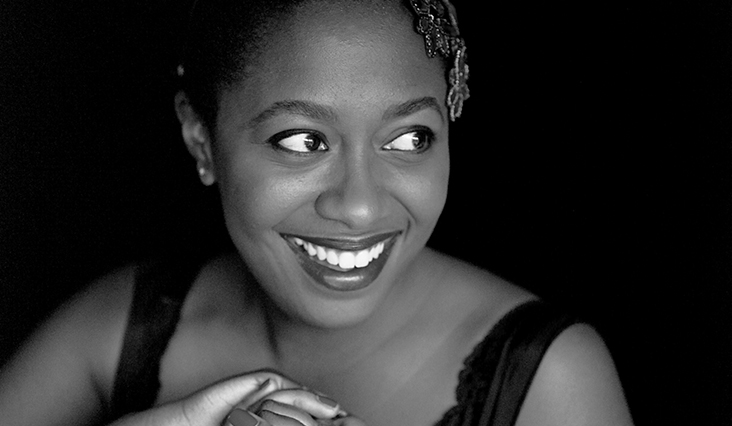 The league of next generation jazz artists brings with it the conundrum of tradition versus innovation. This new class seems to favor the latter over the former, but there are a quite a few whose loyalties lie with tradition. The classic vocal sound of Cécile McLorin Salvant allows you to immediately recognize what side of the fence she resides.
The young Miami native is an encyclopedia of jazz history. Along with her classic renditions of jazz compositions long forgotten or rarely recorded, the eclectic Salvant often provides her audiences a little history lesson in her show. The 2010 winner of the Thelonious Monk Institute of Jazz Competition began singing with the Miami Choral Society at the tender age of 8 and has been the voice of Chanel's Chance ad campaign for two years. Salvant moved to Aix-en-Provence, France in 2007 to study classical and baroque voice at the Darius Milhaud Conservatory. She recorded her first album Cécile, with Jean-François Bonnel Paris Quintet in 2009.
iRock Jazz had the honor of speaking with Cécile Salvant just as she returned to the States from France.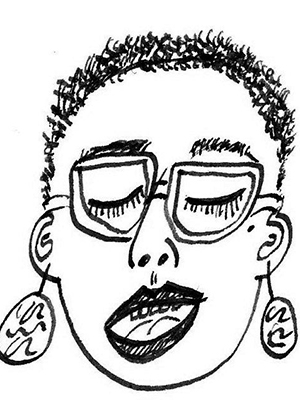 IRJ: The drawings on your website, is that something you do?
CMS: That's all stuff that I've done on my own. I like to do little drawings and ink drawings, and stuff like that.
IRJ: How did growing up in cross-cultural household – Haitian and French, affect your view of music?
CMS: Well we listened to a lot of music and a lot of different kinds of music at home, from when I was very small. So very early I was definitely exposed to very different types of music and cultures and things like that.
IRJ: What prompted you to move to France in 2007?
CMS: Well, after high school I wanted to spend a sabbatical year in France; before going to maybe a college in the States. So I moved to Aix-en-Provence, which is a small town that was kind of the perfect transition between living in Miami with my parents and then changing countries. It's a very small student town. So I moved there to go to a political science prep school and law, and went to the music conservatory on the side after class. It was mostly also because since my mother is French, and since I speak French, it was sort of the perfect country to go to – to experience something different yet all the while having some knowledge of the country and of the culture.
IRJ: What was the Thelonious Monk Competition like?
CMS: Well it was very surprising to be a part of that whole thing. I was not at all expecting to get through to the semi finals or to get through to the finals. And it was very nerve wracking because there was a great deal of very famous and very accomplished jazz musicians that I had been admiring for a while and then all of a sudden I'm in the same room with them. It was just a lot of pressure and very shocking as I was advancing in the rounds. And to win it was a total, total and complete surprise. I wasn't expecting it at all.
IRJ: Of the famous artists you admire, who were you most excited to meet? Were you star struck?
CMS: I was definitely star struck. I remember being in the elevator, in a hotel, and taking the elevator to the lobby and I shared the elevator with Wayne Shorter for like 15 seconds. I mean I was like I didn't know what to do with myself because he is such an icon. I don't know that there was one particular person at that competition that I was more excited to see. I mean there was Jimmy Heath, there was Dianne Reeves, Kurt Elling, Al Jerreau, Herbie Hancock, I think Ron Carter was there, or he was there the next year. I mean it was just a lot of people that I knew of, that I had followed, that I had listened to, and that I was a big fan of – and then all of a sudden they're all concentrated in this one place. It was fun and very exciting, and very daunting too. Clark Terry was there. That was a big, big highlight for me. To have all of these people hear me sing was really an honor – and also very stressful.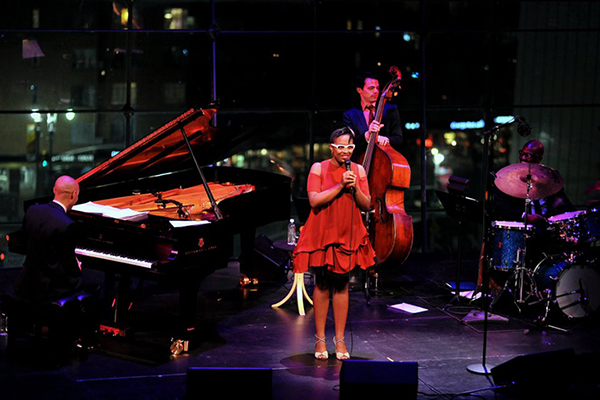 IRJ: How did things change after you won the Thelonious Monk Competition?
CMS: I think one of the most significant things from the competition was meeting various musicians and people in the business that I would be able to work with. I met my manager at the competition. I met Al Pryor, I met Rodney Whitaker who is on the cd. Through my manager I met Aaron Diehl and I was able to have first contact with Wynton Marsalis. So it was definitely the relationships and the networking that came from that competition that was most significant and opened things up for me. Previously I was working with my French band and I really didn't have an 'in' in the American jazz scene, so all of a sudden it gave me an entry way into that scene.
IRJ: Is it tough for a jazz singer to make it in mainstream?
CMS: I think it is easier than for an instrumentalist, that's for sure. But it's a genre in which the audience is diminishing. So I think it's a little bit difficult, but I don't think it's impossible. For me the priority is to find an audience that is going to really enjoy me in what I do and sustain that and grow that over a long career, rather than have a hyped up very short thing that lights up and then dies down and you don't hear from me for like 40 years [laughs]. I think that's the big challenge is to have something that can sustain itself and grow slowly and gradually over time.
IRJ: Your stage presence is very emotional and unique. How do you get in that place to connect with your audience?
CMS: For me, the lyrics of the song is definitely the most important thing. So I definitely start from there and I like to try to see if there are several different meanings to one lyric, to one song. And to have both the sad and the funny aspects of the music come out when I'm singing. It doesn't always work, but it is something that I try and I strive for every time I perform. And I think it is something that I developed slowly from performing in France to kind of convey an emotion. And I think because I did perform in France, for an audience that didn't necessarily speak English, I had to compensate with some other form of 'this is what the song means'. So I think that has a lot to do with the way that I perform today.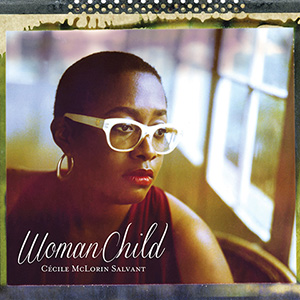 IRJ: What's the difference between performing in Europe versus the United States?
CMS: Well I don't know if there is a definitive difference. I think it all depends on the venue and the group of people. Sometimes if you have just like three or four rowdy people in the audience, they kind of bring everyone to their level and loosen everybody up, and they all start yelling and it becomes this contagious thing. And sometimes you can have a really stuffy audience. I've had very tame audiences in both countries. But I definitely think that the palpable difference is the understanding of the language.

IRJ: As a singer how do you still connect with different audiences if you are not bilingual?
CMS: I think that just comes down to the fact that music is a universal language. So where the lyrics kind of drop out, you still have the tone and the expression and the quality of the voice and the performance in general. I think that people from different countries go to the performances just for the musical aspect of it, rather than to listen to lyrics.
IRJ: Is jazz in Europe appreciated more than in the United States, in your opinion?
CMS: I don't know, but I do notice that in France, for instance you have a huge amount of jazz festivals. There's such an appreciation for all types of jazz. Growing up in Miami, I didn't feel that jazz was a valued music, but as soon as I moved to France I noticed that it was.
IRJ: Who are the musicians that are playing in your band right now?
CMS: Aaron Diehl on piano, Paul Sikivie on bass, and Rodney Green on drums.
IRJ: Do you consider yourself to be a jazz vocalist, or just a vocalist that happens to sing jazz?
CMS: I don't only sing jazz, I also sing baroque voice. So I think I am a jazz vocalist among other things. And I'm not one of those who don't like being called a singer. I don't mind being called a singer; I mean I do like to sing songs [laughs]. I would be so honored to be called a jazz vocalist.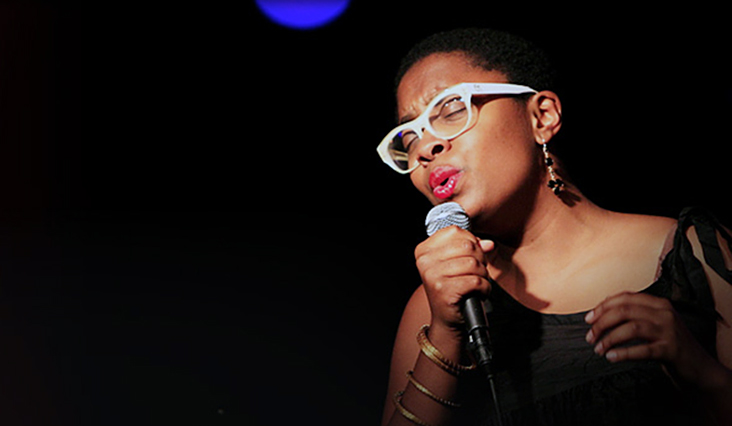 IRJ: Beyond the album, what plans do you have?
CMS: What I'm really trying to do is to sing in as many different places as possible and develop a sound with my band. That's my main focus for the next several years. I'm going to be touring in Europe for the next two months. And in December I'm going to be singing with the Jazz at Lincoln Center Orchestra, we're going to be doing the holiday tour.
Cecile McLorin Salvant will be performing at the Atlanta Jazz Festival on Saturday, May 25th; for more information click here.
By Steen Burke