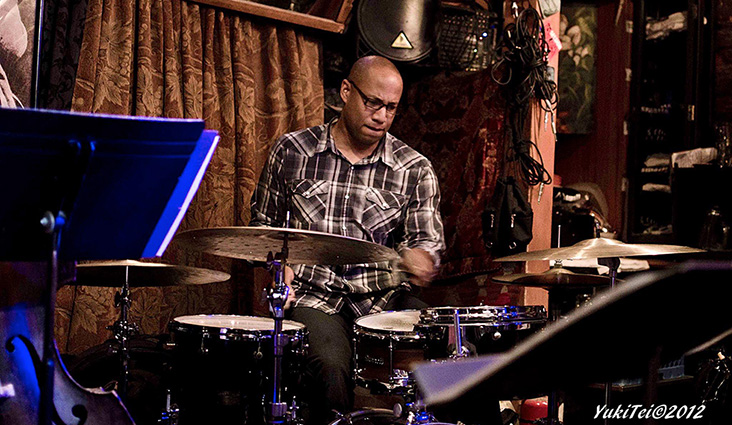 In a music industry often rife with shameless self promotion and ambitious arrogance, humility is a characteristic that is found in minimal proportions. Contrary to popular thought, humility is not the meek position some may think. It is the quiet strength of the humble that does not step on others for elevation, but lifts them up instead.
For New Jersey bred drummer, Otis Brown III the hunger for success does not seem to come at the expense of others—the cost is far too great. In music and in life, Otis Brown III, has experienced the rewards of reciprocity and the satisfaction of selflessness which keeps him fulfilled. The applause, the attention, the allure can heighten one's self indulgence, yet through observing his life, learning about his story and in conversation it is clear that Otis Brown III—secure in himself and his talents—understands the value of thinking of others over himself.
Music is what he does not who he is. Music does not define his identity. Yet, it is his life that provides definition for his music. On the verge of releasing his debut album appropriately titled, The Thought of You, which features a collective of some of the most artists in demand today like Robert Glasper, Esperanza Spalding, and Bilal, Brown sets music to a series of thoughts that make up his identity. iRock Jazz spoke with Brown about those thoughts and how they have shaped his life and music.
The Thought of Family
Family is the force that forms one's fundamental identity. Growing up in New Jersey, Brown's father, Otis II, played drums and was a full time teacher. His mother was the choir director in church, a pianist as well as the principal of the Newark Performing Arts High School (ironically Brown III did not attend). Due to his parents love for both education and music, Brown's interest in music was developed rather than demanded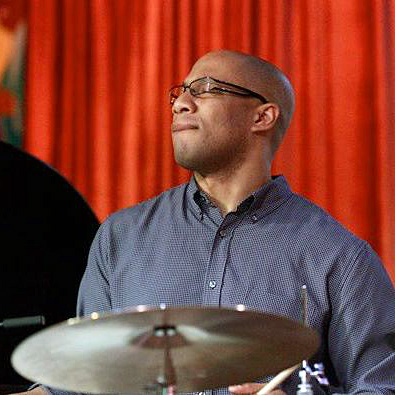 upon him providing him the freedom to decide his path. "Both my parents were musicians and educators so they were great in that they never forced music on me, but I always wanted to do it. When I showed an interest in music my parents made sure that if I was going to do I had to do it on a certain level. They were that way with everything and made sure I had the tools to do it." Brown accompanied his dad and Godfather, famed drummer Bernard Purdie (Donny Hathaway, Roberta Flack, Steely Dan) to studio sessions and eventually started taking lessons. However, which may not be an indictment against his faith in him, Brown was unsure if music was worth the risk. "You don't know if you are going to work, struggle, doing gigs for $30 dollars, for tips sometimes—you don't know what's going to come out of it."
Leaning to the education side of his upbringing, Brown earned a degree in education at Delaware State to potentially teach music. He admits he questioned his talent, was unsure about making a living through music, and touring around the world. It may just be these odds, which he clearly has defied, that helped to keep him grounded and humble. He could not ignore the music so he made the choice to pursue music full time and started his second education at the New School and in the late night jam sessions of New York where he met his close friend, Grammy award winning, Robert Glasper. "I was blessed that I met the right people and got to NY at a certain time and it kind of just panned out."
The Thought of Relationship
Relationships are driven by mutual respect and appreciation of one another, aspects that Brown does not take lightly. His support for his friends is unwavering, genuine, and consistent not the name dropping superficial friendships that we often see publicly displayed. Robert Glasper, Bilal, Derrick Hodge, Esperanza Spalding and more are not just musical contemporaries, but lifelong friends. Brown's philosophy to relationship is simple, "I feel like I'm a really big team player especially with friends that I really care about and love. And most people that I know do amazing things and I feel like I should help out as many people as possible. What I see God do for others I know He can do for me. So, there is no need for me to be jealous or hate on someone. I'm inspired and I have faith that the same thing can happen for me. I have a genuine love for my friends and want them to do well regardless of if it's music or a career endeavor." (Check out Brown supporting his friend Esperanza Spalding by appearing with his two sons in the video for her song "Black Gold"). Stories of performing gigs for $20 and all day sessions with Robert Glasper at the New School and more than 10 years traveling the world playing with Joe Lovano and US Five provide a few snippets of the great relationships Brown has forged.
Today, Brown is withdrawing the years of equity deposited in those relationships as he prepares to release his upcoming album. The timing is just right. "I'm super excited about my record. There's always a tinge of nervousness in there, but I think that happens anyway regardless of if it's my band or not. It's funny how God prepares you things. I've been with amazing band leaders in my career and I have been able to see how they work and establish great relationships with promoters and musicians cross genre. Derrick Hodge, who is producing the record, said he knows it is my time. The way the record came together I know things are happening for a reason."
The Thought of Music
Great records come as a result of elements like timing and relationships, both factors at present with Brown's debut record, The Thought of You. Brown possesses a Quincy Jones like ability to move people with love and produce results based on shared interests, unbreakable bonds of friendship to accompany stellar musicianship. Brown was able to bring together a collection of some of the most in demand artists in music such as Ben Williams, Shedrick Mitchell, Bilal, Gretchen Parlato, Nikki Ross, Derrick Hodge, Nir Felder, Keyon Harold, Robert Glasper, and more. People he has supported are returning the love to him. The music, then, becomes an extension of the spirit that is manifested when all of these people and elements collide together. Brown is the architect building that sound. "I had in my mind what I wanted a first record to be. I wanted to tell all the things that make the story of my life through the music of the record. It came to me in a series of thoughts. Different things make me feel a certain way and therefore inspire a certain kind of music. For example, the thought of my wife and the love we have in our family. The Thought of You applies to a lot of things. "You" could be God. "You" could be my wife. "You" could be music. "You" is all the things that make up who I am."
Brown's musical approach draws upon a genre free approach that gives his music room to breathe and translate his thoughts fluidly. "It's definitely coming from a jazz background, but there is gospel, rock, pop, soul in it as well. I wrote and arranged some music on there that people would not really expect. I really don't care what people call it. Call it jazz or not as long as the spirit of good music comes across. You can't label the music because you can't label me." And now, Brown is diving head first into writing song lyrics and it's one of the reasons why he has vocals on the record. "I'm such a fan of songs. I love lyrics and poetry. I've played with a lot of vocalists in my career and one of the best ways to tell my story is with vocals. I didn't want it to be just a drum record, but a record with songs. People relate a lot to songs they can sing."
Initially financed via fundraising platform, Kickstarter, (check out his Kickstarter video above), the project is receiving some significant interest and Brown is grateful for this stage in his career. "It's been amazing to start from scratch and build a Kickstarter campaign, raise money, go in the studio and be at a point where the record is ready to come out is really amazing. It's such a blessing."
As we await the musical offering from Otis Brown III, rest assured that the thought of you has crossed his mind as he shares the music, life, and thoughts.
By Johnathan Eaglin